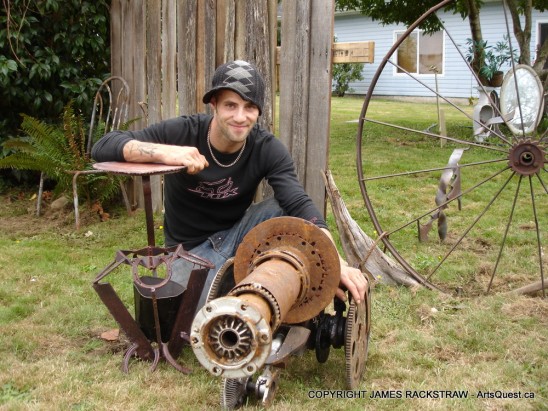 Creativity in the form of art is a wondrous thing. It can bring beauty into one's life. It can add appreciation for other people, places and nature on the tiniest or grandest of scales . It helps us to become aware of whom we are and give us an awareness of other people and other things. It can provide an awakening and it can heal.
James Rackstraw is a young artist in terms of age and in terms of his art career. He is one such person who has found creativity and art to give him everything I have described and more. His story is quite remarkable. He has faced extreme adversity from an early age as a child. Spinal meningitis left him with the inability to communicate effectively. When we met James we could tell that determination was his companion and has walked with him side by side, enabling him to change his life and become the person he is today. He has been the passenger in twelve car accidents and broken almost every bone in his body and he had his hand almost completely severed when three thugs broke into his home with intentions of robbery. He has been up, living a comfortable life, and he has been down, at times living on the streets. James doesn't mention these things because he wanted us to feel sorry for him, but rather because the experiences have brought him to where he is today. He notes that without those experiences and the understanding he gained that he wouldn't be James Rackstraw, artistic metal fabricator.
Click on images to enlarge:

James' work reminds me of a mixture of Edward Scissor Hands, with a dash of Old England and a sprig of Steam Punk. He loves to take found items that may be leftover scraps, old antiques or just someone's junk and piece them together and create a new functional item like an Old English lamp post or a jewellery stand. It could also be something more abstract like a warrior sculpture or a robot. The irony of James' art is that he breathes new life into something that would otherwise be discarded and his art breathes new life into him, a person who many people doubted and metaphorically discarded.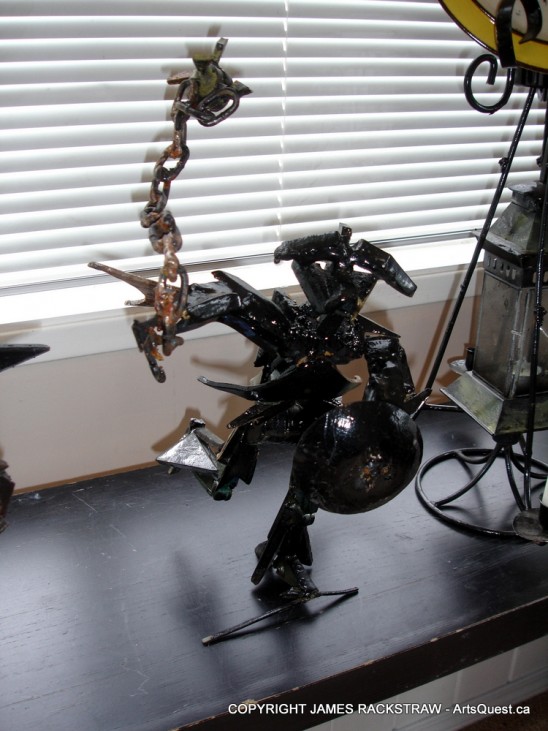 Click on images to enlarge:

Although James loves working on his own he says one of the best parts about being an artist is connecting with people. He told us that having spinal meningitis as a child gave him an innate ability to read people. His struggle to communicate forced James to learn through observation. He spent a lot of time watching. Oddly enough this skill that was acquired out of a disability is something he now uses to give himself a better understanding and insight into what he creates for someone. He gets great satisfaction out of creating not only the art but a connection to the art for the new owner of the piece.
Click on images to enlarge:

James is an inspiring person. He is a great example of what the human spirit is capable of. Whether we have hardships to the extreme like in James' case or we don't, it is uplifting to be reminded that humans are extraordinary and that gives us the ability to make our lives and our world a better place through the creative process.
We invite you to watch James speak candidly about his life and his art. Please feel free to leave a comment and post on social media. Thanks!
Posted on
September 15, 2013
in

Fabrication, Metal, Metal, Sculpture
|
Tagged

birdbath, fabrication, jewellery stand, lamp posts, Matsqui, metal, sculpture, tables, welding, wineracks
|
15 Comments
Rabi'a greeted us at her gate with a hello, a hug, and a request to help her flip over a twelve foot long sheet of ¼ inch steel cut into the shape of a woman. It was a glimpse at her next project; the woman of steel to be clad in colourful ceramic tiles. [See photo of "Dancing Myself" updated below and the sculpture on public display in Castlegar, B.C.] It was perhaps a fitting symbol of this "woman of steel," as Rabi'a's boundless energy was apparent while she toured us around her property. That energy has transformed what was once a bare lot on the Slocan River into a beautifully treed sanctuary and also home to her bed and breakfast, The Artful Lodger. You will find an experience of cozy strawbale cottages, a solar shower (trust me, it's very hot!), organic gardens and orchard, a boardwalk to the Slocan River, and of course the eclectic one-of-a-kind garden art sculptures created by Rabi'a. As we walked around the property it was evident that her outdoor art sculptures were as much a part of the décor of her acreage as were the variety of abundant trees she planted, each piece lending its own personality to the surroundings.
From Rabi'a's history of homesteading and permaculture she is clearly a do-it-yourself person. That trait has extended to not only building the boardwalk shown in the included photos, where she hauled in 120 used tires for the base of it, but also to learning how to weld. That skill, combined with her creativity led to the creation of "Huge and Foolish", a piece shown in Castlegar's Sculpture Walk 2011 and purchased by the Columbia Basin Trust which now has it on display in Castlegar, B.C. for everyone to enjoy.
Our visit with Rabi'a concluded with a tour of her strawbale cottages and a nice cup of tea, scrumptious dried apples and intensely flavoured dried tomatoes in her welcoming home; these goodies post-harvest bounty from her garden and orchard. Thank you for your hospitality Rabi'a.
Please click here for a more extensive look at Rabi'a's art and enjoy the last two photographs below of views from Rabi'a's property. Please feel free to leave a comment in the "Leave a comment" section below.
Posted on
January 9, 2012
in

Glass Work, Metal, Mosaic, Multidisciplinary, Sculpture
|
Tagged

bed and breakfast, garden, garden art, mosaic, organic, sculpture, strawbale, tile, weld, welding
|
4 Comments