I came across Jonathan Havelock and his art through Facebook. The post was one of those paid-for ads that went streaming by when I just happened to be looking. His photography caught my eye because it was unnaturally colourful which left me intrigued. I contacted him and the next thing I knew we were arranging an interview for the next time we were in Edmonton. We met Jon at the RR Gallery on the corner of 106th street and 102nd avenue where he was showing his new Secret Garden series (For new gallery info click HERE). The standard etiquette when encountering a person for the first time is to shake their hand. Unbeknownst to us Jon Havelock was about to deflect the handshake and go straight for the hug; with permission of course, after all we are Canadians. We have hugged many artists over the course of three years but it has always been after the interview when we were about to leave. So the pre-get-to-know-you hug was a first. I mention this because we already knew prior to our interview with Jon that he was once a cabinet minister for the Alberta provincial government so I amused myself by thinking this could be a reflexive behaviour from his past political days. All kidding aside, Jon's hug was sincere and genuine and I didn't feel he was trying to sway public opinion (or at least our opinion) about him and his art. He's simply a nice guy.
Click on the thumbnails below to view a larger image.

Although Jon is lighthearted with a good sense of humour, he is a serious fine art photographer. He is passionate about his subjects and sharing them with an audience of appreciators. As with many people, Jon's creative path began at a young age and then stalled when living began to settle in. He said it wasn't until six or seven years ago that his wife reintroduced him to his first love (photography that is) and he now breathes life into it as it breathes life into him. Photography has been so much more than art for Jon. He and his wife often spend their days and their journeys exploring and opening their eyes and minds to the neverending wonders of our world. His hope is that through his images he can help people take notice of their natural surroundings and by doing so bring awareness and an appreciation for something so precious and fragile.
Click on the thumbnail to view a larger image.

Not unlike a painter doing a preliminary sketch prior to the paint touching the canvas, snapping a shot with his camera is only the starting point. The original image is often the skeleton of the finished piece. After hundreds, and more often than not thousands of shots taken, the creative process has just begun. Jon spends hours pouring over his collection of pictures and out of that he may find a dozen or so that will be slated for the next step, digital enhancement. The idea of digital enhancement used to bother me because I thought of it as a way to cover up the photographer's mistakes or making it look better than it actually is; kind of like cosmetic surgery for pictures. Maybe there are people who do that but in Jon's case I see a real artist at work. He doesn't use enhancement to improve his ability as a photographer, but rather to add or remove layers of colour, light and depth. The skeleton becomes somewhat abstract but still recognizable. He forces us to take notice. Out of the corner of our eye we recognize a leaf but there is something different about it that grabs us and we are compelled to look. Jon's work has the capacity to create a state change in potential viewers by knocking us out of the daily micro focus we find ourselves in. The images are usually big and bold and command us to pay attention whether we meant to or not.
Click the thumbnails below to see a larger view of the Secret Garden series.

At the end of a long but enjoyable day at his computer, Jon and his wife meet for a glass of wine and together put on their creative thinking caps. It is time to name the newest members of their family. When Jon was describing this to me all I could think about was this happy couple with a metaphorical baby name book in front of them carefully choosing the perfect name for their new born picture. After all, this creation is a culmination of the time Jon and his wife spend together having fun, searching out that next image and all the memories that came along with those experiences. What a wonderful way to be together and be with nature!
To see more of Jon's work please check out his website; Jonathan Havelock Fine Art Photography or you can visit him at his new gallery at Suite 155, 10403 122 Street, Edmonton, Alberta T5N 4C1 (On 121 Street across from the old Molson Brewery in Glenora Gates).
Please join us as Jonathan shares with us his passion for photography. We love comments and appreciate if you could spread the word about Jonathan Havelock on social media and through e-mail. Thanks.
As we drove away from the Yukon, in Arty's wake we left behind a piece of our heart, some new friends and some pretty spectacular scenery. Heading down the road back into British Columbia we carried with us a library full of memories from roads once traveled, the gifts of that day; the majestic Rocky Mountains and several burly bison, as well as the anticipation of future encounters and things left to be discovered. On our way to Fort Nelson, B.C. we had one day before our next interview so we planned to stop at Liard River hot springs. Have you ever heard of that list of a thousand things you should do before you die? Well, going to Liard was on our list. It was all that I imagined (hot) and more (super hot) but it was a soothing ending to the completion of twenty-three interviews in twenty-one days. The next day we were back in Arty's saddle again and off to Fort Nelson to find out all about mixed media artist Lori Fell.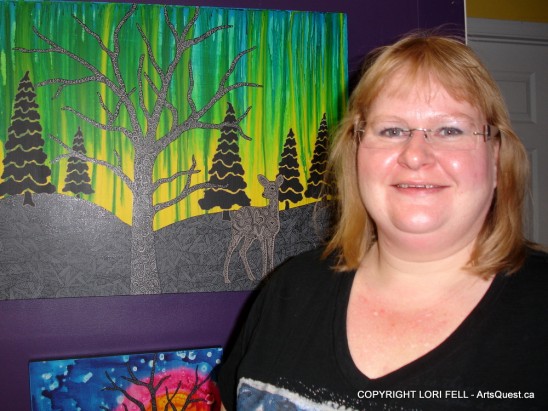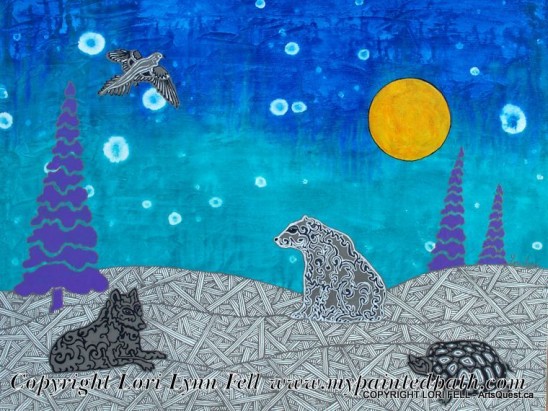 Lori grew up in northern B.C. where the deer and the bison roam and the majestic mountains linger all day. She is grateful to have lived and played among the trees; to this day a connection which she cherishes deeply. Lori's painted path began several years ago. She is a self professed lover of all things art and has always been creative, but it wasn't until a tragedy struck her family and she needed a means to heal that she found painting. Nature as a subject matter was an obvious choice for Lori and so began her painted path (see her website) and process for which to heal.
Click thumbnails to view a larger image.

One of the challenges facing artists in more remote communities is the absence of varied face-to-face art learning opportunities. Lori is primarily self-taught but she did say that she has spent a great deal of time on the internet, specifically YouTube, where she has gleaned ideas and learned many new things that have helped develop her into the artist she is today. When I first laid eyes on Lori's paintings it was the colour that grabbed me. I think vibrancy can be so irresitible, and it definitely has its time and place in Lori's work. It wasn't just the colour that caught my eye, as I looked closer I could see the intricate swirls and shapes within the landscape, trees and even the animals. Lori uses special pens to create this effect and she does it with such precision. Human vision is adept at catching things that are uneven and when I look at her work nothing pokes me in the eye.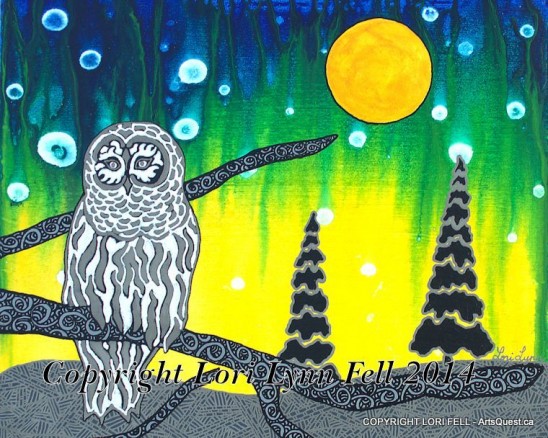 Click the thumbnail to view a larger image.

When we look with our eyes we see only the outer embodiment of the tree, flower or animal and when we look with our heart we see its spirit. I think Lori has seen the spirit of nature all her life and she shares it with us by illustrating not the bark of the tree or the fur of the animal but the essence of its spirit. We get to see that essence in her paintings. I identify with this connection because it is not what we see but what we feel that makes art really special.
Please join us as Lori Fell shares her journey down her painted path. We value your comments and appreciate it if you would help us spread the word about Lori by sharing on social media and through email.