We left the immaculate Molgat Park campground at Sainte Rose du Lac, Manitoba heading (what we thought was) east to meet up with and interview sculptor Warren Wenzel in Gimli. We heard that it was a pretty drive heading through The Narrows, gliding over the only bridge to traverse the shimmering waters of Lake Manitoba. It's really too bad then that I messed up on directions and took a more circuitous route; south to Portage la Prairie, then east to Winnipeg, and then finally north to Gimli. Sigh…maybe next time. After knocking on Warren's door and phoning him with no answer we were getting a little worried that our longer than expected excursion here would all be for naught. But then he emerged from where we should have guessed he would be, his garage studio out back where the magic of his wood and stone sculptures come to life.
Warren has always been active in the arts in one way or another; his college courses leading him to dabble in cement and wood sculptures as well as abstract pieces in plexiglass. Working with wood though has always interested him, and so in 2000 when a home developer had left behind a landscape tie at a house he and his wife Denise were building, he decided to create his first chainsaw sculpture. His subject was a human sized dragon made up of 150 lbs of wood with fibreglass for the wings. It was certainly an ambitious endeavour for his first one and Warren notes that it was so big and heavy that he wound up gifting it to some friends rather than move it to Manitoba. The dragon is now resting comfortably in St. Albert, Alberta.
Click on images to enlarge:

Warren's wife has made it a yearly tradition of giving him a different gift at Christmas that has something to do with art. So it wasn't until Denise and her sister collaborated on some stone, hammers and chisels as his gift one year that his love for sculpting stone took off, and Warren has been carving it ever since for the past sixteen years. What he loves about working with the wood and stone is that once he has transformed the piece it is no longer just wood or stone, it has another identity that not only has a part of him in it, but also whatever the subject matter and the characteristics of who the piece is being designed for. Warren loves the creation process the most, taking away the chunks and then the fine bits to finally reveal what the piece of stone or wood was meant to be.
Click on images to enlarge:

Most of the time when Corinne asks an artist what their most difficult piece was, the response is usually associated with a technical aspect of the creation process. When she asked Warren though the question choked him up a bit. His wooden piece titled "Monk" was requested by his son. Warren initially thought of a portly shaped Buddha, but what his son had in mind was the likeness of a slender monk. As it got closer to completion his son said that the monk needed some prayer beads. Unfortunately his son passed away shortly before the piece was completed, and it wasn't until Warren found the prayer beads amongst his son's things that he then draped them in the monk's hands, completing the piece. The "Monk", sitting in tranquil meditation, exudes a serenity and spirituality to those that see him in Warren's art tours. They also see the monk's wooden "scars" where the wood did not lend itself to a perfect human form, and to Warren these are symbolic of the flaws and vulnerabilities of humanity.
Most of Warren's work is done by commission from his corporate sponsor, where they will give him a list of retiring members and then he will endeavour to create a unique retirement gift for them. He will find out details about the member, pick an appropriate stone to use, and design a sculpture that would best reflect the personality and characteristics of that person.
Click on images to enlarge:

A project that he hopes to include in his portfolio one day is a monumental piece. An idea he has is for the town of Stonewall, Manitoba which is known for its limestone quarries. He wants to use a large chunk of limestone from Stonewall to create a 6 1/2 foot hockey goalie and place it in front of their town arena. Anyone who is familiar with hockey knows that a "stonewall" is another term for a goalie (Warren is one himself). What could be a more fitting monument to the town of Stonewall and its limestone legacy than to have an enduring piece, a goalie in limestone, sculpted by a goalie?
Enjoy our interview with Warren and don't be shy about sharing his story and work on social media and email. We also appreciate comments.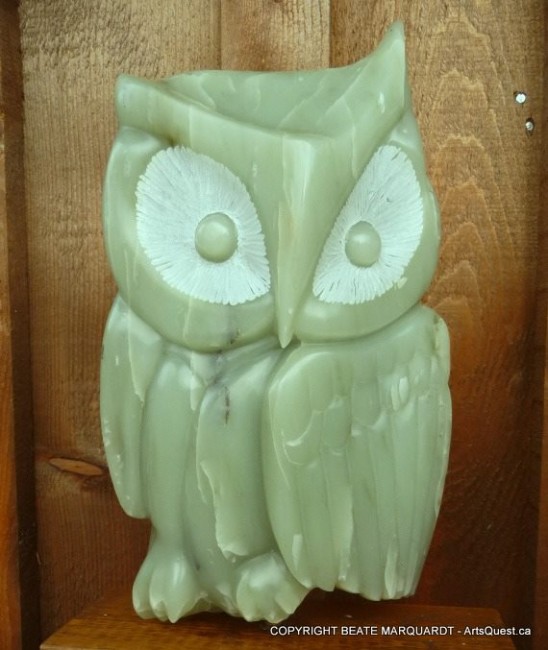 Stone; the fascination that humans have had with this material goes back 3.4 million years during the Stone Age when the first evidence of shaped tools and weapons were found. Throughout the ensuing ages further clues have been left to reveal its uses. Prehistoric Stonehenge, with its still undetermined raison d'etre demonstrates the relative permanence of stone and the symbol it was to represent. More recently, the carving of four 60 foot high heads into a granite mountain over a fourteen year period was considered a worthwhile endeavour to draw tourist activity. The result was the Mount Rushmore National Memorial. Bringing us to present day, this story is about Beate Marquardt who shares with us the artistic realm of her carved stone!
As we rolled into Burns Lake we looked forward to our meeting with Beate at our rendezvous location, the Lakes Artisan Centre, where numerous artisans including Beate display and sell their works of art. It was here that we would film most of Beate's pieces which we were eager to see. It is one thing to look at a photograph of a sculpted, three dimensional carved piece of stone, but yet another to see the vibrant colours in person, walk around it, and feel its smooth surfaces and lines. It comes alive!
Click on images for a larger view:

From the gallery we traveled to Beate's home which is surrounded by a wilderness setting, the likes of which invites even roaming moose and their young to take pause. She used to live in a much more rural area south of Burns Lake, living off-grid and requiring a ferry to get there, but once her Down syndrome son Wolf graduated she knew that he would get bored and so she moved closer to town where there are more programs for him to participate in such as the Special Olympics. I think Wolf was wondering who these two strangers were at first but soon he warmed up to us and sat down next to us as we all ate our cookies. A noticeable feature as we walked through Beate's home was that we saw owls everywhere. Not only does she love owls, but these are a symbol of the nickname her parents have called her since infancy, and appropriately lending itself to the name of her website Owl's Stone Carving.
Click on images for a larger view:

Stones have always been a part of our lives and I'll bet there is nary a child that hasn't picked up a stone to toss, feel and observe its shape, or just to skip it across the pond. There is an inherent connection between us and the earth, and it is evident from Beate's carvings that she deeply understands the interconnectedness between all living things. Beate's passion for carving stone took off in 2007 after receiving her first chunk of soapstone from her eldest son Peter the previous Christmas. She hasn't looked back from that point and with only seven years of carving it is amazing how fine her work is. Beate notes that she does not pre-plan her carvings, but rather that the stone itself has a plan, and it's just a matter of time before it reveals it to her.
Looking at the various carvings that Beate has done I can see that her subject matter has meaning; whether meaningful because of family association, symbols of nurturing, spirituality or cause. Above you will see "The Threat," a beautiful piece that Beate carved in red Pyrophyllite and Black Chlorite. It is a message of protest to Enbridge who plans to put their pipeline directly through the town of Burns Lake. The sculpture depicts a salmon enveloped in a wave of black oil.
Above is another carving with a compelling message; Beate describes it as follows:
"My mother Earth is depicted as a voluptuous woman with big nurturing breasts and a pregnant front. Her hands are missing to show her defencelessness while suffering the brutal attack by the double pipeline carrying toxic bitumen.
The difference in surface treatment of polished breasts/abdomen and rough carved face/hair has this meaning: Just like the raw sexual interest of a rapist usually concentrates on breasts and abdomen and eclipses the beauty of the abused person as a whole so does the predominantly economic interest of the pipeline supporters neglect the importance of the unique beauty and balanced harmony of Mother Earth as a whole."
Please join us with Beate as she talks more about her love of stone. We thank you for taking the time to comment and share on social media!