Bluff Hollow…it all started with a dream. While searching for a new home with his wife Ann in the Garden Bay area of B.C. on the Sunshine Coast, concrete artist Rick Harmer saw the place they would call home before they even saw it. He dreamt the property would be surrounded on both sides by bluffs and that it would be appropriately dubbed Bluff Hollow. The next day his dream became a reality when their realtor showed them the property where they now reside. Rick notes that it is impossible not to feel creative in a setting such as this, and so they enjoy exploring and creating within the wonders of their forested surroundings.
It was thirteen years ago that Rick decided to leave his career as a mortgage broker and become, as he coins, a concretist. Since then he has been casting and pouring into molds various garden and interior art objects in a variety of colours and finishes. With such a heavy medium to work with he knew there would be limitations to what he could create depending on the application and where it would be displayed. Therefore he set out to find a new formulation that would be much lighter yet durable to withstand the elements that garden art is subjected to. After much research and experimentation he developed his own formula that gave him the attributes he desired. As a result, Rick's creations will complement the outdoor environment whether throughout gardens, on a tree, or against a mossy background. His indoor pieces add a simple yet elegant touch, but Rick mentions that the finishes on these are not winter-worthy and are for indoor enjoyment.
Click on images to enlarge:

His work has also evolved to utilizing concrete wrapped around styrofoam in order to make larger concrete objects more manageable. One such denizen of Bluff Hollow is a twenty two foot long snake that greets visitors along the driveway. It is concrete wrapped around styrofoam and only weighs forty four pounds. This technique has greatly expanded the possibilities for concrete desired products. I still remember moving my sister's large concrete garden statue which required three guys and a chiropractor afterwards! This versatile and back-friendly medium is also prompting Rick to start making outdoor benches and tabletops as well.
Click on images to enlarge:

When I asked Rick what his ultimate challenge for a concrete work of art would be he replied, "The largest mushrooms in B.C." Tying in nicely with the ongoing activities of the local mushroom club, he imagines an installation of three concrete-wrapped styrofoam mushrooms, nine feet tall with benches underneath for people to enjoy the shade. He would encourage the participation of high school students which would instill pride and a sense of ownership through their efforts and in turn help to secure guardians for the prominent local attraction. Rick is an advocate for more public art, and feels that it is a great way to get people out of their homes and collaborating with one another to not only enrich the community experience but also to share their identity with those traveling through.
To take a look through Rick's Bluff Hollow website: (click here)
Enjoy our interview with Rick and thanks for helping to share his work through comments, social media and email: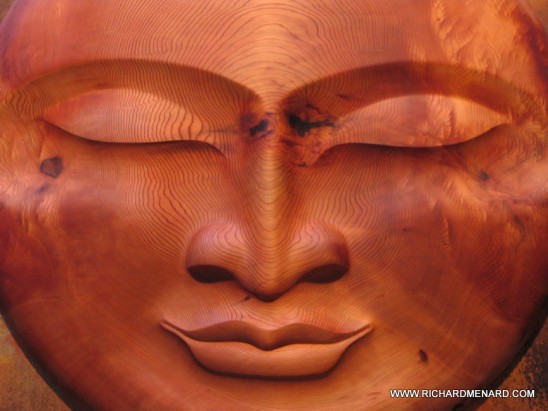 I never grow tired of walking through the forest. I walk side by side with my senses. The air is rich with oxygen and the smell of humus fills my nose as I take a deep breath. The cool humidity blankets my skin and I feel tingly and alive. Each step I take brings with it the sound of crunching leaves and crackling branches, I hear the sweet melody of birds chiming for a mate and I listen as the breeze lightly brushes through the tops of the trees. Sometimes there is no sound at all and with it comes a calm that I am eternally grateful for. My footsteps take me down a path I may or may not have traveled before but each time I go it is the trees that draw me there. I am always humbled when I stand in the presence of the great trees. They are so grand and amazing and always take my breath away every time I see one.
I preface my blog this way because I want to introduce you to Richard Menard. Richard lives on Denman Island, British Columbia, a short 10 minute ferry ride from the east side of Vancouver Island. He and his partner Shari and their cat Mische live on a beautiful piece of land overlooking the ocean.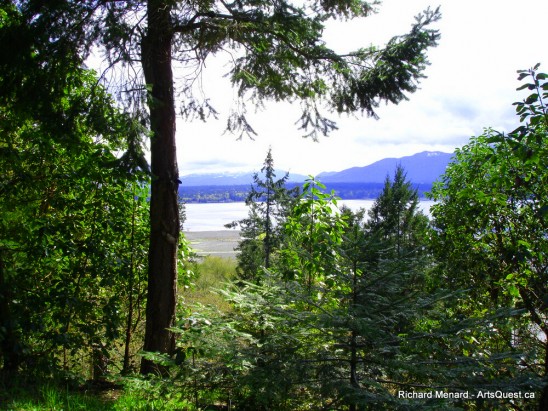 Richard is a sculptural artist who spends his days in the company of the great trees. Not only do they watch over him as he works, their fallen ancestors become resurrected into new artistic forms in Richard's sculptures. They are grand and they command attention just as they did when the trees once stood in the forest. At the same time, his sculptures are simple and respectful and are a fitting homage to the fallen giants.
Click on the thumbnail image to show a larger view.

Richard loves to work with burls not only for the challenge but also for the inner beauty of the tree. He can bring out the colours and the patterns in the detailed work he does. Burls can be elusive as they are not all that common, especially when you are looking for something big. It starts as a rough and tumble process once Richard finds what he is seeking. Most of the time the burls aren't sitting in a convenient location, they are super heavy and they are awkward due to their size. Once he wrestles the hulking piece of wood onto his truck with a little help from his ratchet lever hoist, he takes it to his studio where it will sit quietly and wait until Richard finds an idea for that particular piece. It is a chunky and clunky task when he begins to work with the rough piece. He quickly cuts away the bulk to reveal the basic form and as time goes on the tools become more refined and the sculpture begins to come to life. Primarily, he carves faces with smooth, delicate features and closed eyes from red and yellow cedar. The faces are peaceful and serene and give the whole sculpture a meditative quality.
Click on the thumbnail image to show a larger view.

"In our modern world, a great many of us experience a daily bombardment of noise, imagery and over-stimulation. My intention is to create art that invites the experiencer to contemplate, breathe and feel at peace."
– Richard Menard
Please join us as we find out more about Richard Menard and his art in the following interview. Comments are always appreciated and don't forget to share with social media!