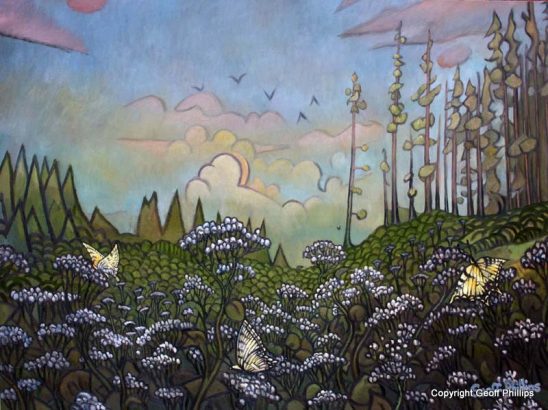 Not our last interview but our last stop in Saskatchewan took us to painter Geoff Phillips' house in Maple Creek. We had been through Maple Creek once before but this time it was with fresh eyes. It's a cute little town in southern Saskatchewan nestled within the prairie landscape and close to the Saskatchewan/Alberta border. It was here that Geoff and Connie decided to move their family from Calgary, with both sets of grandparents following in hot pursuit soon after.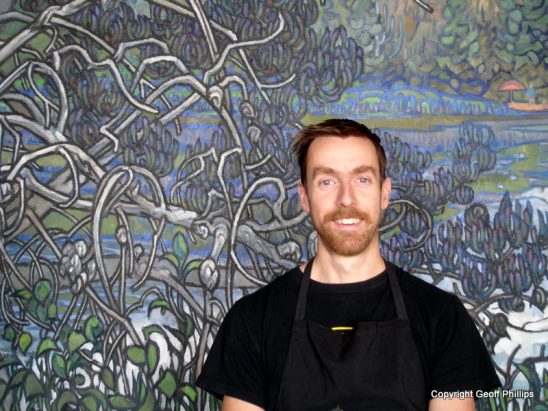 It would appear that the Phillips family lives an idyllic life in Maple Creek. Geoff's steady income comes from their next door neighbour, the local Co-op food store where he works in the meat department. Besides not having to drive to work, living right next door has other benefits too. When he is not helping customers with their meat requirements sometimes they come in and ask to see his artwork. He asks his boss if he can pop home to show it to them, bloody apron and all, and off he goes. Only in a small town.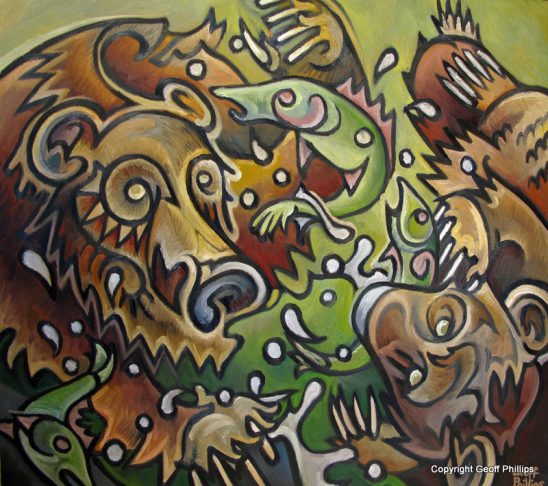 Click the thumbnails to see the larger image.

For the past 6 years Geoff has had the good fortune of being the artist in residence at the Cypress Hills Inter-provincial Park for one month in the summer. But it is no coincidence that Geoff has had this opportunity for 6 years running. His unique style gives park visitors not only an appreciation for Geoff's art but also for the surroundings that comprise the park itself. What started out as a pilot project has turned into a marvelous draw to the park, with subsequent years also being funded to carry on the successful project. With his family's encouragement and the well wishes of his employer he stays at the park to paint and run workshops for visitors. His paintings are based around the flora and fauna of the park and are meant to bring awareness to those who make the journey there. Geoff's art is colourful and certainly very eye-pleasing so his pieces attract people like honey attracts bees. Every year Geoff packs up his canvasses, paints, brushes and a theme that he will incorporate into his work while he is there. This past August he worked on 12 very large canvasses and painted micro sections of the park depicting the landscape and the common plant species which are found there.
Click the thumbnails to see the larger image.

I have found over the last 6 years of doing interviews that each artist's process is just as unique as the art they create. During his stay in Cypress Hills Park, Geoff will go out and wander the woods until he finds an intriguing spot he wants to bring to life on canvass. I would have thought a few pictures and maybe a sketch book would be what he would use to gather material for his piece. Instead he pulls out his really large canvass and spreads it out over the ground and then proceeds to stomp on it with his shoes to try to get it to lay as flat as possible, but of course there are always lumps and bumps creating hills and valleys. No matter, Geoff pulls out a can of brownish acrylic paint and proceeds to map out his future painting. He paints in oils but acrylic dries quicker for this part of the process. He then packs up and heads back to the art cabin where he adds a layer of primer and then proceeds with the oils. There are a few reference pictures taken as well. As Geoff puts it, it is very crude but he likes doing it this way because he can really get a feel for the spot he wants to paint and this helps to ignite the passion that goes into his work.
Click the thumbnails to see the larger image.

When Gary and I stopped in on Geoff to do his interview we also got to see the new workshop and painting studio that he and Connie recently added to their home. Both Geoff and Connie, who is also an artist, have collaborated to bring all kinds of art programs through The Art House to the town of Maple Creek. They offer their artistic expertise to help guide children and adults through their own artistic expression, whether it be at a Splatter Party where one gets to pretend they are Jackson Pollock, or something a little more structured like learning the basics of drawing. It is obvious that both the Phillips family and the town of Maple Creek have benefited from their arrival. Geoff and Connie are bringing art to their community by teaching others how to express their creativity. They also enjoy the exposure of their art lining the walls of the local pub and restaurant and in the form of Geoff's huge mural that was commissioned by the town of Maple Creek for the Heritage District revitalization program.
So if you ever find yourself in Maple Creek, Saskatchewan stop in to the Co-op, ask for Geoff at the meat counter and ask to see his art. He'll be glad to oblige.
Be sure to check out our interview with Geoff. Also, help us spread the word about Geoff through social media by sharing this blog post. Clickable buttons are provided below for your convenience. And we love comments so please feel free to leave a nice one about Geoff and his work below. Thank you!
I came across Jonathan Havelock and his art through Facebook. The post was one of those paid-for ads that went streaming by when I just happened to be looking. His photography caught my eye because it was unnaturally colourful which left me intrigued. I contacted him and the next thing I knew we were arranging an interview for the next time we were in Edmonton. We met Jon at the RR Gallery on the corner of 106th street and 102nd avenue where he was showing his new Secret Garden series (For new gallery info click HERE). The standard etiquette when encountering a person for the first time is to shake their hand. Unbeknownst to us Jon Havelock was about to deflect the handshake and go straight for the hug; with permission of course, after all we are Canadians. We have hugged many artists over the course of three years but it has always been after the interview when we were about to leave. So the pre-get-to-know-you hug was a first. I mention this because we already knew prior to our interview with Jon that he was once a cabinet minister for the Alberta provincial government so I amused myself by thinking this could be a reflexive behaviour from his past political days. All kidding aside, Jon's hug was sincere and genuine and I didn't feel he was trying to sway public opinion (or at least our opinion) about him and his art. He's simply a nice guy.
Click on the thumbnails below to view a larger image.

Although Jon is lighthearted with a good sense of humour, he is a serious fine art photographer. He is passionate about his subjects and sharing them with an audience of appreciators. As with many people, Jon's creative path began at a young age and then stalled when living began to settle in. He said it wasn't until six or seven years ago that his wife reintroduced him to his first love (photography that is) and he now breathes life into it as it breathes life into him. Photography has been so much more than art for Jon. He and his wife often spend their days and their journeys exploring and opening their eyes and minds to the neverending wonders of our world. His hope is that through his images he can help people take notice of their natural surroundings and by doing so bring awareness and an appreciation for something so precious and fragile.
Click on the thumbnail to view a larger image.

Not unlike a painter doing a preliminary sketch prior to the paint touching the canvas, snapping a shot with his camera is only the starting point. The original image is often the skeleton of the finished piece. After hundreds, and more often than not thousands of shots taken, the creative process has just begun. Jon spends hours pouring over his collection of pictures and out of that he may find a dozen or so that will be slated for the next step, digital enhancement. The idea of digital enhancement used to bother me because I thought of it as a way to cover up the photographer's mistakes or making it look better than it actually is; kind of like cosmetic surgery for pictures. Maybe there are people who do that but in Jon's case I see a real artist at work. He doesn't use enhancement to improve his ability as a photographer, but rather to add or remove layers of colour, light and depth. The skeleton becomes somewhat abstract but still recognizable. He forces us to take notice. Out of the corner of our eye we recognize a leaf but there is something different about it that grabs us and we are compelled to look. Jon's work has the capacity to create a state change in potential viewers by knocking us out of the daily micro focus we find ourselves in. The images are usually big and bold and command us to pay attention whether we meant to or not.
Click the thumbnails below to see a larger view of the Secret Garden series.

At the end of a long but enjoyable day at his computer, Jon and his wife meet for a glass of wine and together put on their creative thinking caps. It is time to name the newest members of their family. When Jon was describing this to me all I could think about was this happy couple with a metaphorical baby name book in front of them carefully choosing the perfect name for their new born picture. After all, this creation is a culmination of the time Jon and his wife spend together having fun, searching out that next image and all the memories that came along with those experiences. What a wonderful way to be together and be with nature!
To see more of Jon's work please check out his website; Jonathan Havelock Fine Art Photography or you can visit him at his new gallery at Suite 155, 10403 122 Street, Edmonton, Alberta T5N 4C1 (On 121 Street across from the old Molson Brewery in Glenora Gates).
Please join us as Jonathan shares with us his passion for photography. We love comments and appreciate if you could spread the word about Jonathan Havelock on social media and through e-mail. Thanks.
When I was twelve years old my dad used to show me how to develop black and white photographs in our home darkroom. I was always fascinated by the magic of the image appearing before my eyes and to this day I am still in awe of the whole idea of photography and how it all works. The age of twelve was a long time ago and many things have changed since then, especially in the world of photography. I grew up using trays and chemicals in the dark, watching with excitement as my picture materialized, to working in the family photolab where the process became more automated and machines slowly started to take over. Today there are only remnants of the those magical days. Purists (as they like to be called) who still use film cameras and maybe even developer, stopper and fixer trays in their home darkrooms are themselves remnants.
Click the thumbnails below to see a larger image.

Although technology has changed how we get the physical image there is one thing that remains the same; the art form still requires the artist. This interview is all about Brian Boyle from Whitehorse, Yukon. Like me, Brian was introduced to photography at a young age but unlike me he has made it his life long passion and has been expressing this form of creativity since he was sixteen. I feel that Brian had a serendipidous moment back then. He was in Banff, Alberta and someone offered to sell him their camera. You almost can't ask for a better place to have one fall in your lap. And so it began…the young man, the camera and nature.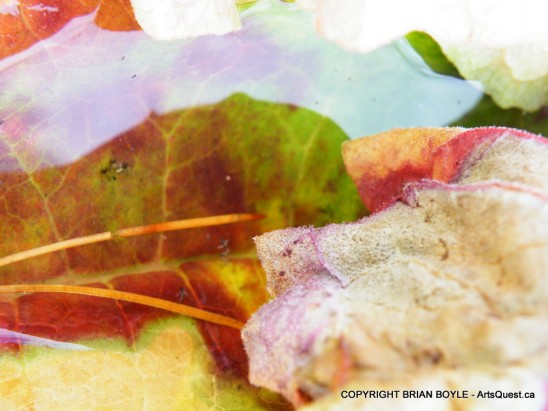 No matter where you see Brian today he always has his camera along. Some people say a dog is man's best friend but Brian might say, that for him, it is his camera. We met Brian along the riverfront in downtown Whitehorse for his interview and sure enough his trusty sidekick was along with him. He shared with us an old saying that reminds him to have it by his side; "What is the best camera? The very best camera is the one you have with you." I certainly can attest to that as regret has followed me around on a few occasions. Because Brian doesn't often break his adopted rule, nature rewards him with so many wonderful treasures. The Yukon is this photographer's playground. During the summer months the light presents itself in so many different ways; dancing and playing in the trees or shimmering like a billion sequins floating on the water. The summer light is long and keeps Brian busy and although there are more winter months in the north and it can be cold and dark, the snow is pristine and what light there is gives ample opportunity for that special shot.
Click thumbnails below to view larger images.

Brian's photography is as varied and vast as the Yukon landscape. He enjoys wandering about in nature but also derives great pleasure in searching through an empty parking lot and exploring the angles, textures and how the available light can create an intimacy with the most mundane and often unnoticed thing. He creates art with his eyes. The physical world and Brian are partners, sharing a moment in time never to be seen again by anyone; the only evidence that it existed comes from Brian's collection of memories and photographs.
If you would like to see more of Brian's work please click here, click here and click here.
Please join us as Brian shares with us his love for photography in the Yukon. We enjoy receiving comments and would appreciate it if you helped us spread the word about Brian Boyle on social media. Thanks!