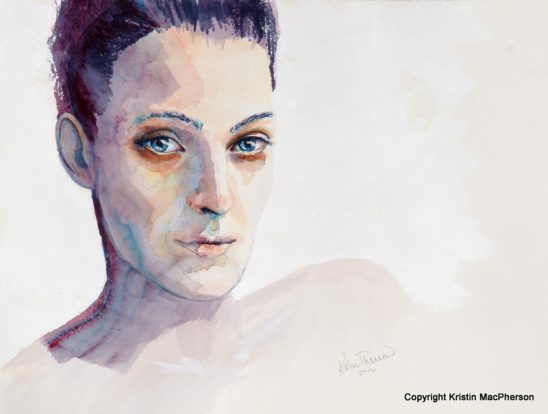 Most of us are familiar with the saying the eyes are the windows to the soul, but did you know that this isn't just a metaphor? There is scientific evidence that indicates a person's eyes really are a window; to their feelings or intentions. Facial expressions can be forced, such as with a smile, but our eyes reveal all so our natural tendency is to avoid excessive eye contact because, for the most part, it makes us feel vulnerable and uncomfortable. The eyes also affirm beauty, peace, happiness, contentment and so many other things that make us want to get to know someone. When we sat down with Kristin MacPherson she revealed to us, not through her eyes, but through her art that it is this physical feature that ignites her curiosity and compels her to want to make people's faces the subject of many of her paintings and photographs.
As with many artists, Kristin grew up in a family of creative people, (parents, grandparents, aunts and uncles) each accompanied with tons of encouragement for Kristin to express herself creatively. When it was time to choose an education the likely candidate was a Bachelor of Fine Arts degree but the perceived reality was to find something that would land her a job. It turns out that photography was the path she would take, and although she didn't realize it at the time it has played an important role helping her become the artist she is today.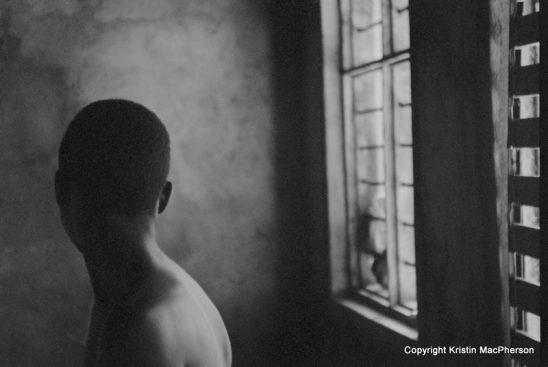 Click the thumbnail to view a larger image.

When we arrived at Kristin's home where she lives with her husband, three daughters, two dachshunds and her '53 Buick named Lenore it was easy to see we were entering the home of an artist. There are often signs An Artist Lives Here by the paintings on the wall, or the sculptures on the mantel, but more often than not the art studio is tucked away in a spare room, garage or basement area where the artist has the option of "To be tidy or not to be tidy? That is the question". In Kristin's case, the front room is her art studio, up front and center for all who enter the house to see. It was pretty tidy too! An advantage? A disadvantage? Perhaps. Or maybe to Kristin it doesn't much matter either way. Paraphrasing, she looked at us and said, "it's the room in the house we don't use so it just made sense".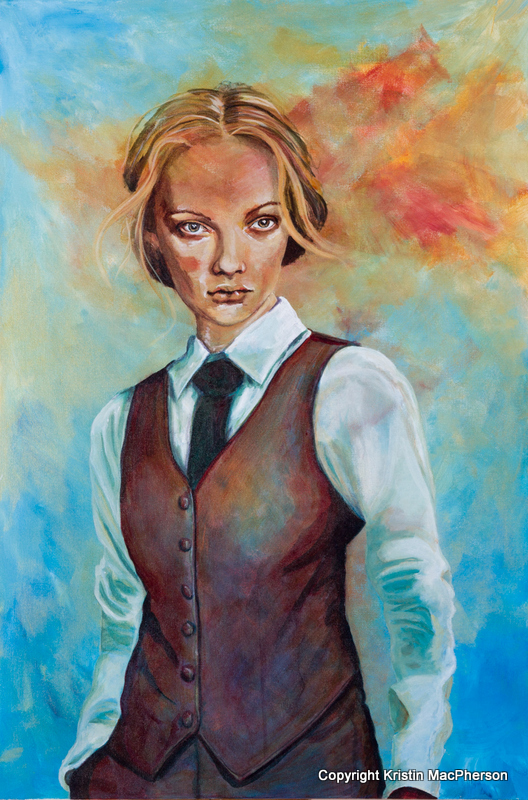 Click the thumbnail to view a larger image.

Although Kristin took applied photography in school, and it is in itself a form of art, her first love is painting. When I first looked at Kristin's work I thought she was a watercolour painter but she actually uses acrylics. Her palette usually consists of only five colours and Kristin likes to keep it as simple as that. When she paints, her focus is on the eyes. That is not to say that the rest of the piece is not important but the eyes need to reveal themselves to her before she is satisfied that it is complete. It really excites her when the unexpected happens; the loose brush strokes and the paint gain a mind of their own, overlapping in shapes and patterns and flaunting randomness in such a way it gives the piece a free-spirited look.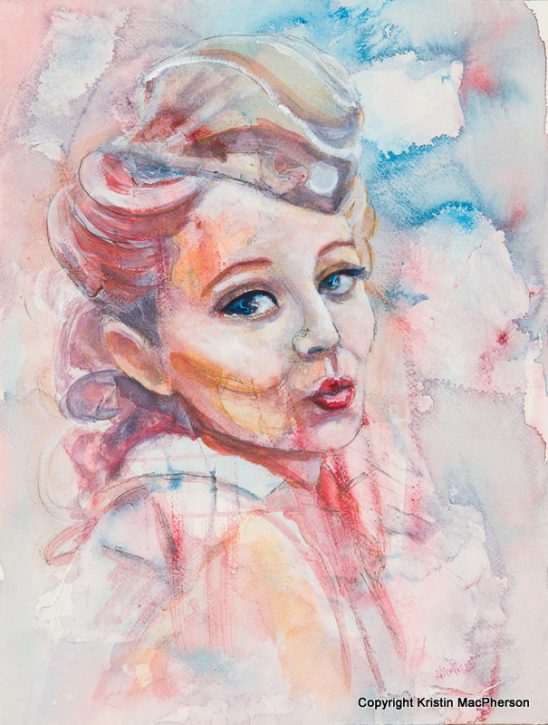 During our interview Kristin proclaimed that she has never taken a painting class and is solely self taught. She did say that it was photography that played a large role in making her a better painter. She spends a lot of time as a professional getting in other peoples faces so to speak. Those close-up shots have given her the opportunity to study the features of the face in great detail and with willing participants. I think the camera provides a barrier between photographer and subject which gives them each a safe place to look into each others eyes. Kristin gets to have a glimpse of the real person behind those eyes and her subject feels relaxed while this takes place. Photography has also enabled Kristin to see the element of light as she paints. Being able to see light and how it wraps itself around objects helps to bring her subjects to life on the canvas.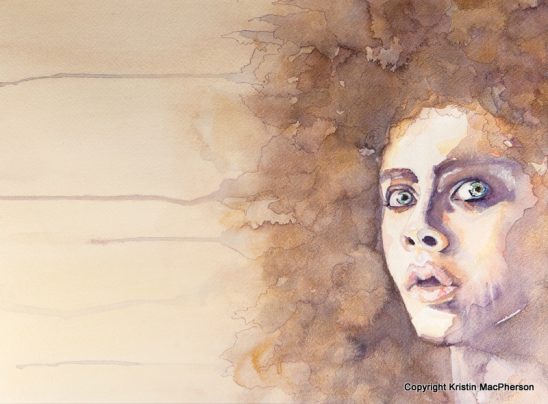 Click the thumbnail to view a larger image.

Kristin's fascination with what makes a person tick gives her the exuberance that is needed to go beyond just taking a picture or painting a piece. She works to bring that person out from behind those eyes, to tell their story, to show what really makes them who they are and not what their exterior projects them to be.
We invite you to watch and listen to Kristin as she shares more with us. We encourage you to help us spread the word about Kristin and her art on social media (for your convenience we have provided the buttons below). One more thing; we love comments so please feel free to leave a nice one below. With much gratitude, Corinne and Gary
What do you want to be when you grow up? For some of us this question has been easier to answer than for others. I am sure I changed my mind time and time again, and as I grew older it became more and more of a power struggle between what I really wanted to do and what I thought I should be doing. One thing I have learned is that the things that matter the most are matters of the heart, not of the head. In general, I think artists are one group of people that understand this very well. Gary and I had the chance to chat with Alison Wandzura who is a professional film and tv actor in Vancouver, B.C. Like many of us, when it came to choosing a career her heart was telling her to be an actor, but her head told her to go get a business degree. Eventually Alison quashed the naysayer within her, let the passion in her heart take over, and now she does what she loves.
When Alison was growing up her and her two brothers spent many of their days acting in homegrown productions and dreaming of the day when their staged funny-naked-bathroom-scene video would be chosen for America's Funniest Home Videos. And although that was "kid stuff", Alison always loved dressing up and pretending to be someone or something else. She still does. One of the reasons she pursued an acting career is because she could never decide what she wanted to be. She notes that if you act you get to pretend to be someone other than yourself on any given day.
Alison was born and raised in Calgary and so was her acting career. She started out as a theatre actor and then five years ago she decided to trust her heart and make a big move to Vancouver where she wanted to try her hand at film and tv acting. Since then she has had the opportunity to work on a variety of projects; everything from commercials, made for tv movies and series, big screen feature films and even playing the voice of animated characters. Many of these projects have been integral in helping her career unfold and to discover what acting really means to her. It is quite different from what it once was. She says it's not about becoming rich and famous, it's about discovering who she really is and how she can make a difference in the world by telling stories that matter.
There is something so real about an actor. An actor's job is to convince us that they are the persona they are pretending to be. It is kind of ironic really. Actors are great pretenders and yet they spend their life perfecting the art of being real from someone else's perspective. Because of this they may have a better handle on what it means to just be themselves more than most people do. Alison is discovering this about herself. Her acting career has opened the door and let the real Alison out. She sees the world and the people in it differently now. Her senses are wide open to what goes on around her. Not only does this make her a better actor it has also given her a love for humanity that she never knew she had.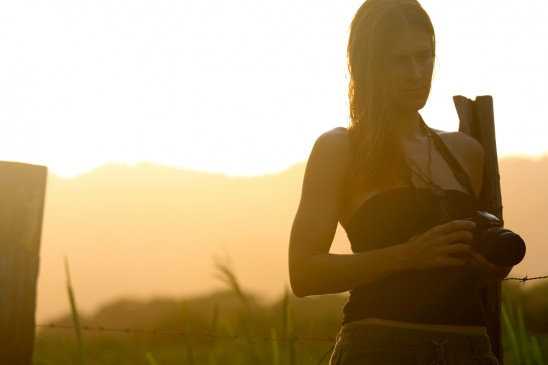 Click the thumbnail to see a larger image.

When Alison is not auditioning or working on her acting skills she enjoys being behind the camera for a change. She loves to travel and explore areas of the world that are rich in culture unfamiliar to her. She found herself captivated by the people and discovered her passion and creativity for photography came from capturing images of men, women and children just living their lives. In her words, "there is something so engaging and beautiful about someone just being themselves". Alison hopes to create a greater respect and understanding of what is truly beautiful about a person by honouring the essence of humanity and what it means to be real, either through the images she captures from behind the camera or through the acting she presents in front of one.
Click the thumbnail to see a larger image.

Please join us as Alison shares with us what it takes to be an actor. We love comments and would appreciate it if you could help us spread the word about Alison through social media and email. Thanks!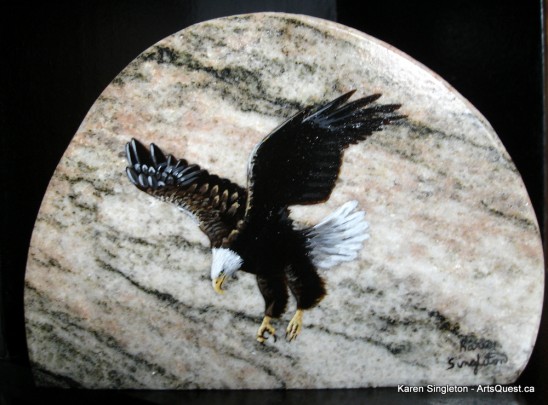 The world weighs heavy upon her shoulders but not in the way you probably think I mean. She is not influenced by the media or stuck in the day to day grind that most people face. As a matter of fact she chooses to live simply so that she can have fulfillment and follow her passion. Karen Singleton is a painter whose life and life's passion is built from along the shore of Lake Superior in Batchawana Bay. Her time is spent scouring the shoreline just outside her back door in search of rocks. Rocks are what fills her days, her pockets and her studio where she paints incredible portraits of animals, birds, insects, reptiles, amphibians and people upon them.
Click the thumbnails to view a larger image.
At a very early age it was quite apparent that Karen had an innate ability to draw and paint. Evidently, this was what she set out to do but because of different circumstances with the art school she attended her enthusiasm dwindled and she found herself on a different creative path. Still, she always found time to paint but rocks weren't part of the equation at the time. Then one day an accident left Karen temporarily without the use of her arms and unable to continue with her career in fashion design. It turns out that painting was an excellent form of physical therapy for Karen, and so this is when she began to paint on rocks. Not only was collecting them a great way to strengthen her arm, they were also easier to paint because she could hold the stone in the palm of one hand while resting her painting hand on the table. At this point she had no idea painting portraits on rocks would turn out to be a life long career but then fate paid Karen a little visit. A friend fell in love with her rock paintings and asked if she could decorate her restaurant with a few. Unbenownst to Karen, her friend sold them and then was back asking for more. The rest is history and she has been at it ever since.
Karen's portraits are truly special. The rocks are hand selected from where she lives and each one is chosen for its unique colouration and pattern. She told us that intuitively she knows which rocks will make the best canvas but it is always a nice little surprise to slice one open and discover it wasn't at all what she expected. Each rock is carefully prepared before the first brush stroke ever finds its mark. Karen never rushes an idea for a new painting. She says if someone requests a rabbit portrait from her on a particular day she may or may not have one. I take that to mean that she doesn't force herself upon creativity or the rocks. They, along with her daily experiences, tell her what animal will be painted on its face. It is the creative process that guides her to an idea and she in turn is the force that delivers it to it's physical form.
Although Karen has been using Lake Superior stone as her canvas for many years, painting on rocks does have its limitations. For instance, the rock she chooses can only be of a certain size or less due to the obvious weight issue. Recently Karen has found her way back to canvas and is enjoying the freedom to spread her creative wings a little further.