Life is a journey of discovery and learning, and the mediums for personal and professional exploration are endless. For some that inquisitive fervour may take them into the natural or social sciences, for others it could be a trip to the moon and back, while still others may devote their life to training their bodies and minds in the martial arts. For artist Sandy Troudt that constant curiosity has been a life-long journey into the artistic realm of her paintings, print making and mixed media. For as long as she can remember Sandy has always wanted to paint, and it was a wonderful experience in seventh grade that affirmed her need to pursue it. As a career educator she shared that passion with her elementary students and other teachers alike through curriculum and workshops. Sandy recognizes that her own learning has evolved from mentoring by many notable artists as well as an arts community which provides another integral part to the growth experience and personal artistic journey. Unable to seriously devote her time to art while dedicating thirty-two years to teaching, it was upon retirement that Sandy now felt it was her time to pursue her passion in earnest, and that thirst for learning and her pleasure for the paint brush has never waned.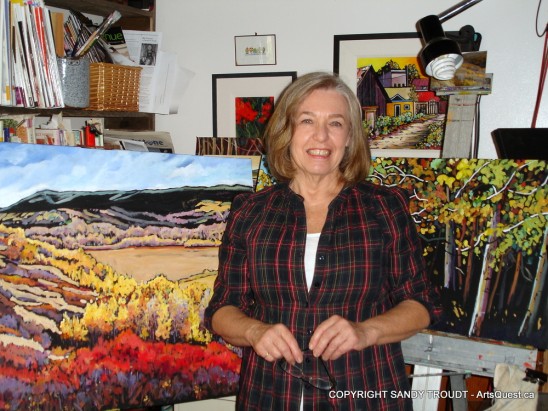 Sandy and her husband Dennis live in the house they built in a picturesque rural area outside of Fort St. John. It is a place devoid of traffic noise and city lights, where the only onlookers might be a deer, a moose, or any one of nature's wild inhabitants indigenous to the Peace region. It was this beauty and proximity to the wilderness that attracted them to this area, and Sandy draws endless inspiration from this natural environment. It is also an area rich in history from a pioneering way of life, and Sandy marvels at the challenges that the early settlers faced. The remnants of those bygone days still cling to the present whether as a rusting old truck, farm implement or weathered and sagging barn. They all provide engaging subject matter for Sandy's creativity.
Click on images to enlarge:

With her appetite for discovery, Sandy has always pursued a variety of art media. She believes that the learning one gains from working with one medium can easily transfer to using another. She loves change and is always trying to find a better way of doing things. Sandy will ask herself, "What if I did this or tried that?" and admits that it is sometimes difficult to stay on track with her enquiring mind eager to get started on new ideas. With one painting finished and a lesson or two learned she is off on another adventure of problem solving and the joy of discovery begins once again.
Click on images to enlarge:

Sandy's paintings will grab your attention; the bold colours and contrasts inviting you in for a closer look. The scene is appealing and recognizable yet gives in to the imagination and loses the strict boundaries of realism. The effect is eye-catching, and is meant to evoke emotion rather than just recognition. Sandy notes that colour relationships are very important Capturing the essence and liveliness of the scene that she felt when first witnessing it is her goal and what she hopes to portray to others. Sandy will paint from a photograph but the similarity ends there. She notes, "I do not want anything I paint to look just like the photograph. I want to liven things up a bit…a photo reference is only the beginning…so I go a bit crazy sometimes…I can't help it!" Chatting with Sandy her enthusiasm is palpable, and the joie de vivre she exhibits lives on through her art work.
For Sandy the joy of being an artist is the fun of experimenting, the discovery of new techniques, colour variations that really work together, and the thrill of change. Adhering to the guidelines of colour theory, composition and balance is still important, but allowing uninhibited creative license to amuse and amaze herself is essential to following her passion. To enjoy more of Sandy's art work (click here) to access her website.
Enjoy our interview with Sandy and we welcome you to comment below and share on social media and through email.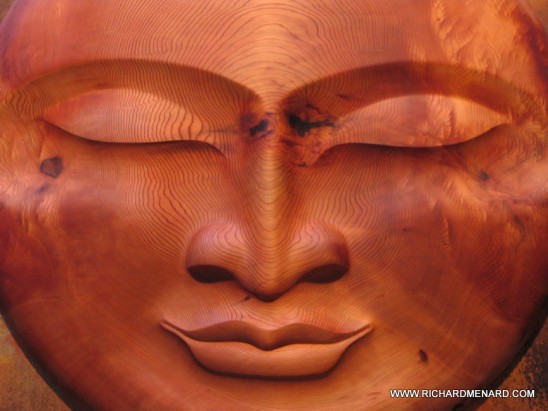 I never grow tired of walking through the forest. I walk side by side with my senses. The air is rich with oxygen and the smell of humus fills my nose as I take a deep breath. The cool humidity blankets my skin and I feel tingly and alive. Each step I take brings with it the sound of crunching leaves and crackling branches, I hear the sweet melody of birds chiming for a mate and I listen as the breeze lightly brushes through the tops of the trees. Sometimes there is no sound at all and with it comes a calm that I am eternally grateful for. My footsteps take me down a path I may or may not have traveled before but each time I go it is the trees that draw me there. I am always humbled when I stand in the presence of the great trees. They are so grand and amazing and always take my breath away every time I see one.
I preface my blog this way because I want to introduce you to Richard Menard. Richard lives on Denman Island, British Columbia, a short 10 minute ferry ride from the east side of Vancouver Island. He and his partner Shari and their cat Mische live on a beautiful piece of land overlooking the ocean.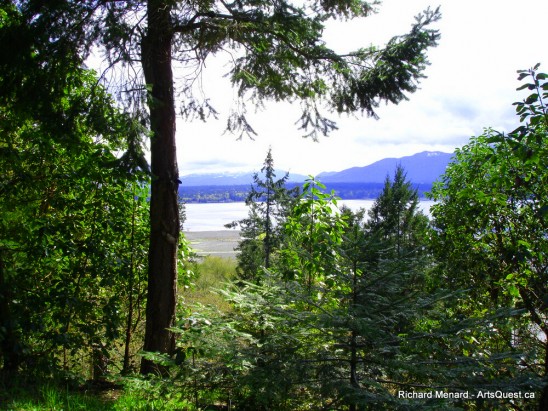 Richard is a sculptural artist who spends his days in the company of the great trees. Not only do they watch over him as he works, their fallen ancestors become resurrected into new artistic forms in Richard's sculptures. They are grand and they command attention just as they did when the trees once stood in the forest. At the same time, his sculptures are simple and respectful and are a fitting homage to the fallen giants.
Click on the thumbnail image to show a larger view.

Richard loves to work with burls not only for the challenge but also for the inner beauty of the tree. He can bring out the colours and the patterns in the detailed work he does. Burls can be elusive as they are not all that common, especially when you are looking for something big. It starts as a rough and tumble process once Richard finds what he is seeking. Most of the time the burls aren't sitting in a convenient location, they are super heavy and they are awkward due to their size. Once he wrestles the hulking piece of wood onto his truck with a little help from his ratchet lever hoist, he takes it to his studio where it will sit quietly and wait until Richard finds an idea for that particular piece. It is a chunky and clunky task when he begins to work with the rough piece. He quickly cuts away the bulk to reveal the basic form and as time goes on the tools become more refined and the sculpture begins to come to life. Primarily, he carves faces with smooth, delicate features and closed eyes from red and yellow cedar. The faces are peaceful and serene and give the whole sculpture a meditative quality.
Click on the thumbnail image to show a larger view.

"In our modern world, a great many of us experience a daily bombardment of noise, imagery and over-stimulation. My intention is to create art that invites the experiencer to contemplate, breathe and feel at peace."
– Richard Menard
Please join us as we find out more about Richard Menard and his art in the following interview. Comments are always appreciated and don't forget to share with social media!