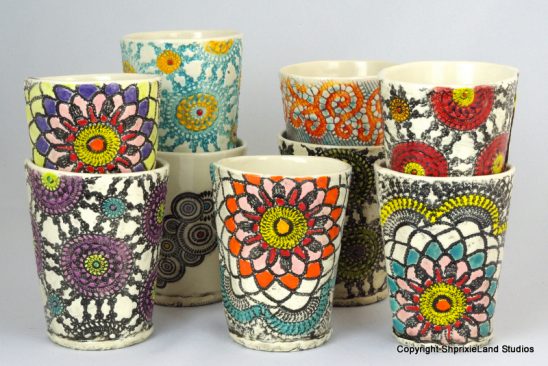 If you have seen the colourful pottery works of ShprixieLand Studios from Boswell, B.C. and thought, "How fun! How Playful! How Unique", and wondered what the artists were like, well those same descriptors will ring true once you have met Heath Carra and Victoria Henriksen, also known as Shpriken and Pixie. Our first glimpse of these fine folks was when they contacted us wishing to contribute some pottery to our now defunct crowdfunding campaign. We loved their work and wanted to interview them, and despite not living far apart from one another it took awhile to meet up. So here we are, after tooth extraction appointments and date changes we have finally arrived at the base of their driveway, this last obstacle almost requiring four wheel drive for our over-weight and under-powered van Arty.
Like many people living in the Kootenays of B.C. (including us), Pixie and Shpriken relocated from a bigger city to forge a different way of life for themselves. After checking out fourteen homes through a Creston realtor, they found their scenic oasis overlooking the pristine waters of Kootenay Lake in Boswell. Pixie having come from art and design school and Shpriken a background in sheet metal layout, they discovered new opportunities for growth and a new learning curve for all that living in a rural area entailed, such as chopping wood for heating, raising chickens and pigs, and being the head fixer-upper for anything and everything. It also meant finding a way to earn an income, and although they acted on a whim to move, with no plans for work once they got there, it is, ironically, these urges of let's give it a try that has lent itself well to their creative process and now successful pottery business.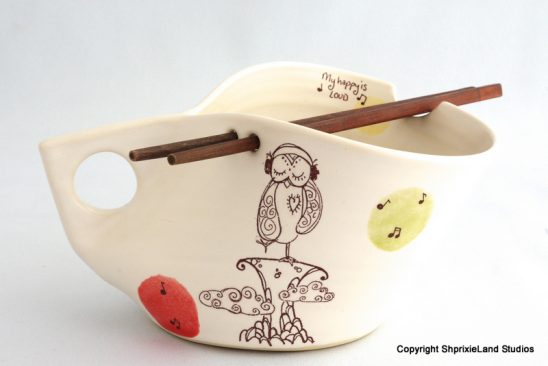 Click on images to enlarge:

We learned from these two artists that their art work, like their lives together, are a weave of collaboration, friendship, fun, and propping each other up when needed. It was Pixie who was the ceramic artist arriving in Boswell with the design and wheel-throwing skills, and Shpriken, the mathematics minded handy guy who built her a pottery studio and fixed stuff up where needed. What he found through hanging around Pixie in the studio though is that his knowledge of sheet metal layout crossed over to hand-building clay pieces from slab layout design. From these beginnings their pottery lines have expanded with their imaginations, in many cases incorporating decals that they have made of images and phrases to be imprinted on their mugs, tumblers and rice bowls. You will see fun pieces ranging from adorable animal caricatures with happy sayings, to the risqué humour of their Educational Wildlife Mugs, a light-hearted series for the less prudish. And if you thought that doilies had gone out of style for your table-top accoutrements then wait until you see these designs pressed into a mug or teapot, creating an eye-popping effect. (At the risk of sounding less dudeish Shpriken proudly acknowledges his huge collection of doilies).
Click on images to enlarge:

The Shprixies note that although the merit of the artistry and decoration of a piece is important, the shape of the clay vessel must still be fully functional for day to day use. A visually appealing mug will be pleasing to the eye, but one that can be held in the hands with a steaming cup of tea or coffee will also engage the tactile senses, and some may argue even elevating the enjoyment of the beverage. Likewise, a piece hand-made by an artist, where their creative energies have lovingly transformed a piece of clay into a "friend" that speaks to you through the colour and texture of its glazes, the shape of the handle perfectly within your grasp, or the image of a cute owl bringing a smile to your face, will stir the soul unlike anything that a mass produced machine molded mug could ever do.
Enjoy our interview with these high-energy partners in pottery and please help to spread the word about them through social media, with nice comments submitted below for those so inclined.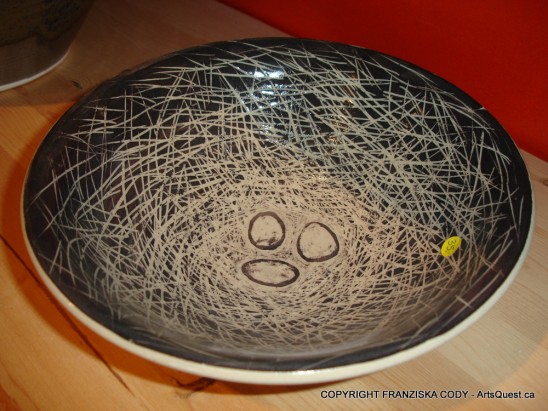 It has always appealed to me to be surrounded by things that are handmade and created from someone's imagination and desire. Gary and I don't own a lot of fine art and craft but what we do have is very special to us. My brother is a woodworker and for our wedding gift he made us a gorgeous cherry and black walnut two person table and chair set. It is so wonderful to sit and share a home cooked meal and talk about our day at this table. It is one of the highlights of our time together. Simple yet so rich! Art is so much more than something pretty to look at. It is a connection to other people; to their dreams, their passions and it is a connection to life. There is energy in handmade art and craft that we will never experience from an object manufactured by a machine. This partly explains why we are not committed to those things. They fill a space on the wall or a place setting at the table but lack the connection to the human spirit that we can only get from something handmade.
Click on the thumbnail images to view a larger perspective.
Gary and I bought our first two pieces of pottery on our interview tour up through Northen British Columbia. Telkwa artist Franziska Cody is a potter and the owner of a charming working studio and gallery called Art and Soul Pottery. We arrived to find Franziska quite literally up to her elbows in clay, working her wheel and turning out an order of mugs. There was wonderful soothing music playing, the kind you would expect to find in a spa, and the space felt comfortable to walk around in as we glanced through the gallery.
Franziska has been a full time artist and business owner since 2009. It all began when she decided to immigrate to Canada after meeting the man who is now her husband. Because of the immigration process she was unable to work so she dedicated her time to doing what she loves; art. This was when she discovered clay and found that she had an affinity for it. One thing lead to another and soon she was in business full time. It hasn't always been as easy as all that but her and her husband live a simple lifestyle which affords them the freedom to do the things they love.
While we were in Telkwa we bought a couple of Franziska's travel mugs. Besides being handmade pottery, it was the design, the earthy colours and the appropriateness with which they fit for us that made our buying decision easy. I had never seen travel mugs like this before and so I was curious about Franziska's approach with clay. I asked her whether or not she was trying to see how many functional things she could actually replace with a clay version. She explained to me that she finds clay to be very fragile but versatile and it can be turned into something of strength once it is fired. She said the nature and characteristics of clay are not unlike the nature and characteristics of human beings and this is one of the things that appeals to her about the medium. She finds herself pushing the limits of clay. Sometimes it works out and sometimes it doesn't; for Franziska it is all about the process and the discovery of what is possible for the clay and for herself. Franziska spends most of her time creating functional pieces like pots, plates, mugs, bathroom accessories and even sinks. She hopes to one day step further into the realm of the spontaneous but for now she loves making things for people who she knows are using her pottery in their everyday life.
We invite you to watch Franziska's video interview as she talks more about her pottery and the life that she loves. Please leave your comments and help spread the word on social media. It is much appreciated! Thank you.