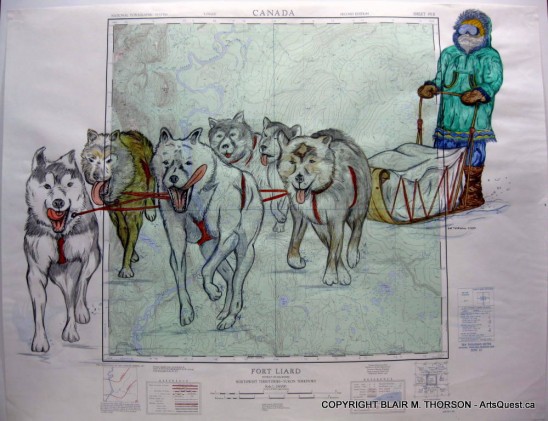 If you were to look at a painting from watercolour painter Blair Thorson, the first thing that you would notice is that he is all over the map…literally! Blair's unique paintings utilize a "canvas" made from original, mostly topographical maps upon which he paints relevant images indigenous to the location of the map being used. His art is a collaboration between the left and right brain; the technically and mathematically defined lines of the maps conceding to allow the free-flowing randomness of an arbitrary image or scene. Allow me to introduce Blair Thorson, the artist known as "the map guy."
Blair's love of maps was no accident, and the irony of how his painting niche with maps came to be was relayed to us as Blair describes with humour his early life debates regarding profession and passion:
"In grades 7,8, and 9 we had to choose an elective via a parent permission slip from either music, art or French, and I wanted to choose art so I checked it off. My father worked for Water Survey of Canada and wanted me to join the civil service like him so he scribbled out art and checked off French instead. Consequently, two years in a row he picked French and two years in a row I purposely failed it! The third year in grade 9 he conceded and let me choose art, although pointedly saying that if I wanted art so bad that I had better be darned good at it. He didn't want me to suffer the fate of the cliche starving artist."
Blair went on to win the high school art awards for grade 9 and 12 and has been doing art in one form or another ever since. He also went on to work for Water Survey of Canada as a hydrometric surveyor for 35 years, and through his work he developed a love and fascination for maps. Blair's passion for art combined with his father's influence gave him the creative niche he has today, giving both of them the happy ending they desired.
Click on images to enlarge:

The first time that Blair's idea for his map painting initiative occurred was after a halibut fishing excursion with friends in Skagway, Alaska. As a gesture of thanks he decided to paint them a picture in watercolour of their boat. He also found a map of the area they were in which would be framed alongside the boat. Once he set the two on the light table and saw them overlayed, then the light bulb in his head went on as the idea to paint the boat on the map itself was born. His friend was thrilled, and to this day says that when he looks at it he either sees the map, or his boat, but never both at the same time.
Click on images to enlarge:

Blair notes that "every map has a story and the images that go with it." The subject matter for his art work is one of memories, whether from places and situations he has personally seen, or commissioned works from other people. The map provides a familiar visual reference of the area and the painted images bring that memory to life. Many of those memories occurred during his previous career where he was able to photograph his wild surroundings and the rural way of life. Ironically, many years later those images became the subjects for his map paintings. For some of his animal depictions Blair will embed the life size paw or hoof prints of his subject in the painting. It has a an exhilarating effect, making the presence of that animal more vivid. With his human subjects, Blair now strives to incorporate action; depicting people doing daily activities be it paddling a kayak, building an igloo or native dancing and singing.
Art can be a very solitary activity but at the same welcomes the public eye. As personable as we found Blair to be, he confesses that he is introverted by nature and would rather just be doing his art work but not the promotion side. Our time spent with Blair and his wife Linda revealed her to be his secret weapon; an enthusiastic supporter and promoter of him and his art. They make a wonderful team!
Enjoy our interview with Blair as you get to know the man behind the maps! We welcome Comments below and sharing on social media.
When antler carver Greg Bradacs had mentioned in an email that we would not be disappointed by a visit to his Bird's Paradise property we weren't quite sure what he meant, but as we drove down the long forested driveway and emerged into the clearing at his house we started to understand. He had transformed his quarter section of land into an interesting nature walk of wonder that accentuates the natural beauty and features of the land while also accenting it with his own creative flair in the form of a pond, trails, gazebos, wildlife viewing areas and of course…custom designed outhouses! He took us on a walk around his "living canvas" as he calls it; a rural retreat for adults and children alike while painting us a picture of the future plans he has for what is otherwise known as Visions of Nature. The heart, soul and energy that Greg has put into his property is evident everywhere we look, and it is no surprise that we see the same passion and focus that he puts into his antler carvings.
Having been exposed to the outdoors since childhood, Greg has always been inspired by nature and found that drawing wildlife using pen and ink as a teenager was a fitting entry to his first artistic expression. He moved on to pointillism, honing his technique and deriving great satisfaction from the detailed images that would appear from the hundreds of thousands of dots that he meticulously put down on canvas. Greg's drive and focus were a perfect fit for this art form. When Greg created the large eagle depicted below he decided to count the amount of dots he put down in a few select places. On the pupil of the eye there were 1400 dots, the nostril 300, the third large feather down on the left wing was 24,450 and on the third flight feather up on the right was 23,840 dots! The proof is in the pointillism as the detail that Greg exhibits is stunning! His pointillism also took shape as animals drawn on the skulls from which they originated. The outcome was not only Greg's beautiful work of art but also commemorative to the animal taken.
Greg's decision to carve antlers twelve years ago would bring his imagination, creativity and infinite detail to the natural "gifts" that moose and deer drop to the ground every year. He notes that many times he will get a vision in his head, a story that needs to be told and put forth to his antler medium. He then searches for the perfect "canvas" in his collection of antlers, one that speaks to him, and then gets to work! He uses a Dremel tool and dentistry tools with their fine bits to patiently carve the details of landscapes, animals, people or scenes. The result is another one-of-a-kind work of art!
One such story that Greg needed to tell was Can You Hear The Laughter, shown below. Click on the link within the name to read about how this remarkable carving came to be after 2 1/2 years in the making!

Click on the images below for a closer look!

Greg's sought after antler carvings and commissioned pieces are not just the result of the skills he imparts to create them, but also unites the personalization he undertakes during the design phase. Through extensive fact finding he will get to know the recipient of one of his pieces to the point where the finished antler carving could represent a history of that person's life. A great example of this was Greg's piece, Memory Lane, a 50th birthday gift. By clicking on the link provided you will see that the personal life details of the birthday boy are embodied exceptionally well within the artistry.
Click on the images below of Silent Minds, a remembrance to the riches-seeking miners of the past!

Enjoy getting to know Greg with us in his garden interview and please share on social media!