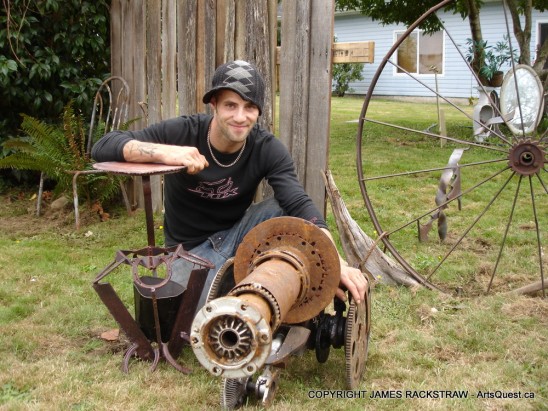 Creativity in the form of art is a wondrous thing. It can bring beauty into one's life. It can add appreciation for other people, places and nature on the tiniest or grandest of scales . It helps us to become aware of whom we are and give us an awareness of other people and other things. It can provide an awakening and it can heal.
James Rackstraw is a young artist in terms of age and in terms of his art career. He is one such person who has found creativity and art to give him everything I have described and more. His story is quite remarkable. He has faced extreme adversity from an early age as a child. Spinal meningitis left him with the inability to communicate effectively. When we met James we could tell that determination was his companion and has walked with him side by side, enabling him to change his life and become the person he is today. He has been the passenger in twelve car accidents and broken almost every bone in his body and he had his hand almost completely severed when three thugs broke into his home with intentions of robbery. He has been up, living a comfortable life, and he has been down, at times living on the streets. James doesn't mention these things because he wanted us to feel sorry for him, but rather because the experiences have brought him to where he is today. He notes that without those experiences and the understanding he gained that he wouldn't be James Rackstraw, artistic metal fabricator.
Click on images to enlarge:

James' work reminds me of a mixture of Edward Scissor Hands, with a dash of Old England and a sprig of Steam Punk. He loves to take found items that may be leftover scraps, old antiques or just someone's junk and piece them together and create a new functional item like an Old English lamp post or a jewellery stand. It could also be something more abstract like a warrior sculpture or a robot. The irony of James' art is that he breathes new life into something that would otherwise be discarded and his art breathes new life into him, a person who many people doubted and metaphorically discarded.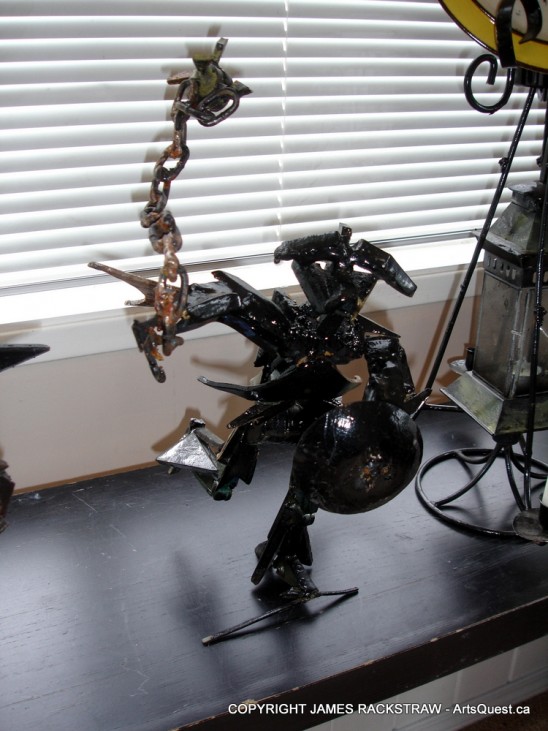 Click on images to enlarge:

Although James loves working on his own he says one of the best parts about being an artist is connecting with people. He told us that having spinal meningitis as a child gave him an innate ability to read people. His struggle to communicate forced James to learn through observation. He spent a lot of time watching. Oddly enough this skill that was acquired out of a disability is something he now uses to give himself a better understanding and insight into what he creates for someone. He gets great satisfaction out of creating not only the art but a connection to the art for the new owner of the piece.
Click on images to enlarge:

James is an inspiring person. He is a great example of what the human spirit is capable of. Whether we have hardships to the extreme like in James' case or we don't, it is uplifting to be reminded that humans are extraordinary and that gives us the ability to make our lives and our world a better place through the creative process.
We invite you to watch James speak candidly about his life and his art. Please feel free to leave a comment and post on social media. Thanks!
Posted on
September 15, 2013
in

Fabrication, Metal, Metal, Sculpture
|
Tagged

birdbath, fabrication, jewellery stand, lamp posts, Matsqui, metal, sculpture, tables, welding, wineracks
|
15 Comments
If you ever find yourself traveling north on B.C.'s hwy 31, rather than pass through Kaslo, stop and spend some time, it will be well worth it. You will likely find yourself on Front Street along the water where you can park your car for as long as you like and keep your change for coffee and a sweet treat.
The morning after our stay in the Kaslo Municipal campground we headed to Front Street looking for The Live Art Shop where we would meet co-founder and mixed media artist Eliza Fry. Just after 9am we spotted Eliza heading into The Live Art Shop with a Dachshund named Wobbles in tow. The Live Art Shop was fashioned from a building that once served as someone's home and is now home to an eclectic array of art works from local artists. Eliza gave us a tour and short intro to some of the local art that is displayed there.
Eliza is a mixed media artist who is compelled to create her work based on some of today's social issues. She enjoys using images from old magazines and materials that she has found lying about when ever and where ever she comes across them. Geographic maps tend to be a staple with many of her creative endeavours and she continues to discover new angles and ways to incorporate them into her art pieces. Her latest project is a paper sculpture of a life size raven clutching a shiny ball in its beak. Eliza even granted her bird life, in a manner of speaking, and gave it the mechanics to flap its wings. The raven is made out of black postcards that were left behind by another artist who had an art showing in Kaslo and there were a little too many. Rather than throw them out or recycle them, Eliza found them to be the perfect material for her bird. The bird fosters flight through existential people power and will happily flap its wings fast or slow depending on how energetic one might feel. It currently lives in a room full of other haphazard "stuff" silently waiting to be pieced together from the imagination and creative spectacles of one Eliza Fry.
Check out Eliza's interview and the demo of her rad raven below.
Most of the time when I think of art it is often surrounded by imagery of vibrant color. As human beings, most of us are fortunate to absorb through our eyes streams of color as we take in the world around us. Having said that, Gary and I were invited to spend some time with Gina and Cory Medhurst, owners of Kootenay Forge. The forge, as you would expect, is not the place to find vibrant color. What I did find was an immense dark building with shades of blackish blue all around us and one reddish orange glow coming from the propane fired forge.
Gina was kind enough to spend over an hour of her time with us, giving us a tour, and explaining all about the processes of running a forge while her husband Cory generously offered up a demonstration. Blacksmith work has been around since primitive man discovered a metal that could be manipulated when heated at very high temperatures; 2500 + degrees Fahrenheit. This discovery lead to making simple tools that were extremely useful for everyday life. Today, blacksmith work is still a practice and a skill that lives on. Gina's father who started the forge business in Crawford Bay in 1982 has since sold the business to his daughter and her husband and passed down his skills and knowledge to them. I was thrilled to hear about their history as a matter of general appreciation for the practice of passing and carrying on skills from one generation to the next.
I got the impression that over the years Gina's father was tirelessly innovative which only served to enhance their business and their health. He built a propane fired forge to replace the traditional coal fired which eliminated the health related risks of burning coal. As well, he built a giant drum like tumbler that uses steel punches that are recycled from a company in Nelson and that is fully ventilated minimizing fine steel dust particles from filling the room. Fascinating!
Upon the completion of Cory's demonstration, I discovered that beauty really is in the eye of the beholder. It was mesmerizing to watch the pulsing glow of the forge as it engulfed the cold blue steel. The simplicity of the contrast between the two colors was exciting and reminded me that art is the discovery of beauty in many forms and vibrant colors are a tiny portion of that discovery.
Please be sure to watch the "Leaf Hook" demo by Cory with Gina narrating in our video below.