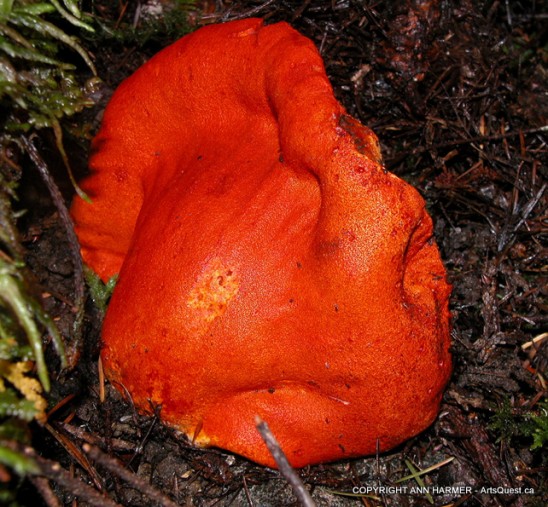 The more I learn about mushrooms the more I love them! Fortunately for Gary and I our trip to the Sunshine Coast of British Columbia would lead us to the doorstep of fibre artist and mushroomist Ann Harmer and her world of the magnificent mushroom. Ann lives with her husband Rick and their two friendly pooches on a parcel of land near Katherine Lake where we had camped the night before. They moved from Burnaby about a decade ago after falling in love with the area. Rick says it was Katherine Lake that pulled them there. Outside their door is a rainforest which harbours all the right conditions for mushroom life. Before moving to this area, Ann had decided she wanted to learn all about mushrooms not realizing this endeavour would lead her into a creative realm using the humble fungi.
I was curious to find out if using the mushroom to make dyes was some sort of ancient art form. As Ann explained it only began when a woman in California was creating a dyepot out of flowers, and merely out of curiosity happened to throw in some little yellow mushrooms. It turns out she got a beautiful yellow dye and the rest is history. Now people all over the world forage for pigment mushrooms. They even get together once every two years for a pigment mushroom symposium to discuss all things fungi.
Click the thumbnails below to see a larger image.

Typical mushroom hunting season on the coast begins in July and goes into November. During that time Ann can be found out in the forest with her two dogs on the hunt for pigment mushrooms. Only a fraction of all mushroom species contain a pigment that is suitable for dyeing. I must say I was astounded at the colour palette; everything from earthy browns and greens to pinks, blues, and orange hues. Most of the mushrooms Ann hunts for are not edible but there is the lobster mushroom that she and Rick share. The lobster is a deep orange colour on the outside with a white fleshy inside. Ann peels the outside for her colour palette and Rick uses the tasty inside for his palate.
Some of Ann's mushroom hunting involves locating a species that contains chitin. Chitin is the substance that helps to create the hard shell for arthropods such as insects, lobsters, and spiders. In the case of the mushroom, Ann can make a strong paper-like fibre which she turns into bowls, beads for jewellery and sculpture pieces such as hats and shoes (future project).
Click on the thumbnail to view the larger image.

The humble mushroom is an incredibly versatile species. It has been used in bioremediation as well as making a material that could replace plastic one day and not to mention they are wonderful to eat. And now as we have learned, it earns a noble place in the world of the visual arts. Before we left Ann and Rick that day we spent some time chatting over a cup of Earl Grey tea and some Candy Cap shortbread cookies that Ann had made. Candy Caps are a mushroom that taste and smell a bit like maple syrup. Even Gary couldn't resist them!
To find out more about Ann Harmer please click here to get to her website.
Join us as Ann talks about the process of using mushrooms as dyes. We always love your comments and please help us spread the word about Ann on social media and through email. Thanks!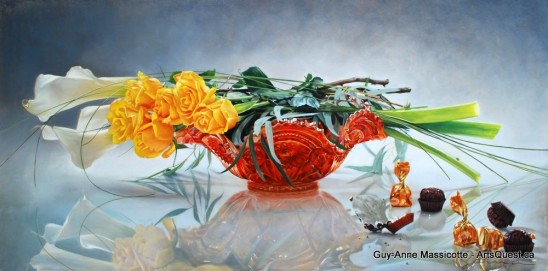 Callas and Roses in a Carnival Vase, Finalist for 2011/2012 Art Renewal Center Salon
Our visit to Quebec was one of my favorites, not only because the province is drenched in rich culture, history and beauty but also for the down to earth and wonderfully gracious people we met. Everywhere we went we came across helpful people who could see our grade twelve french was a little rusty. In my case a lot rusty. Gary was definately better at it than I was. It probably has something to do with his European heritage. Probably our most overused phrase was, "Je ne parle pas tres bien francais". I was a bit disappointed because I couldn't practise the whole phrase. Usually I wasn't fast enough and the person I was addressing would know just exactly what I was trying to say and switch to english before I had a chance to finish.
Because of our inability to carry on a conversation in french, I decided our smartest move would be to utilize CouchSurfing for all our stops through Quebec. This is how we met Francesca. She was a wonderful host and we had a lot in common with her. I had asked our CouchSurfing hosts prior to our arrival if they knew of any artists that we could interview. Francesca answered our call and lead us to Guy-Anne Massicotte, a contemporary realist painter in Sherbrooke.
We arrived a bit late to Guy-Anne's home as we got lost but luckily we were able to muddle our way through asking and receiving directions. She invited us in and immediately insisted we stay for lunch after the interview even though she was getting ready to go on a weekend trip with her two boys. Guy-Anne has been painting for many years. At first, becoming an artist hadn't occured to her as she was studying science in school. She ended up taking an art class and immediately knew she wasn't going back to her other studies. At the time, she enrolled in a one year art program in Sherbrooke and was going to continue her studies at Bishop University but she didn't want to take all the art history courses. She just wanted to paint. And paint she did! She spent 5 to 7 years doing self study; reading art magazines and books and learning the techniques of her favorite masters.
Guy-Anne has perfected the realism of still life subjects in her oil paintings. When I first looked at her lobster painting my sense was that I was looking at a photograph. However, even a photograph can not capture Guy-Anne's ability to cause you to look twice. It is quite magical how she can take a flat surface and make you think you could reach out and pick up a rose or a vegetable from the table. Guy-Anne says the secret to taking the "ism" out of realism is in the preparation of her canvass. She uses a preparation substance called Gesso. Gesso is used to eliminate a rough surface such as that of an unprepared canvass. This gives her the ability to control the texture with the paint which gives the wonderful illusion of being three dimensional. Guy-Anne is in no hurry to complete her paintings and the 4 – 5 days of preparing the canvas; applying Gesso, waiting for it to dry and sanding in between each application sets her apart from many artists. For her, although the preparation takes time, it makes the actual painting easier to do and a lot more fun.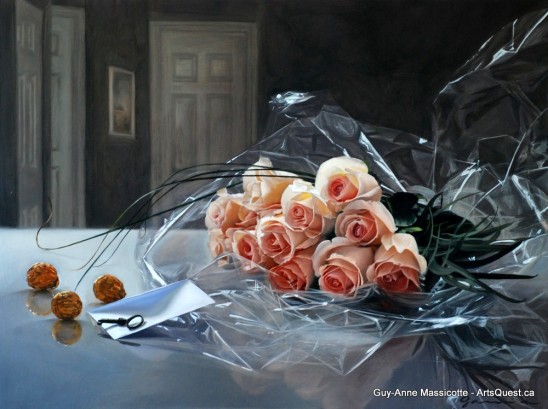 All of Guy-Anne's hard work and dedication has enabled her to achieve recognition at the international level. For the 2011-2012 year she was a finalist for her painting Callas et Roses sur Vase Carnival for the Art Renewal Center Salon. This competition garners 2100 entries and the finalists represent the top 24% of all works submitted from around the world. Her work was also selected to be on the cover of the Febuary-March 2012 issue of International Artist Magazine. And most recently, she was asked to be a member of The Group of Twelve. This group is made up of some of the finest realist artists in Canada today.
Although this recognition is for her still life paintings, Guy-Anne told us she is now up for another challenge. She loves the human face. Her focus these days is to capture the real emotion in a portrait of someone. After spending a bit of time with Guy-Anne, there is no doubt in my mind that she will be able to rise up to this challenge and meet what ever goal she has set for herself. She is an inspiring woman indeed!