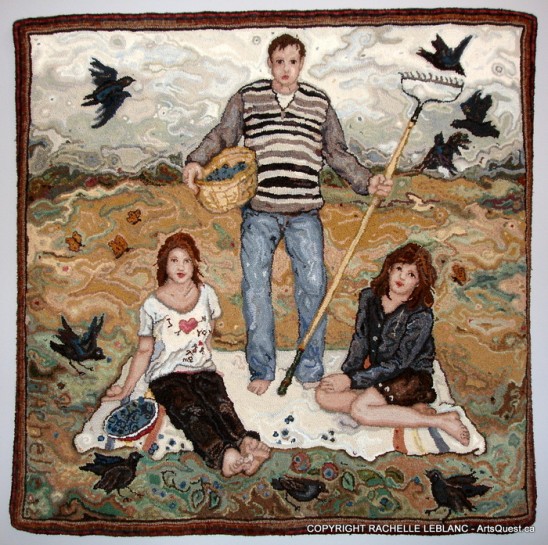 Fibre artist Rachelle LeBlanc had no idea that when she took a stress-reliever escape trip to Shelburne, Vermont back in 2003 that she would be returning with more than just a rested mind, but also a new found passion. It was while touring what is now called the Patty Yoder Gallery that she was intrigued by the remarkable hand-hooked rugs displayed there. With the often frenetic pace of work and raising a family she knew that she needed another focus, a hobby that would allow her to unwind and release her energy. Upon her return home she learned that her mother-in-law had a latch hook that she could have for free. Rachelle didn't need any more encouragement than that, and she started playing around with some scrap pieces of wool and quickly realized that she had found it; she was hooked.
Click on images to enlarge:

Rachelle says that she loves being an artist because it suits her temperament well. She loves doing her own thing and rug hooking is an activity that requires her to slow down, breathe and enjoy the quiet time within her studio; a meditative process that acts to expel the stresses of daily life. The balance to this, and her favourite facet of rug hooking, is the fun she derives from creating challenging patterns and working through the difficult details leading up to the fulfilling completion. This is why she chooses to do fine rug hooking as opposed to the primitive style. A piece can become more difficult by utilizing more colours and detail, and she notes that the longer a rug takes to complete the more spectacular it will become. The Picnic (shown at top) had more colours than any other piece she has done and took 2 1/2 months to complete. Personally, I am astounded that every difference in colour, shading, wrinkle or detail of a subject is a different piece of wool and can be put together with such clarity. Another challenge she took on was to hook a three dimensional piece. She chose a male child as her subject and using a mannequin of a one year old she designed a pattern. Using the problem solving and results from her first sculpted piece, Rachelle is looking forward to creating a series and adding more dimensions such as the next figure having ears and so on.
Rachelle always creates her own designs with good reason. Inspired by her family and what's going on in her life at the time, Rachelle's subject matter for her rugs are a reflection of her own story and the emotions she felt surrounding a particular moment. In her studio she can take that emotional thread and release it into a hooked rug where it will forever be memorialized. Through time and hard work I can see that she is creating a "storybook" or "photo album" chronicling parts of her family's life that can be handed down to the next generation. I also feel that she is leaving a legacy of her passion and of who she was. I especially like the subject matter reflecting the simple pleasures of life and things that matter the most; family, nature and events surrounding both.
Click on images to enlarge:

The process of hooking a rug will start with an initial sketch from a photograph of a particular scene or subject. Rachelle will then do mini watercolour paintings to figure out the colour variations, even down to the proper skin tone, and will lay out her piles of coloured wool to determine her palette and what she has available. If she is lacking the proper colour she will dye the amount of wool needed to accommodate a specific section. It's much like a painter determining their colour palette to use and mixing paints to arrive at the vision they imagine.
Click on images to enlarge:

Unlike painting, rug hooking has historically not enjoyed the same recognition as a fine visual art. Admittedly Rachelle has not experienced this stigma herself but has rather received great support and feedback from the arts and crafts community. Will we someday see hooked rugs hanging in fine art museums around the world? Maybe it is already happening, for back in 1990 Rachelle saw some Jacquard weaved pieces hanging in a fine art museum and this ignited in Rachelle a goal to someday see her own work hanging in one. I think Rachelle's drive to always challenge herself and push the boundaries of rug hooking, along with finding joy while doing so, are all the ingredients she needs to achieve her dream.
Enjoy our video interview with Rachelle and please feel free to comment below and share on social media and email.
Home of Shirlee Hogan and Pastimes PEI Rug Hooking and Wool Shop
I had it in my mind that our trip across Canada would not be complete without interviewing a traditional Maritime crafter. Having never been to the east before, I wasn't exactly sure what we were looking for in that regard but when we stopped in at the Nova Scotia Tourist Information building we found rug hooking. I didn't know what was traditional about it at the time but I was looking forward to finding out.
This is a story about three sisters, Shirlee Hogan, Heather Tweedy and Bette Young of Pastimes PEI Rug Hooking and Wool Shop. The story starts off with Shirlee looking for a pastime to pass the time. She discovered rug hooking about 25 years ago and it seemed like a good fit. Soon after, her sisters Heather and Bette thought it would be fun to give it a try and so they joined in as well. As time went on a business emerged for the three sisters and they have been at it ever since.
We met with Heather and Shirlee at Shirlee's country home. She lives in an adorable house that looks like she bought it from Hansel and Gretel. This is also the home of the sisters' rug hooking and wool shop business. Shirlee and Heather were awaiting our arrival at their shop and I was excited to see what we would learn that day. I had no idea what we were in for. We couldn't have found two better ladies to interview. Not only were they a wealth of knowledge, they also shared wonderful stories about each rug they introduced us to. The better part of an hour was spent talking to us about how they got started, the history of rug hooking in PEI and to top it off they gave us the Coles Notes version of how to make a rug. We even got a hands on lesson!
When I first looked at traditional Maritime rug hooking my first thought was, "it looks kind of simple". It didn't look overly creative to me or what I perceived to be creative. I would come to find out later that this is part of the tradition; the rugs were born out of a need for functionality rather that a need for creativity. There are two styles, the Cavendish or geometric which made good use of small scraps of fabric that would otherwise be discarded, and the pictorial, which depicted images of people's farms, their houses, nature and pretty much anything that was important in their lives. These weren't just rugs that guests would wipe their feet on, there were stories captured in those rugs like photos in an album.
Click on the images in the gallery below to see a larger image.
Rugs were made by women who dauntingly cut each strip of fabric from old, worn out clothing. The colours were limited to what they had back in their day. They were primarily dark, representative of work clothing. The Pastime ladies have expanded on the colour palette a bit but they remain steadfast in the simplicity of the patterns which still represent the important things in people's lives today. They do, however, have a great little machine that cuts the fabric strips for them; several at a time of course. And, if you aren't into investing any time in preparation the ladies have assembled kits so you can get down to rug hooking business right a way. I was astounded to hear that Heather hand draws every single pattern, and not just the original to be mass printed on a machine; every single one! Whether you are a seasoned hooker or a first timer, they want everyone to have the best experience possible and so they pretest all their patterns. The sisters complete each pattern before it is packaged into a kit or sold on it's own. Talk about a labour of love!
Gary and I had fun spending time with Shirlee and Heather and we left there feeling hopeful that some traditions of the past are alive and well. Of course the 'simple' theme emerged once again with the lives of those that came before us, teaching valuable lessons in friendship, recycling (although that wasn't even a word back then) and cherishing the precious moments in our lives.
Join us with Shirlee Hogan and Heather Tweedy in their interview and watch as they share with us the story behind the Cavendish rug and a lesson on how to rug hook. Please feel free to leave your comments as well.