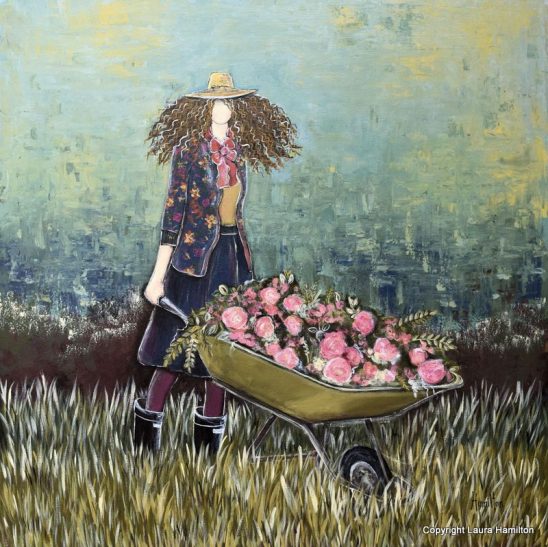 I am thrilled when I come across something that makes we ask, "Why?". Humans are a curious bunch and I'm right up there on the top of the heap. Artists are definitely one group of people that have helped to feed my voracious appetite for curiosity. After 150 interviews I find myself not yet tiring of what seems like the same old questions I ask time and time again because the answers are never the same. When I came across the girls, ladies and women with no face and crazy hair my curiosity was about to boil over, and I immediately had at least half a dozen questions for painter Laura Hamilton.
Laura started out in her young life as a school teacher, and this was the career path she thought she would be on for all of her working years. Then one day baby Lincoln arrived and the Hamilton's were now a family of four. This should have been a happy occasion but for Laura she found herself lost in the caverns of postpartum depression following the birth of her second son. Laura explained it was a very difficult state to overcome, but as time passed and with medical help she was able to go back to work after her year on maternity leave. Unfortunately, this would prove to be a bit of a disaster for Laura to the point where she would make herself sick with anxiety and panic attacks. Then, one day there was a tipping point and Laura was driven home from school with a one month leave of absence in tow. During that time she received some words of advice from her mother-in-law that would help to change her life. Laura took the advice and started to nurture herself back to health and, with the help of her husband, she was able to spend time reading, meditating and learning to love herself again. The rest of Laura's story is full of inspiration and hope.
Click the thumbnail to see a larger image.

The month leave of absence was almost over when Laura decided she was going to paint. She had been watching artist Buzz Siler from Portland, Oregon on You Tube, and was fascinated with his technique. Immediately she went looking for paint and tools to get started; a few cans of household latex paint and a screw driver ought to do it. What happened next for Laura was nothing short of an awakening; an outline of a girl began to take shape right before her eyes. This girl is Lucy and considered by Laura to be the first of her many "daughters". Laura revealed to us that Lucy was the start of a new beginning for her. At the time, she represented all the things that Laura wasn't. She was strong, bold and brave, and these characteristics gave Laura the strength and courage to change her life. When we met with Laura in September another school year had already begun, but Mrs. Hamilton was no longer in attendance. As of the end of the 2015/16 school year Laura and her husband decided to take a leap of faith and invest in her art career, and now she paints and paints and paints.
Click the thumbnail to see a larger image.

After our interview Laura took us to her painting studio for a demo, which, if not for all her paintings leaning gracefully against the walls I may have thought this was a place a commercial house painter stored her equipment until the next job. There was a table in the middle of the room with a bad case of paint measles and a closet and shelves with all kinds of bargain bin paint cans from the local hardware store. What a surprise! This was not what I was expecting at all. Of course my curiosity was really starting to get the best of me by this time. Laura's painting technique involves a canvas which lays flat on the table, a bunch of water, cans of various colours of oil based household paint, big, fat paint brushes, her fingers and a whole lot of intuition and trust. It's a process that takes some time. Laura starts with an idea which can spark from a memory of her childhood, a photo, wallpaper, or even just a single colour. She sketches out a rough outline of her new daughter, applies water, paint, more water, more paint and keeps coming back to her until her aura shines through, at which point she is done. Laura says she has a starting point but really doesn't know where the finished piece will actually end up.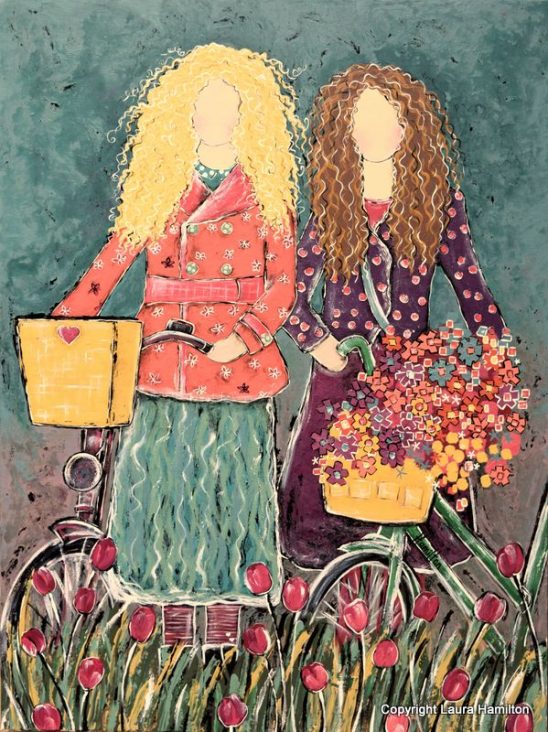 So why the no face and the crazy hair? Laura admits the hair is probably a reflection of her own curly locks but the lack of facial features is more symbolic. She wants people to really connect with the women in her paintings and she feels that by not giving them features it makes it easier for that to happen. She wants them to represent a spirit or a being, not a real person. They are symbols of courage, free-spiritedness, playfulness, purity, bravery, confidence, kindness and a re-connection to nature. Laura and her daughters give the gift of hope and inspiration to all of us.
We invite you to have a listen to Laura as she talks about how her art changed her life. Also, kindly help us spread the word about Laura and her art by sharing this post on social media. And we love comments so feel free to leave a nice one below. Thank-you.
I have heard many people say, "I don't have a creative bone in my body." Luckily creativity does not come from our skeletal structure, it comes from the heart and the brain. The heart provides the inspirational emotion that drives the brain to start the process, do the problem solving and to give it some life. Creativity seems almost mystical at times because it is not something that can easily be explained through words or quantified in labratory tests as to where it comes from. But it does manifest itself in many forms, art being one of them. Creativity, and in particular expressing oneself through the embodiment of something beautiful can change a person's life. As life is a journey to be lived each and everyday, we live through a myriad of experiences throughout this journey and these can be both deliriously pleasant and intensely unpleasant with everything in between. Michelle Pickering is an acrylic painter from Airdrie, Alberta who came face to face with a diagnosis of lupus and fibromyalgia on her life's journey and it was art that played a significant role in helping her heal.
Click the thumbnails below to see a larger image.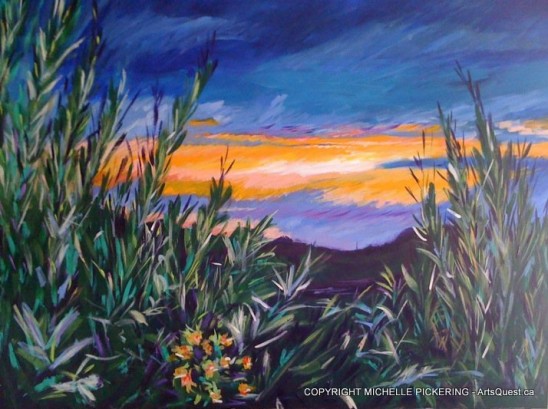 Michelle took fine art in college and painting happened to be her weakest medium. She therefore moved on to other things and did not give it a second thought. Ironically, many years later it would be painting that changed her life. She kept asking her husband for brushes, paints and canvases for Christmas and being the supportive partner that he is he provided all that she needed. The materials sat in the basement for a long time until one day the painter within her awakened and her healing started to begin. Ever since then Michelle's journey has had strong emphasis on healing herself and teaching others to do the same. As she explained to us healing doesn't just refer to eliminating physical pain; it can be something emotional, it can be self discovery, it can be finding peace, it can be finding happiness and on and on. Not only has painting taught her to be the artist she is today, it has also taught her so much she didn't know about herself including the power she has within her.
Click the thumbnails below to see a larger image.

I can guess that Michelle spends a lot of time with her thoughts just like I do. One night while in bed a thought came to her in the form of a peacock. She saw a tiny little bird with a mass of colourful plummage displayed behind him. This peacock became Michelle's symbol for every single person in the world and how important each and every one of us is no matter how insignificant we may think of ourselves. The peacock's feathers represent all the beautiful things we have inside us that needs to be displayed to the world. As it turns out this wasn't just a fleeting thought for Michelle, the peacock needed to become real. Michelle had to share his beauty and consequently the beauty inside herself to the world. She decided to paint Peacock (as he is now referred to) on the garage door. Interestingly enough the world delivered mixed feelings toward Peacock. For most people he put a smile on their face and maybe even initiated positive change in their own lives, and for some they felt animosity towards him. For those people, it is hard to understand what could possibly drive them to hate him so much that they would go so far as to bully Michelle and her family just to have him removed. In the end Peacock stayed and the neighbours moved. Today, Peacock represents all things good and all things possible and that is how Michelle became known as the Peacock Artist.
Click the thumbnail below to see a larger image.

I don't know if this was Michelle's conscious intent but I see Peacock in most of what she creates. The colourful, intentional brush stroke patterns in her paintings remind me that Peacock is there; in the sky, in the butterflys, and in the plants. His plummage reminds us all of our importance in the grander picture of life and that we are not separate from each other or from nature, and that those connections are what make life possible in the first place.
To see more of Michelle's work visit her website by clicking here.
Join us as Michelle shares more about her journey and how art changed her life. We appreciate your comments and please spread the word about Michelle Pickering on social media and through email.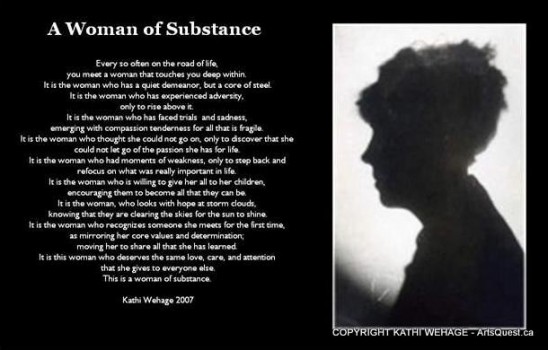 In a world of busyness and constant stress, what is that special something that enables some people to always (or mostly) be hitting on all cylinders; exuding poise while excelling in their chosen passion be it in sport, art, writing, fighting for a cause or gaining satisfaction through altruistic efforts? It is more than just motivation, which is usually temporary, rather…it is INSPIRATION; an enduring emotional force that bestows on one unwavering determination to fulfill their purpose with a drive and conviction that keeps them on course!
Our interview with Inspirational writer Kathi Wehage revealed a woman who cultivates such substance; passionate about helping people by sharing her words of inspiration that may bridge those from a state of uncertainty and turmoil, to a position of calm, rejuvenation and strength. At her shows she has had many people ask her if she had a book about inspiration, and so she saw the need and set out to deliver. The result was A Woman of Substance, her well received first book that she collaborated on with her friend and artist Debra Blades. It is an uplifting work of inspirational quotes, passages, poetry and artwork.
Kathi attributes her insights to the world around her; nature being her biggest library of resources. She notes that whether sitting alone on a rock at the beach or by the lake, standing in a forest, reading a book or interacting with family and friends, it all nurtures her creative spirit. Kathi admits to having hectic and stressful days like the rest of us, and so she likes to keep perspective and calm by writing down five things that she is grateful for that day. She says, "Gratitude helps us to appreciate what good we have right now in our life and inspires hope for a good or better day tomorrow." Stay tuned for Kathi's upcoming second book, a gratitude journal which is going to print soon!
Kathi has given people a varied menu of ways in which to nourish their soul. In addition to her book, she also creates greeting cards with inspirational quotes, postcards, including three of them shown here: Tree Sense, Reflections and A Woman of Substance, as well as a collaboration of inspiration meets art, with her poetic passages embedded within Debra's original artworks.
Inspiration is a key that can unlock three main doors of c' s.
*clarity *courage *calm
Clarity of thought to understand where we are and where we would like to be.
The courage to take the steps we need to make, in order to experience change in our lives.
And the end results when we take these first two steps?
….is inner calm.
~ Kathi Wehage ~
Enjoy listening to our interview with Kathi and feel free to share on social media and leave a comment below!