If you haven't figured it out by now then I will just come right out and say it. I love art! I love everything about it. It constantly amazes me how human beings can take something we may perceive as having little importance and turn it into a wonder of my world. It makes me laugh, smile, ponder, sigh… and be in a constant state of awe. It is because of these feelings and emotions that studies have shown that art (not unlike nature), when we have it in our lives can actually boost our immune systems and make us healthier. But don't take my word for it, check with Google. Luckily for us there is an endless supply of very talented, emerging and veteran artists right here in Canada for Gary and I to interview and get an immune booster at the same time. It is no wonder then that neither of us have been sick since ArtsQuest began. One such veteran artist we had the pleasure of visiting was potter Valerie Metcalfe of Winnipeg, Manitoba.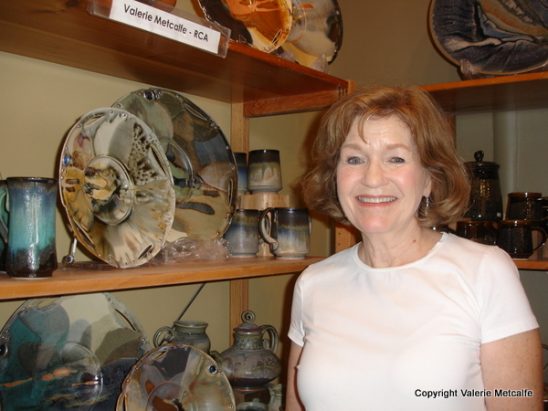 Once a week or so you can find Valerie down on Corydon Avenue at The Stoneware Gallery and The Stoneware Studio where she may be firing some of her work, teaching some students or helping out in the gallery. This isn't just any gallery. It has been in existence for 38 years in its current form and is one of the longest operating co-operative's in Canada. And Valerie, only 4 years out of university with a fine arts degree, became one of the studio members who purchased the business from the original owner and turned it into a pottery paradise for both makers and appreciators of pots. She has been there ever since. This opportunity gave Valerie something that most people only dream of; to do something she loves for her entire working career.
Click on the thumbnail to see a larger image.

It is because of people like Valerie and what their art does for me that I can easily sing the praises for why you should ditch the Corelle and start collecting pieces of art to drink, eat and cook from. When you choose to drink from a vessel that was made of clay, a gift from the earth, by an artist such as Valerie you will have a different experience. It is not hard to go and spend a few bucks on something that will hold your coffee, but when you spend your hard earned dollars on handmade pottery your decision to purchase becomes more mindful. As it happens, there is an honest to goodness connection with something that is so beautiful you can't take your eyes or your hands off of it. I can tell you, it is the difference between just getting the job done and bliss. Sound kooky? Give it a try.
Click on the thumbnail to see a larger image.

When I first spotted Valerie's work it was really a matter of happenstance. I was on Instagram and was admiring the work of another artist who, unfortunately for ArtsQuest, lives in the UK. I had noticed that Valerie had commented on some of Woodbug1's work and so I went to see what she was up to. What I found were some pieces that took my breath away and I had to know more. Luckily for ArtsQuest, Valerie Metcalfe is an artist living in Winnipeg which happened to be one of our artist interview tour destinations.
Click on thumbnails to see a larger image.

Valerie has years of experience in the art of making fine pottery. She is highly skilled in technique and form, which her work and her students can attest to. Her clay of choice is porcelain because it is more pure than any of the other clay bodies which gives it its signature white colour. It has a delicate and graceful appearance once fired and finished, but at the same time it is one of the strongest materials used for making pots. Valerie loves the pure and rich colours that come from glazing and painting porcelain and she finds the result to be very similar to what one would find in nature. While we were there she demonstrated for us how she throws a large plate or platter. This is some tricky business, let me tell you. There are so many stages involved with getting it right and this is all before it makes it into the kiln. Valerie makes the process look like a well choreographed ballet. My immune system was fully boosted by this time. The forms, the colours, the decorations, the embellishments and every other little detail that goes into each beautiful piece Valerie makes comes from within her, and is her contribution to a beautiful world.
We invite you to watch Valerie's video interview and encourage you to help spread the word about her and her work through social media and email. Thank you! PS: We love comments.
Welcome to the Town of the City of Dawson. For those thinking that I am confused, at one time Dawson City was home to 40,000 people and was indeed a city. Then, after a three year period the population plummeted to town status and is now home to about 1300 residents. Why the sudden rise and fall of people in such a short period of time? In one word…GOLD! Dawson City has long been synonymous with The Klondike Gold Rush, attracting many gold seekers between 1896 and 1899 with a small percentage who found riches. There are still active mines operating to this day, and one of those present day owner/operators is gold miner, goldsmith and jewellery artist Leslie Chapman of Fortymile Gold Workshop/Studio and art gallery.
Click on images to enlarge:

Leslie and her husband Bill have been operating Fortymile Gold Placers for over 30 years now and living on the Fortymile River for about 40 where they also raised their children. Initially they focused strictly on the gold mining, but with the prices dropping in the 1990s and the operation being seasonal due to the need for water, it made sense to supplement their income using the fruits of their labours by giving a value-added component to their mined gold. Leslie has always been involved creatively in one way or another, and so she set out to teach herself goldsmithing; reading books and putting to practical use what she learned. She found that she had an affinity for making jewellery, and has now been at it for 15 years, creating exquisite, all hand-made wearable art. Leslie's style is evocative of ancient Egyptian and Mayan civilizations, with Northern themes such as the caribou and northern lights also inherent in her work. Leslie notes that her work is also inspired by the requests for commissioned pieces, giving her new ideas and challenges that she enjoys working through with her clients.
Click on images to enlarge:

It is worthwhile to note that their mining operation returns to them what they call green gold; a reference to the fact that no chemicals are used during the extraction process and the gravel bars are fully restored to their natural state. Fortymile Gold has won several environmental awards and an example of their placer mining technique can be viewed at this linked video. Leslie has complete chain of custody of the gold used for her jewellery, and can therefore guarantee the content and quality of the gold as well as the ethical practices for workers and the environmental safeguards that they adhere to. There is extensive information on Leslie's website (click here) about the mining process and quality of the gold.
Leslie loves that the process she undertakes to produce her jewellery is reminiscent of ancient goldsmith practices; no mass produced manufacturing or "perfect" identical pieces. Each of her pieces is hand-made and therefore one of a kind, with its own nuances and unique attributes. The gold recovered from her mine is essentially ready to use, with no further refining required. It is a high purity gold alloy made up of 87% gold, 12.9% silver and 0.1% other minerals which makes for the perfect formula; easy to work with and yielding brilliant 20K yellow gold. With the gold in this form she just has to melt down the gold particles into a bar and then start working with it whether in wire, sheet or nugget form.
Click on images to enlarge:

People have always been fascinated with gold, and aside from its physical properties such as being highly malleable, not rusting or corroding, and of course displaying the lustrous glitter that is so visually appealing, it also seems to hold a power and mystique to it. Leslie can attest that there is some property of gold that resonates with human beings and is part of the reason why it is valued and considered precious in so many societies. As you can see from Leslie's jewellery, the beauty and appeal is enriched when the raw gold is shaped to reflect something that creates a personal connection; it could be a wedding ring, a symbol of spirit or power, or a facsimile of a cherished memory or pastime. Leslie says part of the satisfaction of being a goldsmith is making something that will last, a keepsake that will be cherished and passed down through generations.
We now join Leslie at her Fortymile Gold Workshop studio and gallery. We welcome Comments below and please Share on social media.