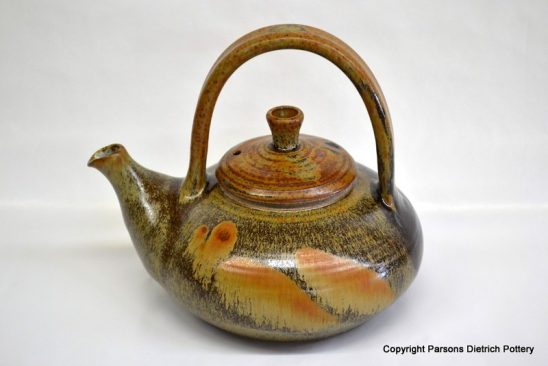 Today we went to church. Or rather, it used to be a church, now it is a pottery studio/gallery and the creators we were meeting this day were Wendy, Zach and Devon, a family of ceramic artists and owners of Parsons Dietrich Pottery in Moose Jaw, Saskatchewan. Prior to being moved to its current location by the previous owners, the little church had been abandoned and last used in the 1960s. As we walked through the front doors to the wonderfully displayed gallery, we thought what better venue to create and display artistic and functional ceramics than a building of unique architecture and a work of art on its own? While we waited for Wendy to finish up with some customers Zach took us on an educational tour of the studio; explaining the processes, equipment, glazes and function of their kilns, which include wood, gas, electric and soon-to-be soda-fired.
Wendy Parsons and Zach Dietrich have had their hands in the clay for over forty years now, and the road to their historic church storefront started in the 1970s when they met at university in Regina. A pioneering spirit then led them to a three year adventure in northern Saskatchewan building a log cabin, growing a garden and building a wood-fired kiln in a back-to-the-land lifestyle. The hard work was satisfying but the isolation of their homestead did not serve their needs for reaching the "outside" world with their pottery. So in 1980 they moved to Moose Jaw; first renting out the church basement for pottery production and then eventually buying the building.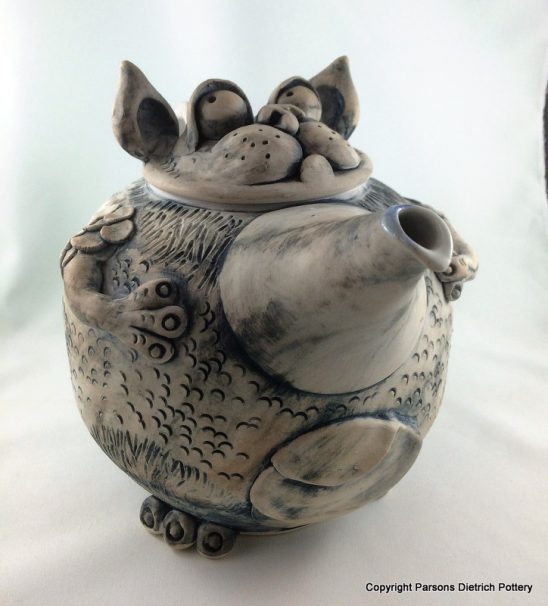 Click on images to enlarge:

We've all heard the stereotypical concern of parents worried about their children going off to become an artist as opposed to getting a "real" job. Fortunately, their son Devon grew up without those preconceptions; his parents quashing any doubts by their own example, with Zach and Wendy finding early on in their careers a receptive public buying their work. They realized back then at these sold-out fairs that they could indeed make a living selling pottery. Apprenticing under his parents, Devon now has many years of pottery throwing and hand-building under his belt and is continuing to develop his own style.
Click on images to enlarge:

Zach, Wendy and Devon each contribute to the business in their own ways and with their own style and preference to form. Wendy loves to teach, and will provide workshops to supplement the pottery production. Her style lends itself to both the figurative and fun side as well as the artistic narrative side. She loves to tell a story through her pieces, and her 'roundel series' exemplifies that quality. She had interviewed numerous farmers and learned of their stories of life on the farm, including hardship and perseverance in the face of daunting circumstances, be it from low grain prices, havoc-wreaking weather, or diseased livestock. These roundels tell their story. Her artistry also shines in her figurative pieces, whether on her own or in collaborated works with Zach such as on the cookie jars and tea pots.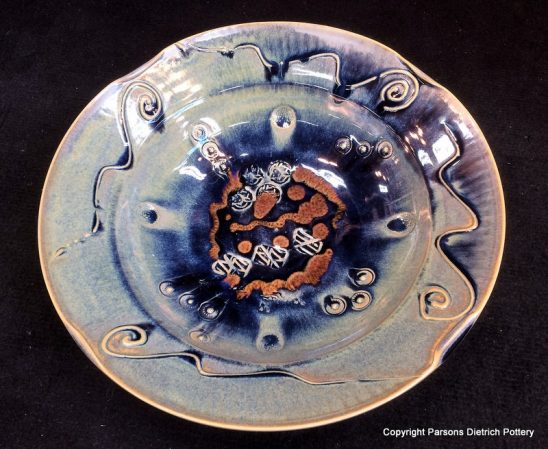 Click on images to enlarge:

With tongue in cheek, Zach notes that his germanic heritage encourages pottery production…and more pottery production! Undeniably his decades of experience throwing clay shows in the yielding of many beautiful and elegant functional pieces of pottery, and he admits that he is gratified more by bringing well-turned pieces into the world than on other more time consuming works. But on occasion Zach has stepped away from his prolific specialty to indulge in other interesting projects, such as the series of tile wall pieces he created and framed in wood, or a school project where the children made tiles from start to finish and were then attached to a constructed wood bench.
Click on images to enlarge:

Devon enjoys specializing in the hand-building methods of clay including both figurative works as well as experimenting with different functional designs, such as his wave handle mug, a signature piece of his. Being science-minded he also takes on the task of testing out and mixing the different glazes to see which ones will be suitable for their clay pieces, both in consistency and colour. The three potters will also collaborate on work, helping to glaze each other's pieces or decorating with hand-building to arrive at the finished product.
So when you are passing by Moose Jaw on the highway and you see the little white church of Parsons Dietrich Pottery, stop in to say hi to Wendy, Zach and Devon and take a look around.
Enjoy our video interview below and feel free to share on social media. Nice comments are always welcome too!

If you haven't figured it out by now then I will just come right out and say it. I love art! I love everything about it. It constantly amazes me how human beings can take something we may perceive as having little importance and turn it into a wonder of my world. It makes me laugh, smile, ponder, sigh… and be in a constant state of awe. It is because of these feelings and emotions that studies have shown that art (not unlike nature), when we have it in our lives can actually boost our immune systems and make us healthier. But don't take my word for it, check with Google. Luckily for us there is an endless supply of very talented, emerging and veteran artists right here in Canada for Gary and I to interview and get an immune booster at the same time. It is no wonder then that neither of us have been sick since ArtsQuest began. One such veteran artist we had the pleasure of visiting was potter Valerie Metcalfe of Winnipeg, Manitoba.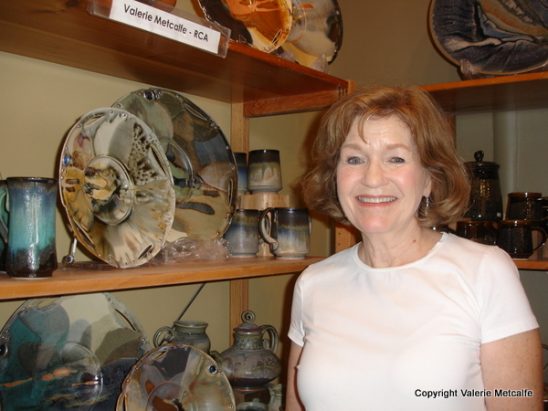 Once a week or so you can find Valerie down on Corydon Avenue at The Stoneware Gallery and The Stoneware Studio where she may be firing some of her work, teaching some students or helping out in the gallery. This isn't just any gallery. It has been in existence for 38 years in its current form and is one of the longest operating co-operative's in Canada. And Valerie, only 4 years out of university with a fine arts degree, became one of the studio members who purchased the business from the original owner and turned it into a pottery paradise for both makers and appreciators of pots. She has been there ever since. This opportunity gave Valerie something that most people only dream of; to do something she loves for her entire working career.
Click on the thumbnail to see a larger image.

It is because of people like Valerie and what their art does for me that I can easily sing the praises for why you should ditch the Corelle and start collecting pieces of art to drink, eat and cook from. When you choose to drink from a vessel that was made of clay, a gift from the earth, by an artist such as Valerie you will have a different experience. It is not hard to go and spend a few bucks on something that will hold your coffee, but when you spend your hard earned dollars on handmade pottery your decision to purchase becomes more mindful. As it happens, there is an honest to goodness connection with something that is so beautiful you can't take your eyes or your hands off of it. I can tell you, it is the difference between just getting the job done and bliss. Sound kooky? Give it a try.
Click on the thumbnail to see a larger image.

When I first spotted Valerie's work it was really a matter of happenstance. I was on Instagram and was admiring the work of another artist who, unfortunately for ArtsQuest, lives in the UK. I had noticed that Valerie had commented on some of Woodbug1's work and so I went to see what she was up to. What I found were some pieces that took my breath away and I had to know more. Luckily for ArtsQuest, Valerie Metcalfe is an artist living in Winnipeg which happened to be one of our artist interview tour destinations.
Click on thumbnails to see a larger image.

Valerie has years of experience in the art of making fine pottery. She is highly skilled in technique and form, which her work and her students can attest to. Her clay of choice is porcelain because it is more pure than any of the other clay bodies which gives it its signature white colour. It has a delicate and graceful appearance once fired and finished, but at the same time it is one of the strongest materials used for making pots. Valerie loves the pure and rich colours that come from glazing and painting porcelain and she finds the result to be very similar to what one would find in nature. While we were there she demonstrated for us how she throws a large plate or platter. This is some tricky business, let me tell you. There are so many stages involved with getting it right and this is all before it makes it into the kiln. Valerie makes the process look like a well choreographed ballet. My immune system was fully boosted by this time. The forms, the colours, the decorations, the embellishments and every other little detail that goes into each beautiful piece Valerie makes comes from within her, and is her contribution to a beautiful world.
We invite you to watch Valerie's video interview and encourage you to help spread the word about her and her work through social media and email. Thank you! PS: We love comments.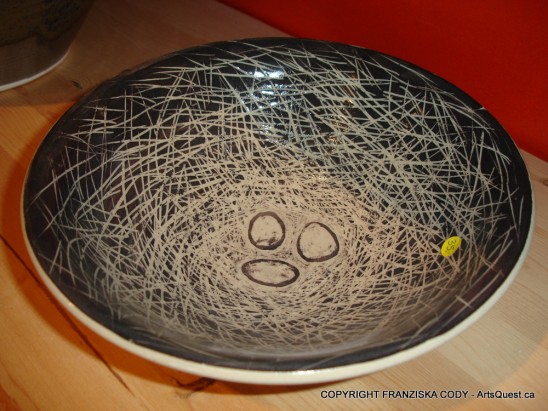 It has always appealed to me to be surrounded by things that are handmade and created from someone's imagination and desire. Gary and I don't own a lot of fine art and craft but what we do have is very special to us. My brother is a woodworker and for our wedding gift he made us a gorgeous cherry and black walnut two person table and chair set. It is so wonderful to sit and share a home cooked meal and talk about our day at this table. It is one of the highlights of our time together. Simple yet so rich! Art is so much more than something pretty to look at. It is a connection to other people; to their dreams, their passions and it is a connection to life. There is energy in handmade art and craft that we will never experience from an object manufactured by a machine. This partly explains why we are not committed to those things. They fill a space on the wall or a place setting at the table but lack the connection to the human spirit that we can only get from something handmade.
Click on the thumbnail images to view a larger perspective.
Gary and I bought our first two pieces of pottery on our interview tour up through Northen British Columbia. Telkwa artist Franziska Cody is a potter and the owner of a charming working studio and gallery called Art and Soul Pottery. We arrived to find Franziska quite literally up to her elbows in clay, working her wheel and turning out an order of mugs. There was wonderful soothing music playing, the kind you would expect to find in a spa, and the space felt comfortable to walk around in as we glanced through the gallery.
Franziska has been a full time artist and business owner since 2009. It all began when she decided to immigrate to Canada after meeting the man who is now her husband. Because of the immigration process she was unable to work so she dedicated her time to doing what she loves; art. This was when she discovered clay and found that she had an affinity for it. One thing lead to another and soon she was in business full time. It hasn't always been as easy as all that but her and her husband live a simple lifestyle which affords them the freedom to do the things they love.
While we were in Telkwa we bought a couple of Franziska's travel mugs. Besides being handmade pottery, it was the design, the earthy colours and the appropriateness with which they fit for us that made our buying decision easy. I had never seen travel mugs like this before and so I was curious about Franziska's approach with clay. I asked her whether or not she was trying to see how many functional things she could actually replace with a clay version. She explained to me that she finds clay to be very fragile but versatile and it can be turned into something of strength once it is fired. She said the nature and characteristics of clay are not unlike the nature and characteristics of human beings and this is one of the things that appeals to her about the medium. She finds herself pushing the limits of clay. Sometimes it works out and sometimes it doesn't; for Franziska it is all about the process and the discovery of what is possible for the clay and for herself. Franziska spends most of her time creating functional pieces like pots, plates, mugs, bathroom accessories and even sinks. She hopes to one day step further into the realm of the spontaneous but for now she loves making things for people who she knows are using her pottery in their everyday life.
We invite you to watch Franziska's video interview as she talks more about her pottery and the life that she loves. Please leave your comments and help spread the word on social media. It is much appreciated! Thank you.