If you haven't figured it out by now then I will just come right out and say it. I love art! I love everything about it. It constantly amazes me how human beings can take something we may perceive as having little importance and turn it into a wonder of my world. It makes me laugh, smile, ponder, sigh… and be in a constant state of awe. It is because of these feelings and emotions that studies have shown that art (not unlike nature), when we have it in our lives can actually boost our immune systems and make us healthier. But don't take my word for it, check with Google. Luckily for us there is an endless supply of very talented, emerging and veteran artists right here in Canada for Gary and I to interview and get an immune booster at the same time. It is no wonder then that neither of us have been sick since ArtsQuest began. One such veteran artist we had the pleasure of visiting was potter Valerie Metcalfe of Winnipeg, Manitoba.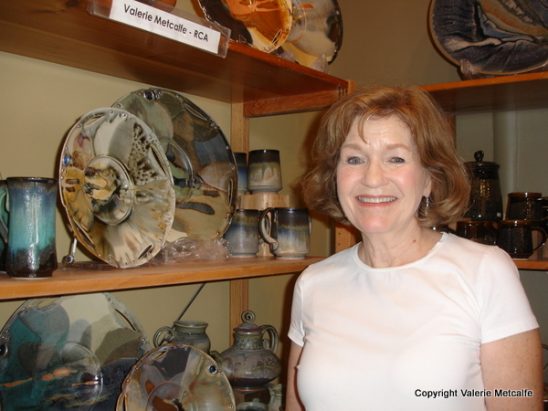 Once a week or so you can find Valerie down on Corydon Avenue at The Stoneware Gallery and The Stoneware Studio where she may be firing some of her work, teaching some students or helping out in the gallery. This isn't just any gallery. It has been in existence for 38 years in its current form and is one of the longest operating co-operative's in Canada. And Valerie, only 4 years out of university with a fine arts degree, became one of the studio members who purchased the business from the original owner and turned it into a pottery paradise for both makers and appreciators of pots. She has been there ever since. This opportunity gave Valerie something that most people only dream of; to do something she loves for her entire working career.
Click on the thumbnail to see a larger image.

It is because of people like Valerie and what their art does for me that I can easily sing the praises for why you should ditch the Corelle and start collecting pieces of art to drink, eat and cook from. When you choose to drink from a vessel that was made of clay, a gift from the earth, by an artist such as Valerie you will have a different experience. It is not hard to go and spend a few bucks on something that will hold your coffee, but when you spend your hard earned dollars on handmade pottery your decision to purchase becomes more mindful. As it happens, there is an honest to goodness connection with something that is so beautiful you can't take your eyes or your hands off of it. I can tell you, it is the difference between just getting the job done and bliss. Sound kooky? Give it a try.
Click on the thumbnail to see a larger image.

When I first spotted Valerie's work it was really a matter of happenstance. I was on Instagram and was admiring the work of another artist who, unfortunately for ArtsQuest, lives in the UK. I had noticed that Valerie had commented on some of Woodbug1's work and so I went to see what she was up to. What I found were some pieces that took my breath away and I had to know more. Luckily for ArtsQuest, Valerie Metcalfe is an artist living in Winnipeg which happened to be one of our artist interview tour destinations.
Click on thumbnails to see a larger image.

Valerie has years of experience in the art of making fine pottery. She is highly skilled in technique and form, which her work and her students can attest to. Her clay of choice is porcelain because it is more pure than any of the other clay bodies which gives it its signature white colour. It has a delicate and graceful appearance once fired and finished, but at the same time it is one of the strongest materials used for making pots. Valerie loves the pure and rich colours that come from glazing and painting porcelain and she finds the result to be very similar to what one would find in nature. While we were there she demonstrated for us how she throws a large plate or platter. This is some tricky business, let me tell you. There are so many stages involved with getting it right and this is all before it makes it into the kiln. Valerie makes the process look like a well choreographed ballet. My immune system was fully boosted by this time. The forms, the colours, the decorations, the embellishments and every other little detail that goes into each beautiful piece Valerie makes comes from within her, and is her contribution to a beautiful world.
We invite you to watch Valerie's video interview and encourage you to help spread the word about her and her work through social media and email. Thank you! PS: We love comments.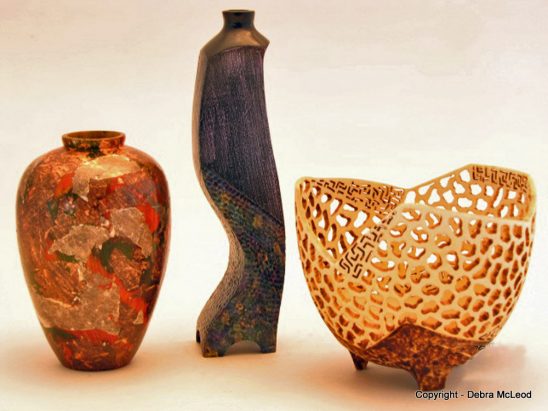 We went rolling down highway 41, then 21, and then 51 heading for Ruthilda, Saskatchewan on our way to interview wood turner Debra McLeod. The roads were long and straight but reminded me of a patchwork quilt. At times, Arty was rolling and swaying and skipping along. One of the nice things about taking the road less traveled is that you may find you are one of the only vehicles taking it, and although Gary still needed to be paying attention to not drive off the road or hit any Pronghorn we were both able to enjoy the sights along the journey. Another perk is you can stop on the highway for a photo opportunity or two which we did. At one point a local fellow stopped and asked us if we were lost. He obviously doesn't or hasn't seen a Vanagon around his area before because if it were me I would have asked if we were broken down.
We didn't know what to expect when we arrived in the town of Ruthilda with only a population of six people. It is quaint and tidy and filled with history. The original Ruthilda hotel was built by Pat Boone, and then in 1926 it burnt down but was later rebuilt. The town council finally passed a law in 1962 allowing women into the drinking establishment of the hotel. I could imagine from its current façade that in its glory days it was a brilliant white with red accents. In the window of the front door hangs a sign with Merry Christmas on it. I immediately wondered how many Christmases have since come and gone. It is fascinating to me to find a place like Ruthilda in the middle of nowhere. I do not mean that in the derogatory sense, it is just a place most people will never see unless they have a reason to go there, like we did.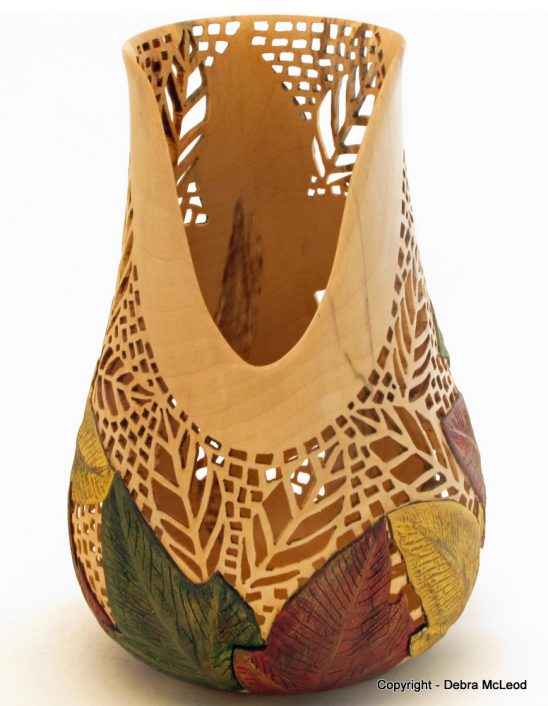 Deb McLeod lives on a quarter section of land with her musician husband Ian, their exuberant pooch and the cat. They built their home in that spot 6 years ago but a deep family history has its roots in the area. Deb is a journeyman carpenter by trade and so it only made sense that she did all the finishing work. By looking around their home, it is easy to see that Deb has an appreciation and the skill for fine craftsmanship. She has always had a love for wood ever since she can remember. Growing up on a farm, it was common to be building something whether it be fencing or repairing a barn. When she went to grade school she desperately wanted to take shop but because she is a female it wasn't allowed. But Deb would get her way and made a career from creating things with wood.
Click on image for larger view:

Nine years ago she asked her step-father to teach her wood turning. He showed her the basics and she has never looked back. Her shop is full of tools including a very impressive lathe with all the bells and whistles and many finished and unfinished pieces waiting for her attention. Deb loves turning wood, and each and every day she feels more excited about getting into her shop than the day before. The whole process is intriguing and exciting to her but she admits it is the decorating of her wood pieces that she really adores. The turned piece becomes her canvas, and for that reason her wood of choice is birch, a white wood with no visible grain lines. In the winter I ask Gary, "can you put another piece of birch on the fire?" whereas Deb says, "Ian I'm going to put another piece of birch on the lathe". I can tell you that Deb's work has made me look at birch in a whole different light. I'm not sure I can burn it anymore.
Deb is inspired by many things and often her best creative ideas come to her in the middle of the night when she is fast asleep. These mischievous ideas wake her up from her comfy slumber and then all she ends up doing is wishing for the light of dawn so she can get her ideas out of bed and make them come to life. She never has a problem with finding ideas, and sometimes the problem is having too many. Her latest series is three rather voluptuous pieces of wood that took on the persona of sisters. Soon she was looking at pictures of evening gowns that would serve as the decorations for these lovely ladies. Who knew wood and evening gowns would go together?
Click on image for larger view:

Please join us as we listen to Deb talk about her passion for the art of wood turning. Please help us spread the word about Debra McLeod and her art by sharing through social media and email. Thanks!