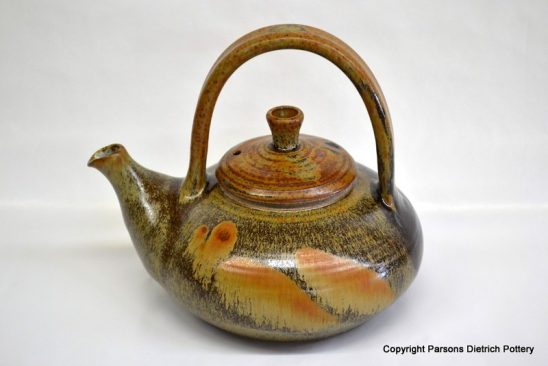 Today we went to church. Or rather, it used to be a church, now it is a pottery studio/gallery and the creators we were meeting this day were Wendy, Zach and Devon, a family of ceramic artists and owners of Parsons Dietrich Pottery in Moose Jaw, Saskatchewan. Prior to being moved to its current location by the previous owners, the little church had been abandoned and last used in the 1960s. As we walked through the front doors to the wonderfully displayed gallery, we thought what better venue to create and display artistic and functional ceramics than a building of unique architecture and a work of art on its own? While we waited for Wendy to finish up with some customers Zach took us on an educational tour of the studio; explaining the processes, equipment, glazes and function of their kilns, which include wood, gas, electric and soon-to-be soda-fired.
Wendy Parsons and Zach Dietrich have had their hands in the clay for over forty years now, and the road to their historic church storefront started in the 1970s when they met at university in Regina. A pioneering spirit then led them to a three year adventure in northern Saskatchewan building a log cabin, growing a garden and building a wood-fired kiln in a back-to-the-land lifestyle. The hard work was satisfying but the isolation of their homestead did not serve their needs for reaching the "outside" world with their pottery. So in 1980 they moved to Moose Jaw; first renting out the church basement for pottery production and then eventually buying the building.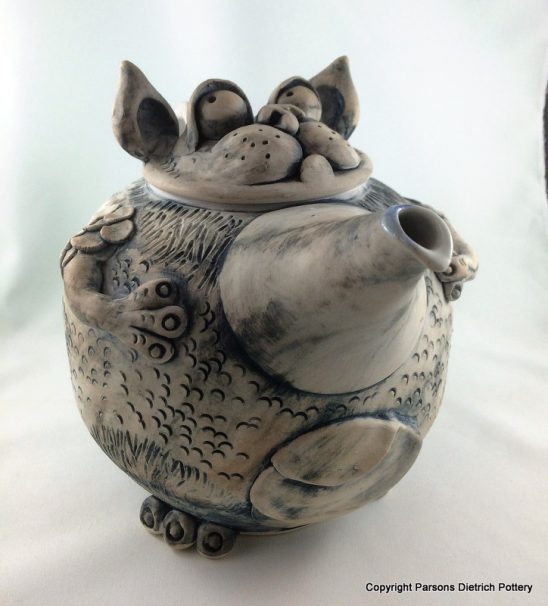 Click on images to enlarge:

We've all heard the stereotypical concern of parents worried about their children going off to become an artist as opposed to getting a "real" job. Fortunately, their son Devon grew up without those preconceptions; his parents quashing any doubts by their own example, with Zach and Wendy finding early on in their careers a receptive public buying their work. They realized back then at these sold-out fairs that they could indeed make a living selling pottery. Apprenticing under his parents, Devon now has many years of pottery throwing and hand-building under his belt and is continuing to develop his own style.
Click on images to enlarge:

Zach, Wendy and Devon each contribute to the business in their own ways and with their own style and preference to form. Wendy loves to teach, and will provide workshops to supplement the pottery production. Her style lends itself to both the figurative and fun side as well as the artistic narrative side. She loves to tell a story through her pieces, and her 'roundel series' exemplifies that quality. She had interviewed numerous farmers and learned of their stories of life on the farm, including hardship and perseverance in the face of daunting circumstances, be it from low grain prices, havoc-wreaking weather, or diseased livestock. These roundels tell their story. Her artistry also shines in her figurative pieces, whether on her own or in collaborated works with Zach such as on the cookie jars and tea pots.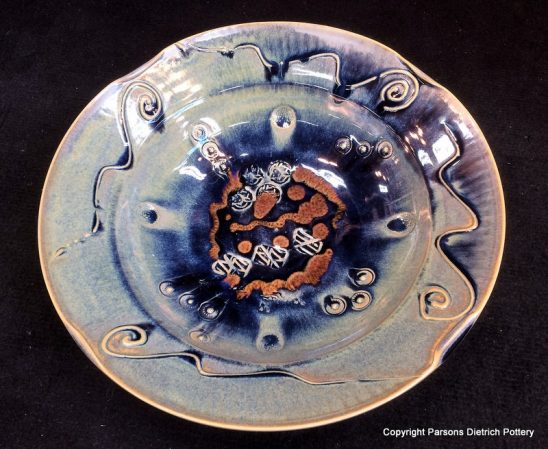 Click on images to enlarge:

With tongue in cheek, Zach notes that his germanic heritage encourages pottery production…and more pottery production! Undeniably his decades of experience throwing clay shows in the yielding of many beautiful and elegant functional pieces of pottery, and he admits that he is gratified more by bringing well-turned pieces into the world than on other more time consuming works. But on occasion Zach has stepped away from his prolific specialty to indulge in other interesting projects, such as the series of tile wall pieces he created and framed in wood, or a school project where the children made tiles from start to finish and were then attached to a constructed wood bench.
Click on images to enlarge:

Devon enjoys specializing in the hand-building methods of clay including both figurative works as well as experimenting with different functional designs, such as his wave handle mug, a signature piece of his. Being science-minded he also takes on the task of testing out and mixing the different glazes to see which ones will be suitable for their clay pieces, both in consistency and colour. The three potters will also collaborate on work, helping to glaze each other's pieces or decorating with hand-building to arrive at the finished product.
So when you are passing by Moose Jaw on the highway and you see the little white church of Parsons Dietrich Pottery, stop in to say hi to Wendy, Zach and Devon and take a look around.
Enjoy our video interview below and feel free to share on social media. Nice comments are always welcome too!

As we strolled around ceramic artiste Jordan Van Sewell's yard in Winnipeg, Manitoba we couldn't help but exclaim, "What the…?", or "What is that?", or "Hey, take a look at this!". Amongst the gardens of flowers, grapes, vegetables and crack corn (yes, actual corn stalks growing through the asphalt crack), one will get a glimpse of the many interesting collectibles, found items and projects that decorate his yard. Stepping into his studio and workshop the intrigued visitor will then be met with many of Jordan's signature ceramic pieces; icons such as Charlie Brown and David Bowie, the devil bathing with his trusty three headed dog beside him, various humanoids and anthropomorphic animals, his robot and skeleton statue minions peering into the "hell hole" dug in the back yard, as well as a good selection of creepy and sinister looking characters. Welcome to the eclectic world of Jordan Van Sewell and his art work.
Jordan started his professional art career after finishing art school in 1979, and it was these rudimentary skills learned in clay that had given him, as he puts it, "a whole new vocabulary". Things that meant something to him but that were not expressed, or that could not be acquired elsewhere, could now be created from his own interpretation of the world into his clay pieces, with an enhanced twist to make for a "better read". The plight and the fortunes of the human construct that Jordan characterizes in his work are meant to evoke empathy and humour, and he observes that the more people become familiar with his work the more the subtle nature of their concepts will be revealed. On the flip side, some of his pieces are just for fun.
Click on images to enlarge:

One look at Jordan's big, burly, growly, flames-painted Harley Davidson, complete with…doilies? painted on the back luggage carriers, and you will know that here's a guy that walks to the beat of his own drum. Being unconventional has always been a part of Jordan's life, sometimes out of necessity, and it shows in the body of work he has created depicting variations of pop-culture symbols and the human condition. As we looked at his collection of ceramic characters they can't help but make you smile, chuckle or ponder the symbolism, and if these creations don't clue you in to Jordan's sense of humour then speaking with him certainly will. His deadpan humour flowed seamlessly in and out of "serious" discussion, occasionally requiring a double-take from us to see if he was pulling our leg, like when he introduced his cat Pearl who keeps the mice and small children in check.
Click on images to enlarge:

Jordan reveals that he started out with the same struggles that any aspiring artist goes through (more ramen noodles?), but despite that he knows that being an artist was always something that he was born to do, rendering himself as he says, "virtually unemployable". A big part of the "high" is not only the therapeutic process of creating his art, and the magic in the mixture between the intellect, skills and excitement, but also seeing his work in other peoples' homes and how it has affected them. The significance for them strengthens his own feelings about his body of work. All said, Jordan Van Sewell's thirty seven years as a professional artist, and loving it to this day, is a great testament to the qualities that got him to where he is today; perseverance and being true to yourself.
We invite you to meet Jordan Van Sewell in our video interview and to help spread the word about him and his art work through social media and email, and a nice comment is always welcome too.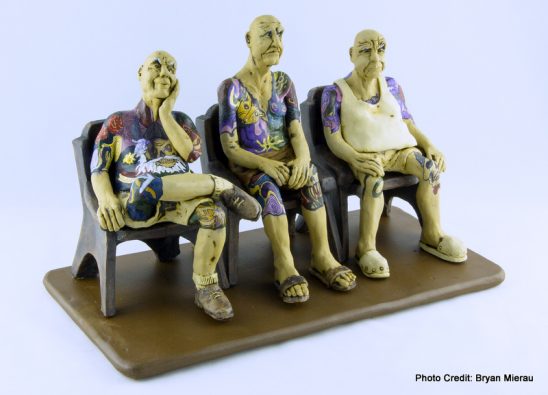 As we traveled south along highway #2 towards Watrous, Saskatchewan for our interview with ceramic artist Sandy Christensen, the sheen of Little Manitou Lake came into view as the gentle relief of land gave way to its shores. It was inevitable that we would visit these therapeutic mineral rich waters for a soak and a float, known as the "Dead Sea of Canada" and one of only three such bodies of water in the world. It was there at Manitou Beach that we also learned the history of Danceland, a 5000 square foot horse hair dance floor that has been around since 1928. Our spontaneous tour of this historic building came from 85 year old Ken Mackie, a veteran dance participant walking laps around the perimeter of the expansive dance floor at about 5 miles per day. Ken has a sharp wit, is humourous, and is an interesting fellow with many stories to tell. It is ironic that we met Ken before Sandy not knowing that he could have been the subject of inspiration for one of Sandy's creative clay characters.
Sandy Christensen has always had an affinity for clay, even as a young girl making mud pies. So it was serendipitous that when a woman who had moved back to the area and began teaching pottery lessons that Sandy jumped in and didn't look back. Without this turn of events she notes that she may have done any number of other activities and never truly found the love for clay. Sandy soon discovered that even though she enjoyed making pots on the turning wheel, what she really loved was hand-building.
Click on images to enlarge:

Sandy loves to create ceramic characters and the stories they tell. In her completed works you will see playful youngsters doing what they typically do, familiar sibling interactions, and one little girl taking a stubborn stand against her father to protest…(insert your imagination here). But above all you will see what Sandy loves to create most, the venerable elders such as Ken, with their character lines and endless stories as she catches the essence of these "real" people in their daily lives.
Click on images to enlarge:

Many times Sandy will get commission statues to do for a member of someone's family, and if that family truly knows the subject; how they dress, hobbies and especially funny quirks or memorable past situations, then Sandy will strive to capture that in her piece. She knows she has nailed it when the unveiling of the characterization evokes fits of laughter. So true to character is Sandy's interpretation that families occasionally display pieces at funerals as fond remembrances of their loved ones.
Click on images to enlarge:

Sandy reveals that one of her favourite past-times is people watching, and so it makes sense that many of her ideas comes from observing how people look, what they say and what they are doing. She has noticed that if you look at people from a certain region, maybe from a certain occupation or of a certain advanced age, they tend to look very much alike. She notes that as we get older many of us will acquire a similar body shape, the greying hair and usually prescription glasses, revealing a stereotype that she enjoys incorporating into her art work. It is said that the eyes are the window to the soul. For Sandy's pieces it is the face that is the window to the character. Although everything is important and must be in proportion, Sandy spends the most time on the face, trying to get the accurate likeness of the person and evoking the desired expression. What matters to Sandy is that these little clay characters make you smile.
Enjoy our interview with Sandy and please feel free to share her interview on social media and email. Comments are welcome too!