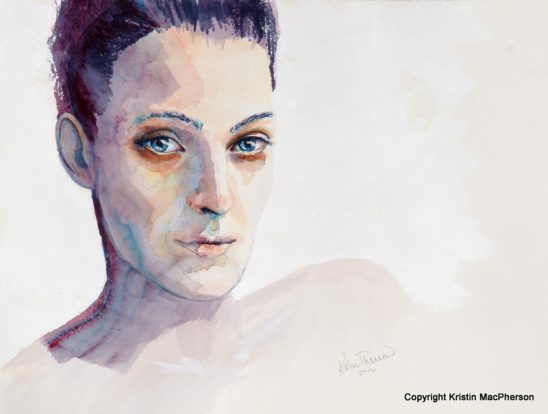 Most of us are familiar with the saying the eyes are the windows to the soul, but did you know that this isn't just a metaphor? There is scientific evidence that indicates a person's eyes really are a window; to their feelings or intentions. Facial expressions can be forced, such as with a smile, but our eyes reveal all so our natural tendency is to avoid excessive eye contact because, for the most part, it makes us feel vulnerable and uncomfortable. The eyes also affirm beauty, peace, happiness, contentment and so many other things that make us want to get to know someone. When we sat down with Kristin MacPherson she revealed to us, not through her eyes, but through her art that it is this physical feature that ignites her curiosity and compels her to want to make people's faces the subject of many of her paintings and photographs.
As with many artists, Kristin grew up in a family of creative people, (parents, grandparents, aunts and uncles) each accompanied with tons of encouragement for Kristin to express herself creatively. When it was time to choose an education the likely candidate was a Bachelor of Fine Arts degree but the perceived reality was to find something that would land her a job. It turns out that photography was the path she would take, and although she didn't realize it at the time it has played an important role helping her become the artist she is today.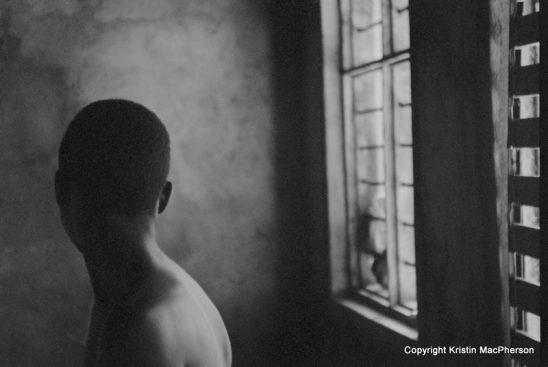 Click the thumbnail to view a larger image.

When we arrived at Kristin's home where she lives with her husband, three daughters, two dachshunds and her '53 Buick named Lenore it was easy to see we were entering the home of an artist. There are often signs An Artist Lives Here by the paintings on the wall, or the sculptures on the mantel, but more often than not the art studio is tucked away in a spare room, garage or basement area where the artist has the option of "To be tidy or not to be tidy? That is the question". In Kristin's case, the front room is her art studio, up front and center for all who enter the house to see. It was pretty tidy too! An advantage? A disadvantage? Perhaps. Or maybe to Kristin it doesn't much matter either way. Paraphrasing, she looked at us and said, "it's the room in the house we don't use so it just made sense".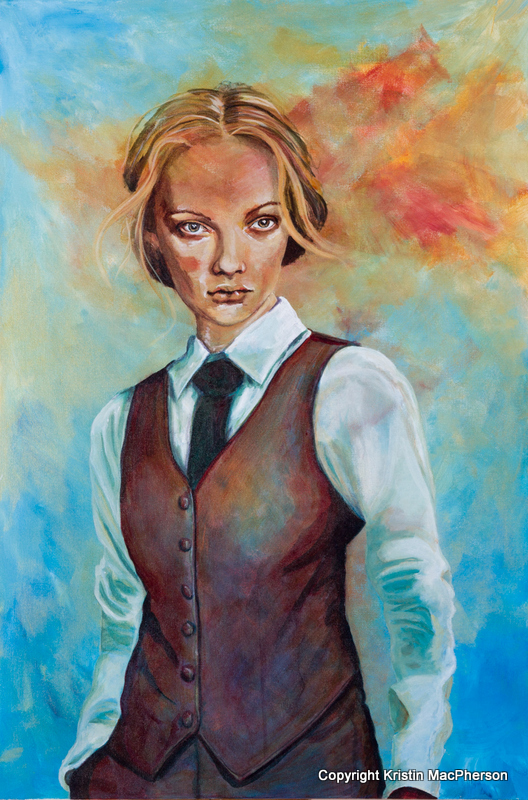 Click the thumbnail to view a larger image.

Although Kristin took applied photography in school, and it is in itself a form of art, her first love is painting. When I first looked at Kristin's work I thought she was a watercolour painter but she actually uses acrylics. Her palette usually consists of only five colours and Kristin likes to keep it as simple as that. When she paints, her focus is on the eyes. That is not to say that the rest of the piece is not important but the eyes need to reveal themselves to her before she is satisfied that it is complete. It really excites her when the unexpected happens; the loose brush strokes and the paint gain a mind of their own, overlapping in shapes and patterns and flaunting randomness in such a way it gives the piece a free-spirited look.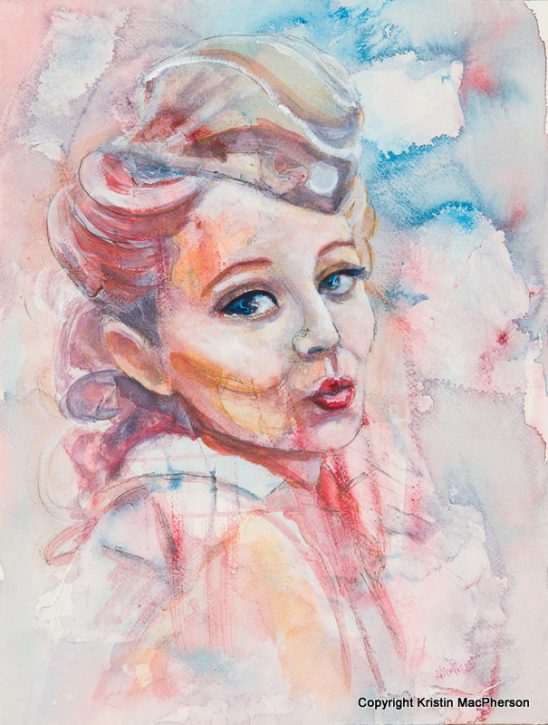 During our interview Kristin proclaimed that she has never taken a painting class and is solely self taught. She did say that it was photography that played a large role in making her a better painter. She spends a lot of time as a professional getting in other peoples faces so to speak. Those close-up shots have given her the opportunity to study the features of the face in great detail and with willing participants. I think the camera provides a barrier between photographer and subject which gives them each a safe place to look into each others eyes. Kristin gets to have a glimpse of the real person behind those eyes and her subject feels relaxed while this takes place. Photography has also enabled Kristin to see the element of light as she paints. Being able to see light and how it wraps itself around objects helps to bring her subjects to life on the canvas.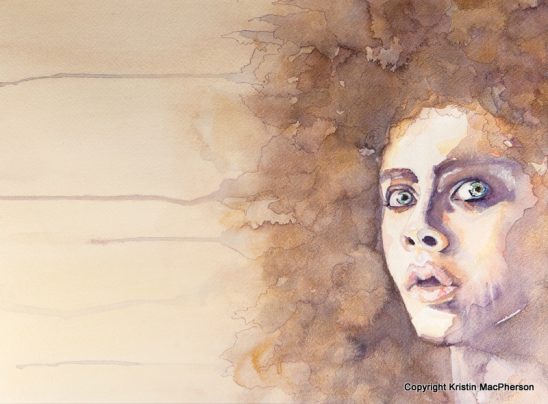 Click the thumbnail to view a larger image.

Kristin's fascination with what makes a person tick gives her the exuberance that is needed to go beyond just taking a picture or painting a piece. She works to bring that person out from behind those eyes, to tell their story, to show what really makes them who they are and not what their exterior projects them to be.
We invite you to watch and listen to Kristin as she shares more with us. We encourage you to help us spread the word about Kristin and her art on social media (for your convenience we have provided the buttons below). One more thing; we love comments so please feel free to leave a nice one below. With much gratitude, Corinne and Gary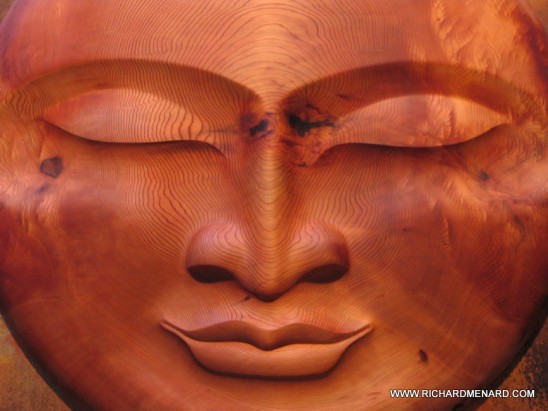 I never grow tired of walking through the forest. I walk side by side with my senses. The air is rich with oxygen and the smell of humus fills my nose as I take a deep breath. The cool humidity blankets my skin and I feel tingly and alive. Each step I take brings with it the sound of crunching leaves and crackling branches, I hear the sweet melody of birds chiming for a mate and I listen as the breeze lightly brushes through the tops of the trees. Sometimes there is no sound at all and with it comes a calm that I am eternally grateful for. My footsteps take me down a path I may or may not have traveled before but each time I go it is the trees that draw me there. I am always humbled when I stand in the presence of the great trees. They are so grand and amazing and always take my breath away every time I see one.
I preface my blog this way because I want to introduce you to Richard Menard. Richard lives on Denman Island, British Columbia, a short 10 minute ferry ride from the east side of Vancouver Island. He and his partner Shari and their cat Mische live on a beautiful piece of land overlooking the ocean.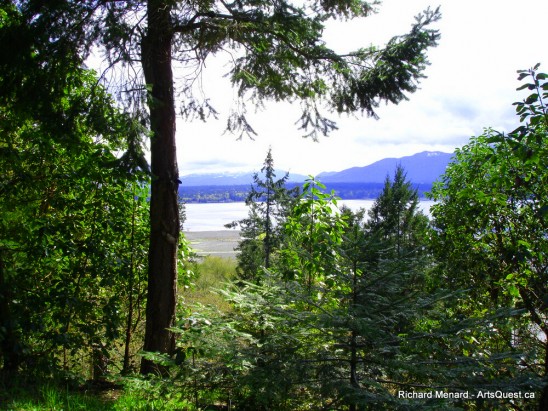 Richard is a sculptural artist who spends his days in the company of the great trees. Not only do they watch over him as he works, their fallen ancestors become resurrected into new artistic forms in Richard's sculptures. They are grand and they command attention just as they did when the trees once stood in the forest. At the same time, his sculptures are simple and respectful and are a fitting homage to the fallen giants.
Click on the thumbnail image to show a larger view.

Richard loves to work with burls not only for the challenge but also for the inner beauty of the tree. He can bring out the colours and the patterns in the detailed work he does. Burls can be elusive as they are not all that common, especially when you are looking for something big. It starts as a rough and tumble process once Richard finds what he is seeking. Most of the time the burls aren't sitting in a convenient location, they are super heavy and they are awkward due to their size. Once he wrestles the hulking piece of wood onto his truck with a little help from his ratchet lever hoist, he takes it to his studio where it will sit quietly and wait until Richard finds an idea for that particular piece. It is a chunky and clunky task when he begins to work with the rough piece. He quickly cuts away the bulk to reveal the basic form and as time goes on the tools become more refined and the sculpture begins to come to life. Primarily, he carves faces with smooth, delicate features and closed eyes from red and yellow cedar. The faces are peaceful and serene and give the whole sculpture a meditative quality.
Click on the thumbnail image to show a larger view.

"In our modern world, a great many of us experience a daily bombardment of noise, imagery and over-stimulation. My intention is to create art that invites the experiencer to contemplate, breathe and feel at peace."
– Richard Menard
Please join us as we find out more about Richard Menard and his art in the following interview. Comments are always appreciated and don't forget to share with social media!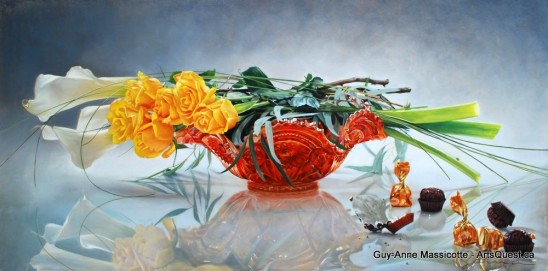 Callas and Roses in a Carnival Vase, Finalist for 2011/2012 Art Renewal Center Salon
Our visit to Quebec was one of my favorites, not only because the province is drenched in rich culture, history and beauty but also for the down to earth and wonderfully gracious people we met. Everywhere we went we came across helpful people who could see our grade twelve french was a little rusty. In my case a lot rusty. Gary was definately better at it than I was. It probably has something to do with his European heritage. Probably our most overused phrase was, "Je ne parle pas tres bien francais". I was a bit disappointed because I couldn't practise the whole phrase. Usually I wasn't fast enough and the person I was addressing would know just exactly what I was trying to say and switch to english before I had a chance to finish.
Because of our inability to carry on a conversation in french, I decided our smartest move would be to utilize CouchSurfing for all our stops through Quebec. This is how we met Francesca. She was a wonderful host and we had a lot in common with her. I had asked our CouchSurfing hosts prior to our arrival if they knew of any artists that we could interview. Francesca answered our call and lead us to Guy-Anne Massicotte, a contemporary realist painter in Sherbrooke.
We arrived a bit late to Guy-Anne's home as we got lost but luckily we were able to muddle our way through asking and receiving directions. She invited us in and immediately insisted we stay for lunch after the interview even though she was getting ready to go on a weekend trip with her two boys. Guy-Anne has been painting for many years. At first, becoming an artist hadn't occured to her as she was studying science in school. She ended up taking an art class and immediately knew she wasn't going back to her other studies. At the time, she enrolled in a one year art program in Sherbrooke and was going to continue her studies at Bishop University but she didn't want to take all the art history courses. She just wanted to paint. And paint she did! She spent 5 to 7 years doing self study; reading art magazines and books and learning the techniques of her favorite masters.
Guy-Anne has perfected the realism of still life subjects in her oil paintings. When I first looked at her lobster painting my sense was that I was looking at a photograph. However, even a photograph can not capture Guy-Anne's ability to cause you to look twice. It is quite magical how she can take a flat surface and make you think you could reach out and pick up a rose or a vegetable from the table. Guy-Anne says the secret to taking the "ism" out of realism is in the preparation of her canvass. She uses a preparation substance called Gesso. Gesso is used to eliminate a rough surface such as that of an unprepared canvass. This gives her the ability to control the texture with the paint which gives the wonderful illusion of being three dimensional. Guy-Anne is in no hurry to complete her paintings and the 4 – 5 days of preparing the canvas; applying Gesso, waiting for it to dry and sanding in between each application sets her apart from many artists. For her, although the preparation takes time, it makes the actual painting easier to do and a lot more fun.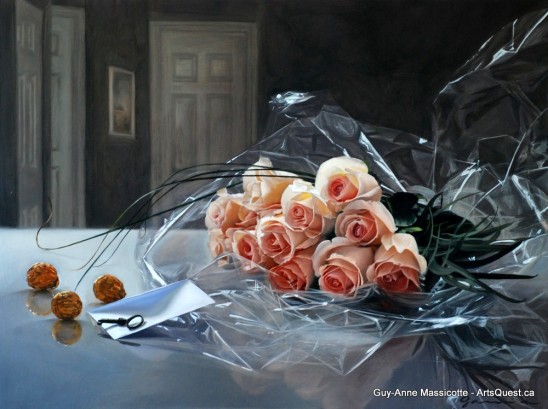 All of Guy-Anne's hard work and dedication has enabled her to achieve recognition at the international level. For the 2011-2012 year she was a finalist for her painting Callas et Roses sur Vase Carnival for the Art Renewal Center Salon. This competition garners 2100 entries and the finalists represent the top 24% of all works submitted from around the world. Her work was also selected to be on the cover of the Febuary-March 2012 issue of International Artist Magazine. And most recently, she was asked to be a member of The Group of Twelve. This group is made up of some of the finest realist artists in Canada today.
Although this recognition is for her still life paintings, Guy-Anne told us she is now up for another challenge. She loves the human face. Her focus these days is to capture the real emotion in a portrait of someone. After spending a bit of time with Guy-Anne, there is no doubt in my mind that she will be able to rise up to this challenge and meet what ever goal she has set for herself. She is an inspiring woman indeed!