I have to pinch myself everyday just to make sure I'm not dreaming!
April 23, 2013, another simply gorgeous day. The air has just the right amount of chill and the azure sky is soothing on my morning eyes. Today we will visit Terry Phillips at her home and studio, Hopespring Studio, on Quadra Island, B.C. Terry is our 81st interview since we began in August of 2011. I sometimes wonder if traveling and interviewing artists will become routine and just another day but it never does. It holds as much intrigue and excitement today as it did right from the start.
Click on the thumbnails to view a larger image.
Terry Phillips is a textile artist and watercolour painter. She started out making traditional block patterned quilts and painting on watercolour paper. A creative mind knows no boundaries though, and so one day Terry found herself combining textiles with paint. Her quilts began to transform from functional bedspreads to free flowing artistic textile art that would add a bounty of life to the loneliest of walls, and her paintings became an integral part of that process. When Gary and I were invited into her studio we were greeted with eye stopping pieces of art. Each piece stood out on it's own; some for the colours, others for the texture, still others for the three dimensionality, and most with all three.
Terry's work is representative of all things intriguing to her. She admits that she would like to try to focus on developing her strengths in one or two areas rather than many. Her ideas come from everywhere. Her mind is open to whatever wants to come on in. I love her enthusiasm for her art. She has a child-like sense of awe and excitement combined with years of hard work and loving attention that is evident in her work.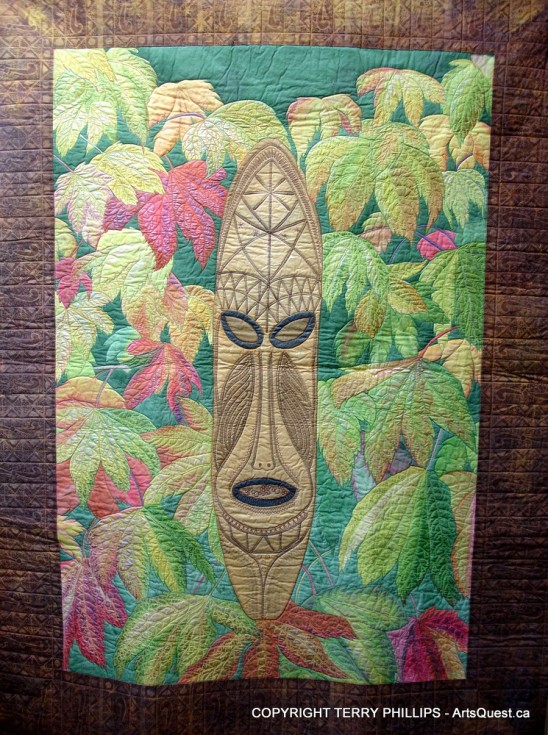 Textile art has opened up a whole new world of creative possibilities for Terry and she says she has only scratched the surface. There are so many different paints, fibres, techniques and materials that she incorporates into her pieces in layers upon layers. Everyday she gets to explore and stretch her imagination. What a wonderful way to live life!
Join us as Terry shares her enthusiasm and passion for textile art.
Warning: After watching this video you may want to start creating your own textile art!
We love comments! And don't forget about sharing on social media.