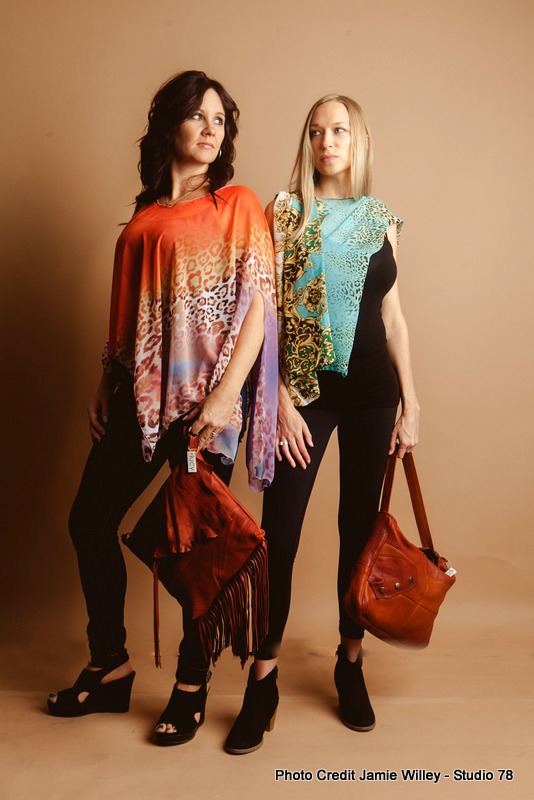 Farmers and artists are some of the hardest working people I have met, but when you put a farmer and an artist together, what do you have? An Energizer bunny named Lucy Reimer of Lucy Reimer Designs. We have interviewed many artists living in rural settings and more often than not we have found them to be inspired by their surroundings; their art manifesting itself as a representation of the landscape and nature through colour and beauty. So, needless to say, I was intrigued to learn that there was a fashion and accessories designer and maker in the middle of Manitoba's prairie.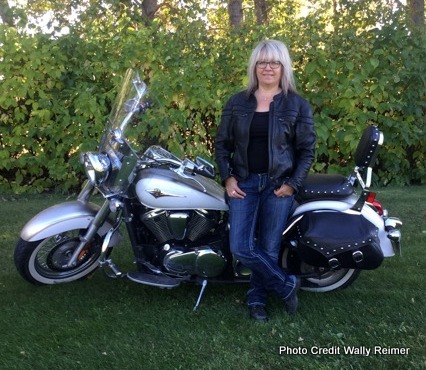 When we first arrived on their farm we were greeted by both Lucy and her husband Wally. During the farming season they both work 80 acres of land together, and when not driving the combine Wally is a power engineer at the hospital in Brandon and Lucy is down in her studio driving her sewing machine. When we sat at the kitchen table and got to know each other a bit, Gary and I were surprised at how much Wally knew about fashion and accessories. I should clarify; about Lucy's fashion and accessories. Wally is Lucy's biggest supporter in her business and we could see how proud he is of her. In fact, when Lucy is on the road heading off to the next craft fair or art show, Wally is always there. He helps her to set up, take down and even spends time showing the Lucy bags and Lucy Lu wraps to potential customers. There may not be a great man behind every great woman, but in this case there is.
Click thumbnails to see a larger image.

Lucy has been sewing since she was 12 years old. Her mother gave her a couple of words of advice early on; always sew a straight seam and iron as you go. From that point on sewing has been a passion in Lucy's life. When she got older, got married to Wally and they had children, naturally she would sew her children's clothes. And although she and Wally knew staying at home with the children was important to them, she wanted to contribute financially. A couple of friends suggested she make clothes and sell them. At first this seemed like a funny idea to Lucy because growing up on a farm often meant you learned to sew; everyone did. Who would buy clothes that she made?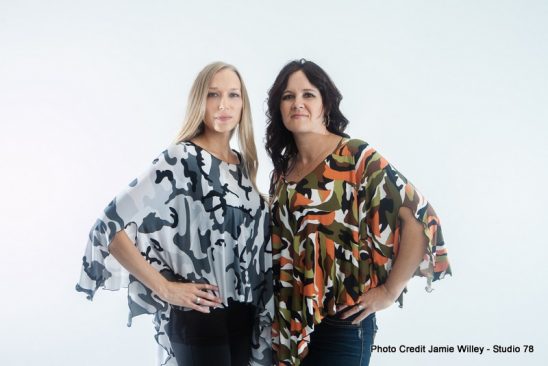 Click thumbnails to see a larger image.

After meeting Lucy, I couldn't help but think growing up on a farm gave her more than just the skills to sew, it gave her an entrepreneurial mindset. After all, farming can give many gifts; patience, stamina, tenacity, learning from failure, an appreciation for hard work, and a deep love for something that never goes away. These are the characteristics I see in Lucy and it shows in the craftsmanship of her work. She has been in business creating her Lucy bags for 10 years now and there is no sign of her or her business slowing down. I have met many artists who have a hard time with marketing themselves and their work and even Lucy noted that it wasn't easy in the beginning. But now she is always thinking about the next thing, she's not afraid to put herself or her work out there and she thrives on connecting with people. Great qualities to have as a creative entrepreneur.
Click the thumbnail to see a larger image.

For people who know me, I am always going on about how important it is to purchase local food and goods whether you are in business or an end user. I was thrilled to find out from Lucy that she does this as often as possible. It was happenstance that she would meet a buffalo rancher just 45 minutes from where she lives who now supplies her with hides for her Aud buffalo bags (named after the buffalo rancher's deceased wife Audrey). Also, she met a fellow artist, Laura Hamilton from Moose Jaw, Saskatchewan at a craft/art market and loved Laura's art. The idea to print some of her paintings on leather and then sew them into Lucy bags, aptly named Prairie bags, came about from this meeting between the two artists. And the printer Lucy uses is in Brandon, not some far off land. This is such a great three way collaboration.
Click the thumbnail to see a larger image.

It is important to Lucy that each person who purchases a Lucy bag walks away with something unique and special to them, therefore no two bags are alike. If you like earthy colours but want a bit of pizzazz then you may find a brown buffalo bag with a purple and green polka dot liner, or maybe the bag itself is a peacock blue colour, or perhaps you are a die hard Saskatchewan Rough Riders fan, well she has a bag for you too. Lucy's ideas are only limited by her imagination of which it knows no bounds.
We invite you to meet Lucy in person via her video interview and we encourage you to spread the word about Lucy and her work through social media and email. Also we would love it if you would leave a nice comment below. Thanks!
Recently, Gary and I watched a fascinating program about art created during the Middle Ages. One group that caught my attention was the Anglo Saxons and their method of casting jewellery using cuttlefish bone. I had seen this before but not on television. Our trip to the Yukon put us on the doorstep of Whitehorse artist Candice Ball who, among other things, uses this ancient casting method in her own jewellery craft.
One characteristic that I appreciate in artists is that they deeply love what they do. There is something about the act of being creative that seems to give them a heightened state of bliss. Candice is a jewellery designer and metal artist with a penchant for the unusual. She is joyously unrestrained and it showed in her fervour to share with us what she does and how she does it. Candice came close to landing a career that, for her, was just meant to pay the bills, but luckily her gut was telling her not to go there and she listened. After a long talk with herself she came to the conclusion that a creative life was what she wanted. I admire her for her fortitude in taking the road less traveled.
Candice loves working with all kinds of different metals as well as complimentary, or perhaps uncomplimentary materials. She says she is not afraid to try anything and confidently works toward being the trend setter, not the trend follower. Her intuition is her guide which she shows unfettered devotion towards. The ideas show up anytime and anywhere like an unexpected visit from a best friend. She says she doesn't know how it happens, it just does. My guess is that Candice is completely tuned in to her surroundings which abundantly supply her with all she needs to feed her creative process.
Click the thumbnails below to see a larger image.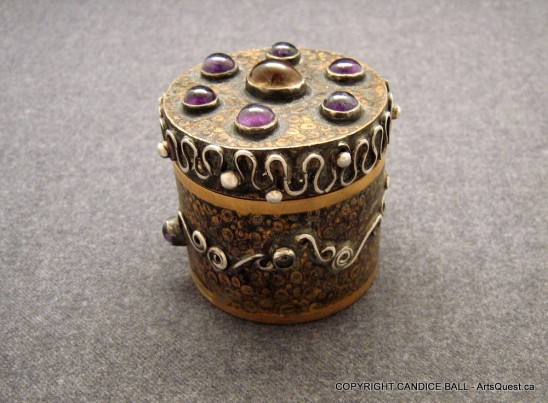 Candice is constantly researching techniques and materials to bring a uniqueness to her work that stands above the crowd. Lately she has been investigating ancient casting techniques using cuttlefish (see demo video below) as well as more modern methods known as Delft casting which uses sand to create the mold. She also explores the use of metals such as titanium in her work. Candice definitely has a hunger for knowledge and putting what she learns into practice, and because of this her work is quite varied. After we left Candice we went to Arts Underground Gallery to collect some footage of her art that was being shown there. We talked all about Candice's jewellery but had no idea she also does mixed media wall pieces until we arrived at the gallery; each one having a personality all its own.
Click the thumbnails below to see a larger image.

As crazy as you may or may not think this sounds, I believe that art handmade by people like Candice holds within it a certain kind of raw spiritual energy that comes from the earth and the person who made it. When we buy art, in this case wearable art, we get to coalesce with a part of that energy. It gives us strength and a connection that you will never get from something manufactured by a machine. Just talking to Candice strengthened my resolve on this point. To see more of Candice's work please go to her website at Dilcet Designs.
Please join us as Candice shares more about her passion for art and then watch the ancient technique of cuttlefish casting in the demo below. We love comments and ask that you share this post on social media and spread the word about Candice. Thank you!