When I first heard of Horsefly, B.C. several years back, I was always curious as to what a place named after a flesh eating insect would be like, who would be living there and why would they stay? From my past experience canoeing in Northern Saskatchewan, I had many unwanted encounters with the little black beasties and their big bite and so it briefly crossed my mind about Horsefly's horsefly population. It turns out that names can be just as deceiving as appearances. Horsefly, B.C. is a beautiful little place full of serenity and mesmerizing beauty. It is the kind of place where you can take a good long breath in and become intoxicated on pure, clean air. It has a general store, a fire hall and a wooden slat vehicle bridge spanning the Horsefly River. As well, I am happy to report, at the time we visited, there were no horseflies. My guess is that some wise person wanted Horsefly to remain as we see it today and thought by naming it after those blood thirsty insects that its natural charm and all the things the residents of Horsefly love about it would remain pristine. After all, who would want to go to a place called Horsefly?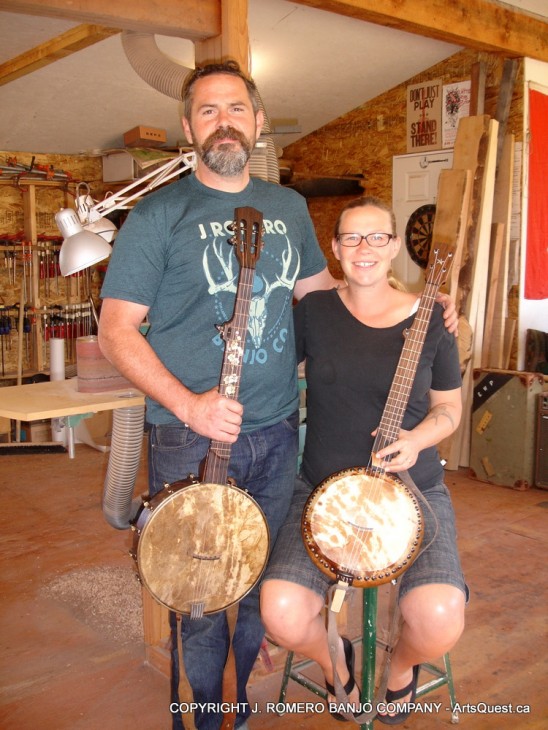 It just so happened that the chance to satisfy my curiosity would come when we found Pharis and Jason Romero of the J. Romero Banjo Company in Horsefly, B.C. They have been successfully crafting one-of-a-kind custom banjos for people for several years now. And when they are not working in their shop you can find them on the road entertaining folks with their songs and beguiling banjo music. Their story began several years earlier. Jason was building the J. Romero Banjo Company in Northern California and playing in a band and not too far away Pharis was writing songs and entertaining people with her own band. Unbeknownst to them a respective friend would change their lives by insisting that they meet. It was love at first sound! Both Jason and Pharis discovered they had a mutual passion for old time music from the 20's and 30's and so the logical thing to do after three months was to get married. My first question was how do two people who are successfully crafting banjos and actively entertaining people from all around the world with their music find themselves in Horsefly, a tiny out of the way place with no through road and a population of approximately a thousand people. It turns out that Pharis is the fifth generation to grow up in Horsefly although she did leave home when she was sixteen. Jason always wanted to live in B.C. given the right circumstances and so the obvious choice became building a life together back in the small community where Pharis was born.
They bought a beautiful parcel of land with the Horsefly River ambling throughout the property and it is just a stone's throw away from their house. Before we got started with the interview, Pharis kindly took us for a short walkabout. It is easy to imagine what it must be like waking up every morning in a place such as this; stepping out into the fresh morning air and having Mother Nature greet you in all her splendour. Each day finds Pharis and Jason in their wood shop working side by side. Jason artistically handcrafts each and every banjo and Pharis does the inlay work which adds a personal touch and contributes to the banjos lustrous beauty. Jason spends much of his day in the shop and when there is no inlay work to be done, Pharis is taking care of orders, updating their website and working on new songs for their performances together. Often they will be listening to music on the radio while they work, always ready to grab a banjo or guitar when they hear an unfamiliar song that piques their curiosity. As Jason says with a big smile, "It's part of the job."
Jason and Pharis's work is exquisite and I guess that would explain the 3 year waiting list they currently have. They have created a niche by crafting the entire banjo family from Ukuleles to Cellos and even Gourd banjos. Jason designs his hardware out of carved pieces of wood which are cast into a mold and then a local metal smith makes them out of brass. Pharis designs and carves the inlay material for the banjo. It is so well done that you would think it was originally part of the raw piece of wood. Everything on their banjos is handmade with the exception of the tuners. Over the years one of Jason's more sought after skills is his ability to listen and hear what a customer wants even though they may be thousands of miles away. He gives them the style and, more importantly, the sound they are looking for.
Jason and Pharis discovered shortly after they met that they were also a fit to perform together. They keep it as a true duo only accompanied by the instruments that they've made. They have produced two CDs and received recognition for their efforts with a couple of Canadian music awards. Their sound is a tribute to the old time music that they love with their own uniqueness blended in. When they are not traveling or working in their shop they have a local country band which includes Pharis's sister and a friend. They play for the community; Pharis noting that she loves getting the local families out for some dancing and some fun.
Here's a chance to listen to one of their songs from their album Long Gone Out West Blues, track number 7, Come On Home. Written by Pharis Romero and performed by Pharis and Jason Romero. Click on the left side of the player below to hear the song.
We could feel how grateful both Jason and Pharis are for the life that they have created together and soon will be sharing with their first child. Jason says that when he shuffles off his mortal bliss he hopes it will be over his work bench or digging potatoes in their garden.
Please join us for our interview with this inspiring couple! PS: We love comments and appreciate if you share on social media!
This story began back in 1902 when Theodore Roosevelt, then president of the United States, was invited by the Governor of Mississippi to attend a bear hunting trip. As bad luck would have it, President Roosevelt was unable to nab a bear, so his loyal assistants captured a black bear with the help of some dogs and tied it to a tree in order for the president to shoot it. Theodore Roosevelt refused, but ordered it to be shot by someone else to end its suffering. Shortly thereafter an idea was born; the "Teddy bear", named after the president's nick name and to commemorate Theodore Roosevelt's sportsman like behaviour toward another fellow creature. Here we are 110 years later and good old Teddy is still going strong.
Who hasn't fallen in love with a Teddy bear at sometime in their life? Gary and I had a chance to meet and interview Linda Chiasson who was smitten 15 years earlier when she spotted a handmade Teddy bear made from recycled real fur at a local market. With a strong background in sewing, and a love to create everything from the clothes in her closet to the curtains that embrace her windows, Linda confidently decided she could handmake her own darling bears, and she has been doing so ever since.
When we arrived at Linda's home and studio, the first thing she did was run out to Arty to greet us and take our picture. We felt a bit like celebrities! She invited us in, sat us in her living room, offered us these fantastic gluten free, chocolate chip, peanut butter cookies (the surprising secret ingredient – chick peas!) and began asking us all about our endeavours. I really thought it was wonderful how she took an interest in what we were doing since we were there because of our interest in her.
Linda's bears are nothing less than exquisite. Over the years she has perfected her techniques and uses only the most pristine once loved furs, and it shows in the superior quality of her bears. A testament to that quality comes from the many delighted collectors from all around the world, some of them anxiously waiting for the newest bear to show its face. Because of the work involved Linda doesn't make many bears in a year, but when she does they come as a result of everyday occurrences in Linda's life. She may see an article of clothing like a scarf which becomes the spark for the glint in the eye of a new bear. Her bears are heirloom worthy and easily come with a life long commitment on the part of the new bears owner.
When our time with Linda was over she sent us on our way with the rest of the cookies, a care package from her vegetable garden and a foam knee pad for Gary to use while he shot video coverage (it has come in handy for many things since then). It is easy to see why someone could become so attached to one of Linda's bears; they are as sweet as the lady who makes them. PS: She made me miss my mom just a little bit less. Thanks Linda!
Check out our interview with Linda as she shares more about her furry friends and go to her website Bear in Mind Collectibles to see more of her work.