November 2011, we found ourselves on the door step of Ann Holtby-Jones from Parksville, B.C. "What is that smell?!", I said to Gary as we stood there. As far as we could tell it was coming from Ann's kitchen. The sweet aroma of fresh baked goodies! I never want to be presumptuous so I said, "Perhaps she is expecting company later".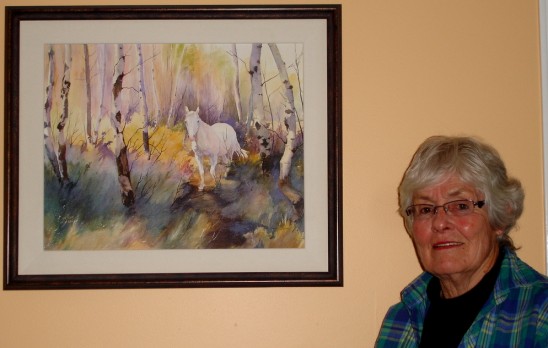 Ann and her welcoming pooch, Daisy, opened the door with a warm smile and a wag of the tail. We stepped inside following close behind our noses. Ann is a lovely lady who had many adventures to share with us about her years as a painter. Since the last time we met, she has been painting but perhaps not as much as she would like. Her attention has been elsewhere with a new awesome man in her life and some travel. The good news is her new beau is very supportive and encourages Ann to get in her studio or out in the fresh air and paint. Sounds like a wonderful guy! She is looking forward to a studio tour coming up this October on Vancouver Island.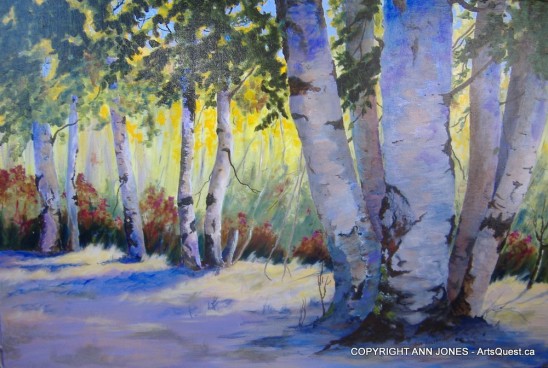 I have included five of Ann's post ArtsQuest interview works but for the full scoop and to see more of her paintings be sure to check out her interview by clicking here.
Besides Ann's creative talents she also has a wonderful sense of humour. When I asked her if she would mind if I shared her cookie recipe for the Culinary ArtsQuest series her quip was, "Yes, make my cookies famous! Who knows, people may get to know my art as, oh you know, the lady who makes the cookies."
As you probably already guessed the cookies were for us to enjoy with a cup of tea after the interview. Ann didn't have a name for her recipe but I decided to call them the Anything Goes Cookies. I love this recipe because I can pretty much toss in anything I have available, they are delicious and they are…(me whispering) healthy.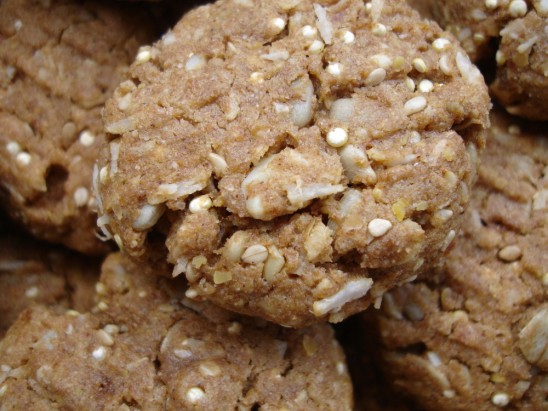 Anything Goes Cookies
Ingredients:
1 cup of butter
1 cup of sugar (I use organic cane sugar or coconut sugar is nice as well. You can also use honey, maple syrup, agave, pretty much anything goes.)
2 eggs
1 tsp vanilla
2 cups of whole wheat flour
1 tsp each of baking powder, baking soda and cinnamon if you want
1/2 tsp of salt
1/4 cup of uncooked quinoa
1/4 cup of ground flax
1/2 cup oatmeal
1/4 sesame seeds
1 cup unsweetened coconut
1 cup sunflower seeds
Throw in some ground almonds or other nuts if you like.
Directions:
Mix together the first 4 ingredients with a hand blender.
Mix the rest of the ingredients together and then add to the wet.
Roll into balls and press with a fork to flatten slightly on a cookie sheet.
In a standard size oven preheat to 350 degrees and bake for 15 – 20 minutes.
In a toaster oven preheat to 300 degrees and bake for 9 minutes.
Makes approximately 4+ dozen depending on how big you like them.
Note: I would say stick to the first 7 ingredients but after that Anything Goes so experiment and have fun being creative in the kitchen!
If you want a copy of this recipe, instead of writing it all out, copy and paste it into a Word document.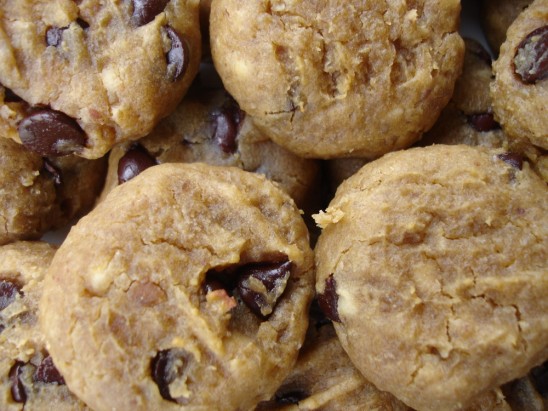 What do cookies have to do with ArtsQuest? Quite a lot actually. While Gary and I traveled across Canada our senses were aroused as we met so many incredible artists who took the time to share with us their creative passions. On some occasions our sense of smell and taste were treated to the culinary arts of some of the artists. I thought it would be fun to reintroduce these artists, show you what art they have created since we interviewed them, and pass on the recipes of the wonderful goodies they shared with us. I am an avid recipe collector but also discerning; no recipe finds its way to the pages of my book unless it is something I would make over and over again.

Our first recipe takes us to Dieppe, New Brunswick where Gary and I met a wonderfully enthusiastic lady named Linda Chiasson. Linda handcrafts Teddy Bears from recycled fur coats. More recently she has designed and crafted other furry critters such as Hannah the bunny and Kito the puppy. You can see Linda's full interview by clicking this link.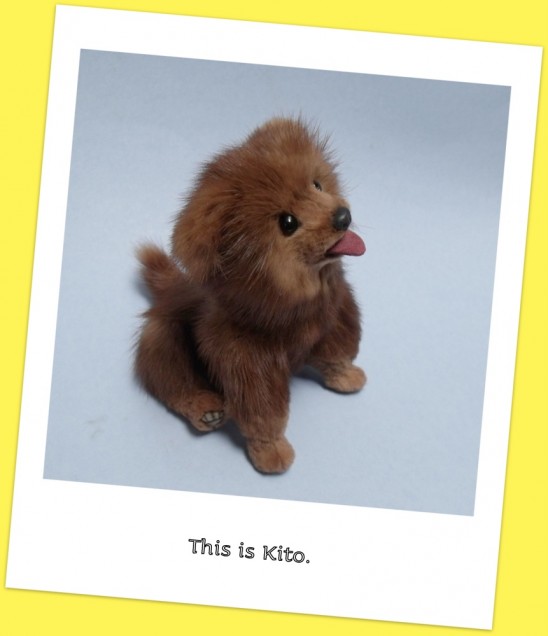 Click on the thumbnail images below to see a larger aspect.

When we first arrived at Linda's home she ran out to the van to greet us with camera in tow, snapping pictures like we were the ones being interviewed. Talk about a warm welcome! That morning she had baked a batch of Gluten-Free Chocolate Chip Peanut Butter Cookies. Now, I have tried a few gluten-free baked goods and honestly, I haven't been that excited about them. These cookies are fantastic! Soft and deliciously tantalizing. They were definitely a candidate for the pages of my book. I was flabbergasted when I heard what the main ingredient was. The idea would never have occurred to me to make cookies out of Chickpeas. I guess I can be grateful for all the pioneers out there who said to themselves one day, "I bet Chickpeas would make great cookies!". Then there has to be people like Linda who decide to test the recipe first hand and discover that it is wonderful enough to share, and hence that is how it ended up in the pages of my book.

I made a batch of these cookies the other day so I could include a couple of photos. Oops! I forgot to use parchment paper and burned the bottom of them. Funny thing was the smoke detector didn't go off so I didn't notice they were burnt until after I took them out of the oven. I refuse to waste food, much to Gary's chagrin at times, so I decided to taste one. If you burn them don't throw them out because they don't taste burnt at all. They were kind of caramelized on the bottom which gave them an added chewy part. One other piece of advice; if you have people in your life who are not open minded, I would suggest you let them eat a couple first before you reveal the ingredients.

Gluten-Free Chocolate Chip Peanut Butter Cookies
Ingredients:
1 1/4 cup of canned Chickpeas, well rinsed and patted dry
2 tsp vanilla extract
1/2 cup + 2 tbsp natural peanut butter
1/4 cup honey
1 tsp baking powder (if you want 100% gluten-free sub the baking powder for 1/2 tsp cream of tartar + 1/2 tsp baking soda + 1 tsp arrowroot powder)
1 pinch of salt if the peanut butter is unsalted
1/2 cup of chocolate chips (don't leave these out as the cookies are not quite the same otherwise)
Directions:
1. Preheat oven to 350 degrees F
2. Combine all the ingredients in a food processor except for the chocolate chips.
3. Process until very smooth.
4. Stir in chocolate chips.
5. Mix will be very thick and sticky.
6. With wet hands, roll 1 1/2 inch balls and flatten slightly with a fork.
7. Place onto a parchment lined cookie sheet and bake for about 10 minutes in a standard size oven and about 5 -6 minutes in a toaster oven.
Yields approximately 14 cookies.
If you would like this recipe for the pages of your own recipe book, I suggest copying and pasting the text into a Word Document and then printing it off. Unless, of course, you prefer the old fashioned pen and paper method like I do.
Enjoy!