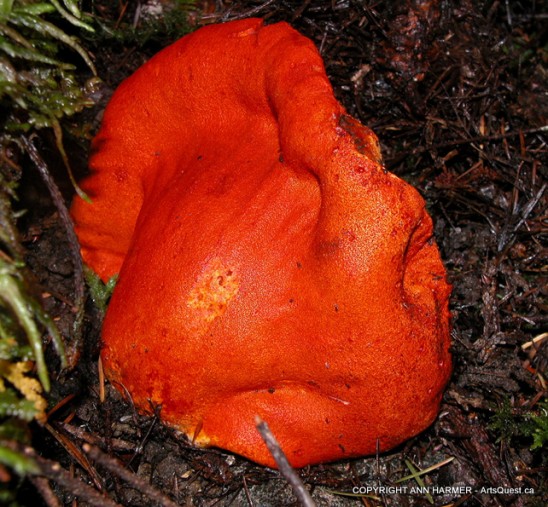 The more I learn about mushrooms the more I love them! Fortunately for Gary and I our trip to the Sunshine Coast of British Columbia would lead us to the doorstep of fibre artist and mushroomist Ann Harmer and her world of the magnificent mushroom. Ann lives with her husband Rick and their two friendly pooches on a parcel of land near Katherine Lake where we had camped the night before. They moved from Burnaby about a decade ago after falling in love with the area. Rick says it was Katherine Lake that pulled them there. Outside their door is a rainforest which harbours all the right conditions for mushroom life. Before moving to this area, Ann had decided she wanted to learn all about mushrooms not realizing this endeavour would lead her into a creative realm using the humble fungi.
I was curious to find out if using the mushroom to make dyes was some sort of ancient art form. As Ann explained it only began when a woman in California was creating a dyepot out of flowers, and merely out of curiosity happened to throw in some little yellow mushrooms. It turns out she got a beautiful yellow dye and the rest is history. Now people all over the world forage for pigment mushrooms. They even get together once every two years for a pigment mushroom symposium to discuss all things fungi.
Click the thumbnails below to see a larger image.

Typical mushroom hunting season on the coast begins in July and goes into November. During that time Ann can be found out in the forest with her two dogs on the hunt for pigment mushrooms. Only a fraction of all mushroom species contain a pigment that is suitable for dyeing. I must say I was astounded at the colour palette; everything from earthy browns and greens to pinks, blues, and orange hues. Most of the mushrooms Ann hunts for are not edible but there is the lobster mushroom that she and Rick share. The lobster is a deep orange colour on the outside with a white fleshy inside. Ann peels the outside for her colour palette and Rick uses the tasty inside for his palate.
Some of Ann's mushroom hunting involves locating a species that contains chitin. Chitin is the substance that helps to create the hard shell for arthropods such as insects, lobsters, and spiders. In the case of the mushroom, Ann can make a strong paper-like fibre which she turns into bowls, beads for jewellery and sculpture pieces such as hats and shoes (future project).
Click on the thumbnail to view the larger image.

The humble mushroom is an incredibly versatile species. It has been used in bioremediation as well as making a material that could replace plastic one day and not to mention they are wonderful to eat. And now as we have learned, it earns a noble place in the world of the visual arts. Before we left Ann and Rick that day we spent some time chatting over a cup of Earl Grey tea and some Candy Cap shortbread cookies that Ann had made. Candy Caps are a mushroom that taste and smell a bit like maple syrup. Even Gary couldn't resist them!
To find out more about Ann Harmer please click here to get to her website.
Join us as Ann talks about the process of using mushrooms as dyes. We always love your comments and please help us spread the word about Ann on social media and through email. Thanks!
I met Jack and Glenda while shopping on Kijiji for a pressure canner. As luck would have it, I found one and I also found Jack and Glenda. Most purchases I have made off of Kijiji have been uneventful for the most part except for this occasion. Jack and Glenda are a retired couple who keep themselves busy in the garden, and puttering around the house. When Gary and I met them, we got to sample some wonderful cherry tomatoes and Jack introduced us to his eye catching hand turned wooden bowls and Ukranian bird houses (as Jack referred to them).
Glenda is the beauty and Jack is the brawn. Jack turns the bowls on his lathe machine in his well stocked shop out back and Glenda puts the finishing touches on them. The shine brings out the striking patterns and color in the different kinds of wood that Jack comes across. He even had us trying to guess at some of the wood. I have never seen yellow wood before and I mean lemon yellow. I guess the caragana bush is yellow. Who knew?
I couldn't wrap my mind around how these bowls were made so I found myself asking Jack and Glenda if we could come back sometime when he was making a bowl so we could watch and see how it was done. They happily agreed. When we did come back not only did we get to see how Jack makes his bowls, he had us making our own. Gary was the brawn in this case as a lot of muscle goes into carving out a bowl. In the end we did walk away with our very own Corinne and Gary hand made bowl. Thanks Jack for taking the time!