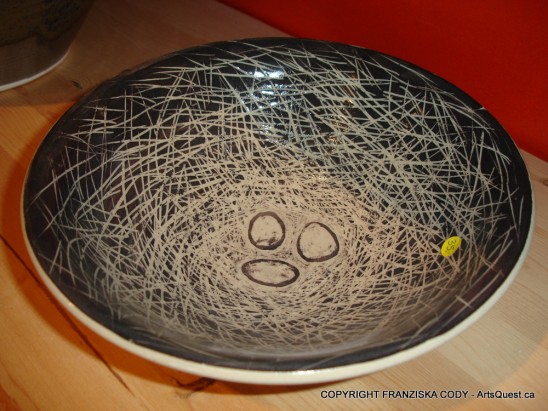 It has always appealed to me to be surrounded by things that are handmade and created from someone's imagination and desire. Gary and I don't own a lot of fine art and craft but what we do have is very special to us. My brother is a woodworker and for our wedding gift he made us a gorgeous cherry and black walnut two person table and chair set. It is so wonderful to sit and share a home cooked meal and talk about our day at this table. It is one of the highlights of our time together. Simple yet so rich! Art is so much more than something pretty to look at. It is a connection to other people; to their dreams, their passions and it is a connection to life. There is energy in handmade art and craft that we will never experience from an object manufactured by a machine. This partly explains why we are not committed to those things. They fill a space on the wall or a place setting at the table but lack the connection to the human spirit that we can only get from something handmade.
Click on the thumbnail images to view a larger perspective.
Gary and I bought our first two pieces of pottery on our interview tour up through Northen British Columbia. Telkwa artist Franziska Cody is a potter and the owner of a charming working studio and gallery called Art and Soul Pottery. We arrived to find Franziska quite literally up to her elbows in clay, working her wheel and turning out an order of mugs. There was wonderful soothing music playing, the kind you would expect to find in a spa, and the space felt comfortable to walk around in as we glanced through the gallery.
Franziska has been a full time artist and business owner since 2009. It all began when she decided to immigrate to Canada after meeting the man who is now her husband. Because of the immigration process she was unable to work so she dedicated her time to doing what she loves; art. This was when she discovered clay and found that she had an affinity for it. One thing lead to another and soon she was in business full time. It hasn't always been as easy as all that but her and her husband live a simple lifestyle which affords them the freedom to do the things they love.
While we were in Telkwa we bought a couple of Franziska's travel mugs. Besides being handmade pottery, it was the design, the earthy colours and the appropriateness with which they fit for us that made our buying decision easy. I had never seen travel mugs like this before and so I was curious about Franziska's approach with clay. I asked her whether or not she was trying to see how many functional things she could actually replace with a clay version. She explained to me that she finds clay to be very fragile but versatile and it can be turned into something of strength once it is fired. She said the nature and characteristics of clay are not unlike the nature and characteristics of human beings and this is one of the things that appeals to her about the medium. She finds herself pushing the limits of clay. Sometimes it works out and sometimes it doesn't; for Franziska it is all about the process and the discovery of what is possible for the clay and for herself. Franziska spends most of her time creating functional pieces like pots, plates, mugs, bathroom accessories and even sinks. She hopes to one day step further into the realm of the spontaneous but for now she loves making things for people who she knows are using her pottery in their everyday life.
We invite you to watch Franziska's video interview as she talks more about her pottery and the life that she loves. Please leave your comments and help spread the word on social media. It is much appreciated! Thank you.