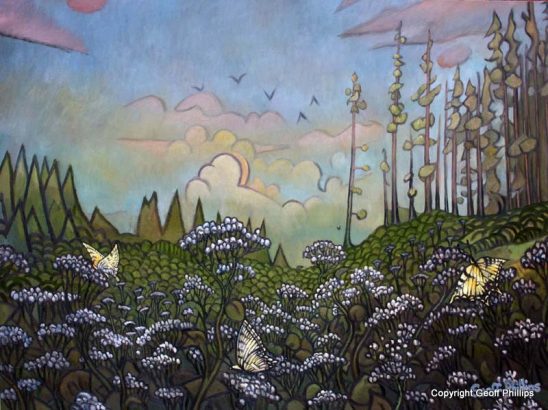 Not our last interview but our last stop in Saskatchewan took us to painter Geoff Phillips' house in Maple Creek. We had been through Maple Creek once before but this time it was with fresh eyes. It's a cute little town in southern Saskatchewan nestled within the prairie landscape and close to the Saskatchewan/Alberta border. It was here that Geoff and Connie decided to move their family from Calgary, with both sets of grandparents following in hot pursuit soon after.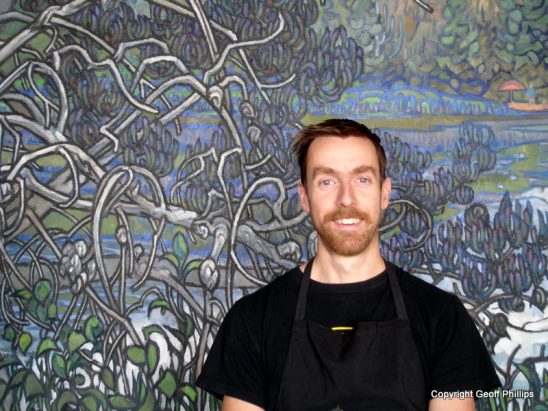 It would appear that the Phillips family lives an idyllic life in Maple Creek. Geoff's steady income comes from their next door neighbour, the local Co-op food store where he works in the meat department. Besides not having to drive to work, living right next door has other benefits too. When he is not helping customers with their meat requirements sometimes they come in and ask to see his artwork. He asks his boss if he can pop home to show it to them, bloody apron and all, and off he goes. Only in a small town.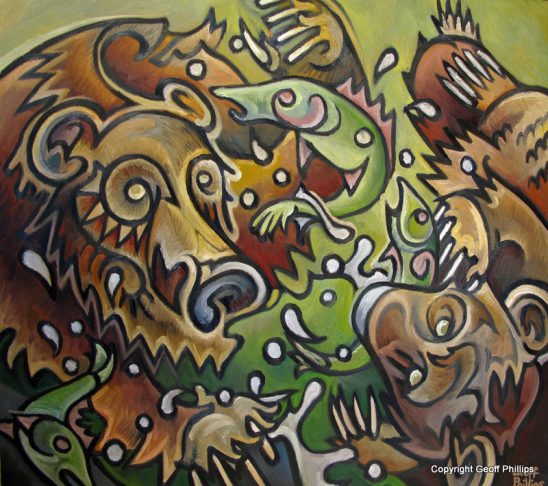 Click the thumbnails to see the larger image.

For the past 6 years Geoff has had the good fortune of being the artist in residence at the Cypress Hills Inter-provincial Park for one month in the summer. But it is no coincidence that Geoff has had this opportunity for 6 years running. His unique style gives park visitors not only an appreciation for Geoff's art but also for the surroundings that comprise the park itself. What started out as a pilot project has turned into a marvelous draw to the park, with subsequent years also being funded to carry on the successful project. With his family's encouragement and the well wishes of his employer he stays at the park to paint and run workshops for visitors. His paintings are based around the flora and fauna of the park and are meant to bring awareness to those who make the journey there. Geoff's art is colourful and certainly very eye-pleasing so his pieces attract people like honey attracts bees. Every year Geoff packs up his canvasses, paints, brushes and a theme that he will incorporate into his work while he is there. This past August he worked on 12 very large canvasses and painted micro sections of the park depicting the landscape and the common plant species which are found there.
Click the thumbnails to see the larger image.

I have found over the last 6 years of doing interviews that each artist's process is just as unique as the art they create. During his stay in Cypress Hills Park, Geoff will go out and wander the woods until he finds an intriguing spot he wants to bring to life on canvass. I would have thought a few pictures and maybe a sketch book would be what he would use to gather material for his piece. Instead he pulls out his really large canvass and spreads it out over the ground and then proceeds to stomp on it with his shoes to try to get it to lay as flat as possible, but of course there are always lumps and bumps creating hills and valleys. No matter, Geoff pulls out a can of brownish acrylic paint and proceeds to map out his future painting. He paints in oils but acrylic dries quicker for this part of the process. He then packs up and heads back to the art cabin where he adds a layer of primer and then proceeds with the oils. There are a few reference pictures taken as well. As Geoff puts it, it is very crude but he likes doing it this way because he can really get a feel for the spot he wants to paint and this helps to ignite the passion that goes into his work.
Click the thumbnails to see the larger image.

When Gary and I stopped in on Geoff to do his interview we also got to see the new workshop and painting studio that he and Connie recently added to their home. Both Geoff and Connie, who is also an artist, have collaborated to bring all kinds of art programs through The Art House to the town of Maple Creek. They offer their artistic expertise to help guide children and adults through their own artistic expression, whether it be at a Splatter Party where one gets to pretend they are Jackson Pollock, or something a little more structured like learning the basics of drawing. It is obvious that both the Phillips family and the town of Maple Creek have benefited from their arrival. Geoff and Connie are bringing art to their community by teaching others how to express their creativity. They also enjoy the exposure of their art lining the walls of the local pub and restaurant and in the form of Geoff's huge mural that was commissioned by the town of Maple Creek for the Heritage District revitalization program.
So if you ever find yourself in Maple Creek, Saskatchewan stop in to the Co-op, ask for Geoff at the meat counter and ask to see his art. He'll be glad to oblige.
Be sure to check out our interview with Geoff. Also, help us spread the word about Geoff through social media by sharing this blog post. Clickable buttons are provided below for your convenience. And we love comments so please feel free to leave a nice one about Geoff and his work below. Thank you!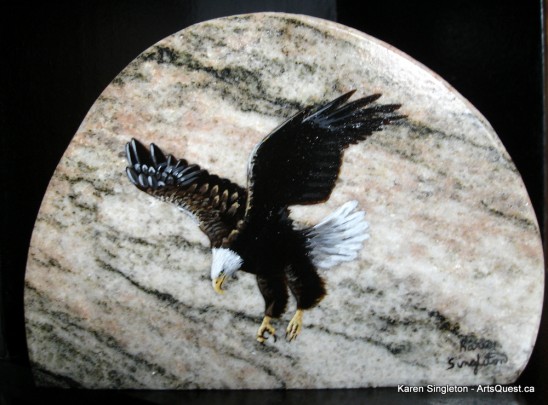 The world weighs heavy upon her shoulders but not in the way you probably think I mean. She is not influenced by the media or stuck in the day to day grind that most people face. As a matter of fact she chooses to live simply so that she can have fulfillment and follow her passion. Karen Singleton is a painter whose life and life's passion is built from along the shore of Lake Superior in Batchawana Bay. Her time is spent scouring the shoreline just outside her back door in search of rocks. Rocks are what fills her days, her pockets and her studio where she paints incredible portraits of animals, birds, insects, reptiles, amphibians and people upon them.
Click the thumbnails to view a larger image.
At a very early age it was quite apparent that Karen had an innate ability to draw and paint. Evidently, this was what she set out to do but because of different circumstances with the art school she attended her enthusiasm dwindled and she found herself on a different creative path. Still, she always found time to paint but rocks weren't part of the equation at the time. Then one day an accident left Karen temporarily without the use of her arms and unable to continue with her career in fashion design. It turns out that painting was an excellent form of physical therapy for Karen, and so this is when she began to paint on rocks. Not only was collecting them a great way to strengthen her arm, they were also easier to paint because she could hold the stone in the palm of one hand while resting her painting hand on the table. At this point she had no idea painting portraits on rocks would turn out to be a life long career but then fate paid Karen a little visit. A friend fell in love with her rock paintings and asked if she could decorate her restaurant with a few. Unbenownst to Karen, her friend sold them and then was back asking for more. The rest is history and she has been at it ever since.
Karen's portraits are truly special. The rocks are hand selected from where she lives and each one is chosen for its unique colouration and pattern. She told us that intuitively she knows which rocks will make the best canvas but it is always a nice little surprise to slice one open and discover it wasn't at all what she expected. Each rock is carefully prepared before the first brush stroke ever finds its mark. Karen never rushes an idea for a new painting. She says if someone requests a rabbit portrait from her on a particular day she may or may not have one. I take that to mean that she doesn't force herself upon creativity or the rocks. They, along with her daily experiences, tell her what animal will be painted on its face. It is the creative process that guides her to an idea and she in turn is the force that delivers it to it's physical form.
Although Karen has been using Lake Superior stone as her canvas for many years, painting on rocks does have its limitations. For instance, the rock she chooses can only be of a certain size or less due to the obvious weight issue. Recently Karen has found her way back to canvas and is enjoying the freedom to spread her creative wings a little further.