Location: Winnipeg
If you haven't figured it out by now then I will just come right out and say it. I love art! I love everything about it. It constantly amazes me how human beings can take something we may perceive as having little importance and turn it into a wonder of my world. It makes me laugh, smile, ponder, sigh… and be in a constant state of awe. It is because of these feelings and emotions that studies have shown that art (not unlike nature), when we have it in our lives can actually boost our immune systems and make us healthier. But don't take my word for it, check with Google. Luckily for us there is an endless supply of very talented, emerging and veteran artists right here in Canada for Gary and I to interview and get an immune booster at the same time. It is no wonder then that neither of us have been sick since ArtsQuest began. One such veteran artist we had the pleasure of visiting was potter Valerie Metcalfe of Winnipeg, Manitoba.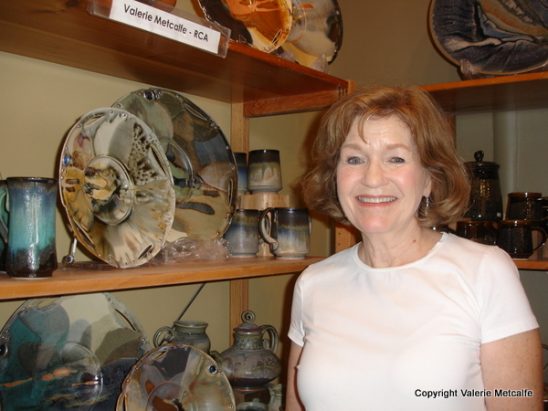 Once a week or so you can find Valerie down on Corydon Avenue at The Stoneware Gallery and The Stoneware Studio where she may be firing some of her work, teaching some students or helping out in the gallery. This isn't just any gallery. It has been in existence for 38 years in its current form and is one of the longest operating co-operative's in Canada. And Valerie, only 4 years out of university with a fine arts degree, became one of the studio members who purchased the business from the original owner and turned it into a pottery paradise for both makers and appreciators of pots. She has been there ever since. This opportunity gave Valerie something that most people only dream of; to do something she loves for her entire working career.
Click on the thumbnail to see a larger image.

It is because of people like Valerie and what their art does for me that I can easily sing the praises for why you should ditch the Corelle and start collecting pieces of art to drink, eat and cook from. When you choose to drink from a vessel that was made of clay, a gift from the earth, by an artist such as Valerie you will have a different experience. It is not hard to go and spend a few bucks on something that will hold your coffee, but when you spend your hard earned dollars on handmade pottery your decision to purchase becomes more mindful. As it happens, there is an honest to goodness connection with something that is so beautiful you can't take your eyes or your hands off of it. I can tell you, it is the difference between just getting the job done and bliss. Sound kooky? Give it a try.
Click on the thumbnail to see a larger image.

When I first spotted Valerie's work it was really a matter of happenstance. I was on Instagram and was admiring the work of another artist who, unfortunately for ArtsQuest, lives in the UK. I had noticed that Valerie had commented on some of Woodbug1's work and so I went to see what she was up to. What I found were some pieces that took my breath away and I had to know more. Luckily for ArtsQuest, Valerie Metcalfe is an artist living in Winnipeg which happened to be one of our artist interview tour destinations.
Click on thumbnails to see a larger image.

Valerie has years of experience in the art of making fine pottery. She is highly skilled in technique and form, which her work and her students can attest to. Her clay of choice is porcelain because it is more pure than any of the other clay bodies which gives it its signature white colour. It has a delicate and graceful appearance once fired and finished, but at the same time it is one of the strongest materials used for making pots. Valerie loves the pure and rich colours that come from glazing and painting porcelain and she finds the result to be very similar to what one would find in nature. While we were there she demonstrated for us how she throws a large plate or platter. This is some tricky business, let me tell you. There are so many stages involved with getting it right and this is all before it makes it into the kiln. Valerie makes the process look like a well choreographed ballet. My immune system was fully boosted by this time. The forms, the colours, the decorations, the embellishments and every other little detail that goes into each beautiful piece Valerie makes comes from within her, and is her contribution to a beautiful world.
We invite you to watch Valerie's video interview and encourage you to help spread the word about her and her work through social media and email. Thank you! PS: We love comments.
As we strolled around ceramic artiste Jordan Van Sewell's yard in Winnipeg, Manitoba we couldn't help but exclaim, "What the…?", or "What is that?", or "Hey, take a look at this!". Amongst the gardens of flowers, grapes, vegetables and crack corn (yes, actual corn stalks growing through the asphalt crack), one will get a glimpse of the many interesting collectibles, found items and projects that decorate his yard. Stepping into his studio and workshop the intrigued visitor will then be met with many of Jordan's signature ceramic pieces; icons such as Charlie Brown and David Bowie, the devil bathing with his trusty three headed dog beside him, various humanoids and anthropomorphic animals, his robot and skeleton statue minions peering into the "hell hole" dug in the back yard, as well as a good selection of creepy and sinister looking characters. Welcome to the eclectic world of Jordan Van Sewell and his art work.
Jordan started his professional art career after finishing art school in 1979, and it was these rudimentary skills learned in clay that had given him, as he puts it, "a whole new vocabulary". Things that meant something to him but that were not expressed, or that could not be acquired elsewhere, could now be created from his own interpretation of the world into his clay pieces, with an enhanced twist to make for a "better read". The plight and the fortunes of the human construct that Jordan characterizes in his work are meant to evoke empathy and humour, and he observes that the more people become familiar with his work the more the subtle nature of their concepts will be revealed. On the flip side, some of his pieces are just for fun.
Click on images to enlarge:

One look at Jordan's big, burly, growly, flames-painted Harley Davidson, complete with…doilies? painted on the back luggage carriers, and you will know that here's a guy that walks to the beat of his own drum. Being unconventional has always been a part of Jordan's life, sometimes out of necessity, and it shows in the body of work he has created depicting variations of pop-culture symbols and the human condition. As we looked at his collection of ceramic characters they can't help but make you smile, chuckle or ponder the symbolism, and if these creations don't clue you in to Jordan's sense of humour then speaking with him certainly will. His deadpan humour flowed seamlessly in and out of "serious" discussion, occasionally requiring a double-take from us to see if he was pulling our leg, like when he introduced his cat Pearl who keeps the mice and small children in check.
Click on images to enlarge:

Jordan reveals that he started out with the same struggles that any aspiring artist goes through (more ramen noodles?), but despite that he knows that being an artist was always something that he was born to do, rendering himself as he says, "virtually unemployable". A big part of the "high" is not only the therapeutic process of creating his art, and the magic in the mixture between the intellect, skills and excitement, but also seeing his work in other peoples' homes and how it has affected them. The significance for them strengthens his own feelings about his body of work. All said, Jordan Van Sewell's thirty seven years as a professional artist, and loving it to this day, is a great testament to the qualities that got him to where he is today; perseverance and being true to yourself.
We invite you to meet Jordan Van Sewell in our video interview and to help spread the word about him and his art work through social media and email, and a nice comment is always welcome too.