Location: Wakefield
It's pitch black outside and there's not a sound to be heard; the only light penetrating the darkness are the billions of stars trillions of miles away on this cool, duvet-worthy night! Our resting place for this evening is at glass-work and macro-photography artist Robert Moeller's home, an idyllic setting along the banks of the Gatineau River in Wakefield, Quebec. As a fellow Westy owner, Rob understands the more stark living conditions we may subject ourselves to, and so his gracious invitation for a place to park our van, shower and fill up on water was eagerly accepted.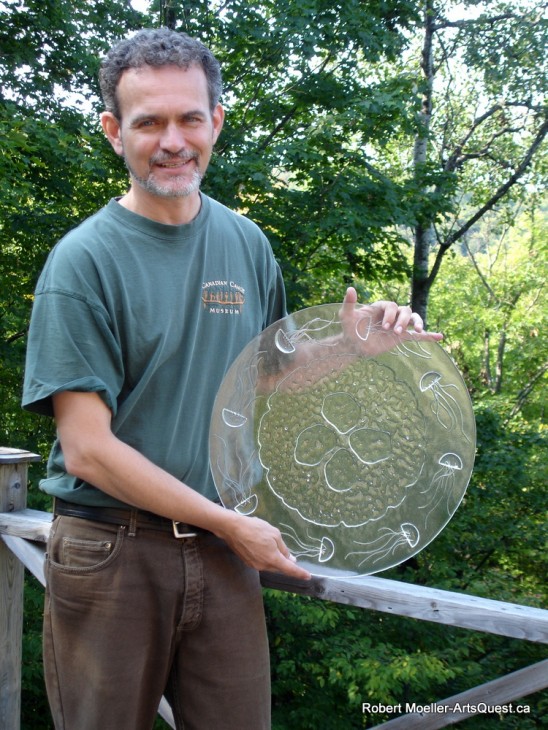 Wakefield is a picturesque town that exudes charm and an atmosphere of relaxation in its natural setting along the Gatineau River. The forested shoreline futilely leans and reaches for the opposite side; the river only giving up it's span to the brilliantly red, covered foot bridge which emerges as a focal point of the town. Within the beauty of it's surroundings, it is also an intensely community-minded place, where residents can feel connected not only to nature, but to one another. With inspiration at your doorstep and at every turn, it is no wonder that this area is home to many artists, artisans and crafts people. These are the reasons that Robert chose to make Wakefield his home, and as he conveys images of paddling his canoe to the store to pick up groceries, or swimming in the river on a hot day, I can feel the tug of my own heart strings to this halcyon homestead.
Rob has been working with glass for thirty two years, but in the last seven his focus has shifted from working with stained glass to clear glass infused with colour from various metals, alloys and minerals such as copper, brass and mica. He has also incorporated plants such as ferns and horsetail. The effect is stunning, with the copper changing colour from brilliant blues to ruby reds depending on the number of firings in his kiln. The plants add the organic appeal with nature's detail captured within the textured glass. Rob notes that he likes to explore his own backyard as well as traveling Westfalia style to other parts of North America to discover fresh ideas. This in part sparked the evolution from more traditional stained glass with its visual appeal to creating textures within the glass itself. Either way, nature is the inspiration behind Rob's glorious glass work.
Click below to scroll through larger images:

Rob's foray into macro-photography as an art form evolved from his lifelong interest in observing the world of small things and examining their textures. His shift from selling traditional photographs to his current montage style was a format inspired by an artist at an Ottawa art show. She was combining her paintings, mosaics and all her mixed media work within a montage design of same size squares. This was an "aha!" moment for Rob and the aperture on his lens has been wide open ever since! He combines various square photos of the same size and category into a larger rectangle or square. Ironically, Rob's intent is for the viewer to be caught off guard by taking in the larger piece first from a distance, and then allow each person's inquisitiveness to draw them in closer to find a surprise in each individual square. Rob's goal for a viewers first impression is that the eyes are not drawn to any one picture, but that the individual photos create the overall effect. Once again nature is the prime target for Rob's lens. The macro images not only allow him to capture nature at its smallest but also allows us to feel its texture with our eyes. What I enjoy about Rob's work is that he is unfettered about delving into new arenas of creativity. He admits that he can get bored doing repetitive work and so he is always looking for new ways to direct his artistic channels. This can only bode well for his admirers and we certainly look forward to seeing more of Rob's work!