Location: Vancouver
What do you want to be when you grow up? For some of us this question has been easier to answer than for others. I am sure I changed my mind time and time again, and as I grew older it became more and more of a power struggle between what I really wanted to do and what I thought I should be doing. One thing I have learned is that the things that matter the most are matters of the heart, not of the head. In general, I think artists are one group of people that understand this very well. Gary and I had the chance to chat with Alison Wandzura who is a professional film and tv actor in Vancouver, B.C. Like many of us, when it came to choosing a career her heart was telling her to be an actor, but her head told her to go get a business degree. Eventually Alison quashed the naysayer within her, let the passion in her heart take over, and now she does what she loves.
When Alison was growing up her and her two brothers spent many of their days acting in homegrown productions and dreaming of the day when their staged funny-naked-bathroom-scene video would be chosen for America's Funniest Home Videos. And although that was "kid stuff", Alison always loved dressing up and pretending to be someone or something else. She still does. One of the reasons she pursued an acting career is because she could never decide what she wanted to be. She notes that if you act you get to pretend to be someone other than yourself on any given day.
Alison was born and raised in Calgary and so was her acting career. She started out as a theatre actor and then five years ago she decided to trust her heart and make a big move to Vancouver where she wanted to try her hand at film and tv acting. Since then she has had the opportunity to work on a variety of projects; everything from commercials, made for tv movies and series, big screen feature films and even playing the voice of animated characters. Many of these projects have been integral in helping her career unfold and to discover what acting really means to her. It is quite different from what it once was. She says it's not about becoming rich and famous, it's about discovering who she really is and how she can make a difference in the world by telling stories that matter.
There is something so real about an actor. An actor's job is to convince us that they are the persona they are pretending to be. It is kind of ironic really. Actors are great pretenders and yet they spend their life perfecting the art of being real from someone else's perspective. Because of this they may have a better handle on what it means to just be themselves more than most people do. Alison is discovering this about herself. Her acting career has opened the door and let the real Alison out. She sees the world and the people in it differently now. Her senses are wide open to what goes on around her. Not only does this make her a better actor it has also given her a love for humanity that she never knew she had.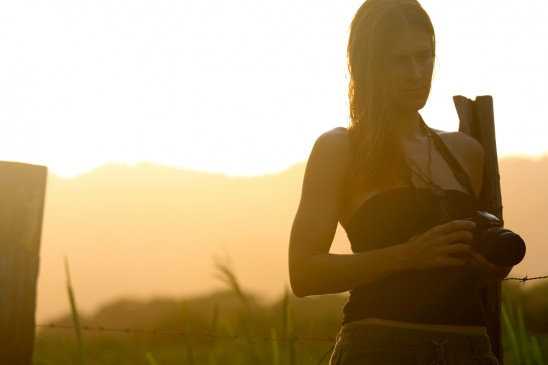 Click the thumbnail to see a larger image.

When Alison is not auditioning or working on her acting skills she enjoys being behind the camera for a change. She loves to travel and explore areas of the world that are rich in culture unfamiliar to her. She found herself captivated by the people and discovered her passion and creativity for photography came from capturing images of men, women and children just living their lives. In her words, "there is something so engaging and beautiful about someone just being themselves". Alison hopes to create a greater respect and understanding of what is truly beautiful about a person by honouring the essence of humanity and what it means to be real, either through the images she captures from behind the camera or through the acting she presents in front of one.
Click the thumbnail to see a larger image.

Please join us as Alison shares with us what it takes to be an actor. We love comments and would appreciate it if you could help us spread the word about Alison through social media and email. Thanks!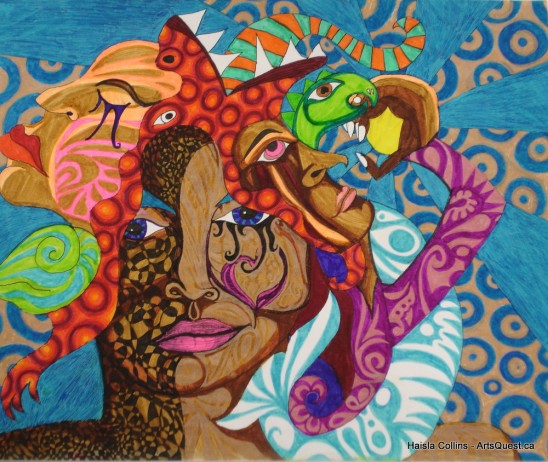 We traveled down East Hastings to Vancouver's Downtown Eastside in search of Raven's Eye Studio and to meet with Haisla Collins. Haisla (pronounced H-eyes-la) is an accomplished mixed media artist in the mediums of painting, screen printing and drawing, and she is also a blues musician and bead worker. She wanted to share with us a mural which is painted on the side of the building where the Raven's Eye Studio is located. She and several other artists were commissioned to do "Through the Eye of the Raven" in 2010. The mural is epic and left Gary and I awestruck in its presence. For the people of Vancouver's Downtown Eastside it represents a beautifully orchestrated community effort. Although Haisla and her painting peers collaborated on the subject of the urban aboriginal experience, they also drew ideas from the people living in the community and their personal interpretation of it. The cement canvas consists of all the different parts that make up the whole First Nations community; the people, the neighbourhood, the buildings, nature, animals, traditions, culture and history. It represents pride, hope and unity. If you ever find yourself in the 400 block on the south side of East Hastings be sure to look up, way up as you won't want to miss it; nor can you.
After leaving Raven's Eye Studio, we walked down a couple of blocks to the Carnegie Community Center which is located on the corner of Main and Hastings in Downtown's Eastside. The community center was built in the 1800's and is an incredible piece of historical architecture. It was likely occupied by various other organizations and perhaps businesses in its past but I wonder if it was ever bustling with as much life and activity as it is now. Haisla recently started a job there doing what she loves; art. She teaches people in the community how to paint while researching and strengthening her own skills and giving strength to others at the same time.
Click the thumbnails below to see a larger image of Haisla's work.
Haisla describes her work as indigenous expressionism. She is facinated by the connections between people and the interconnectedness of their internal and external environments. Her influences include Picasso, Renoir, and Van Gogh as well as more traditional artists like Bill Reid and Lyle Wilson. Her paintings are such that your eyes are drawn to them even if your gaze was elsewhere. When I asked her where her ideas came from she simply stated that she focuses on themes and what attracts her interest at the time. As well, she has a system in place for managing her creativity; when she is feeling creative, she sketches her images one by one and when she is not feeling particularly creative she finishes them. For Haisla, visual art and music have been her outlets for expressing herself in regards to her own experiences as well as her interpretation of other peoples experiences. Having said that, she is also very pragmatic about it and realizes that hard work and hours put in are what you do to become a strong artist. I have no doubt she instills this philosophy in her students as well.
Check out our interview with Haisla Collins as she talks more about her art and the "Through the Eye of the Raven" mural. We invite you to leave comments as well.
Along a busy Vancouver street in the Point Grey area, sitting in a chair out on the sidewalk, there we meet master Woodland Artist Mark Anthony Jacobson doing what he does best, engaging people with his warmth and energy, and taking a genuine interest in them, something not commonly found in this hustle and bustle world! With Mark it is all about connecting with people, and if they appear shy about coming up to him to look at his art work, he instantly makes them feel comfortable, like an old friend. That affability mixed with his intensity and passion for his culture, beliefs, and life's work made for a dynamic interview! And so, for the first hour of our meeting we chatted with Mark on the sidewalk in between his interactions with other passersby or friends pausing to say hi.
Like many of the artists we have interviewed, we found Mark by stumbling and searching through the internet world looking for someone that would not only catch our eye, but also be willing to meet with us. Mark was more than both those people! When we first got a glimpse of Mark's paintings they immediately grabbed our attention, the vibrant colours and dominant features first, and then the less obvious and more subtle content coming into focus as we lingered; finding life within life and always the theme of interconnectedness of mother earth as a common denominator. Be sure to check out our video interview below as he goes into more detail about the shamanistic messages scripting his paintings, and he as the messenger!
Moving from the sidewalk into the gallery gave us some other "in-sight" into Mark's work. He is one of three First Nations Ojibway artists that occupy the space in the Greenery Native Art Gallery within the Greenery Florist, a unique and ingenious collaboration; a row of aromatic orchids pulling us into the gallery by our sniffing noses and then the eye opening paintings capturing our visual curiousity. A taste from the bowl of Werther's and it's almost a complete stimulation of the senses! It is worthwhile to note that Mark is also the first native artist in Canada to launch a Catalogue Raisonné, a project for establishing provenance of his known artworks to date.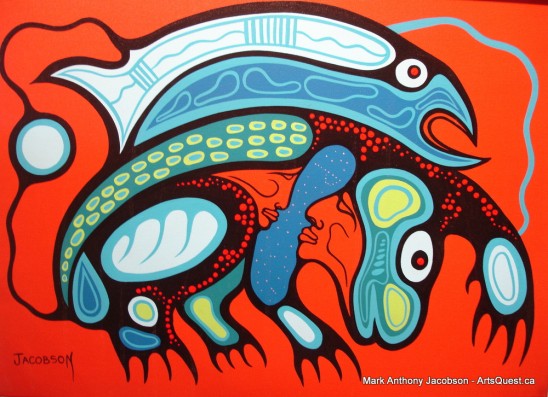 Click on the images below to get the whole picture!

The next eleven minutes will seem like two as Mark's energy, passion and spiritual philosophy carry us on a journey inside the man, the message, and the mission!! We encourage you to post comments. All my Relations.