Location: Vancouver Island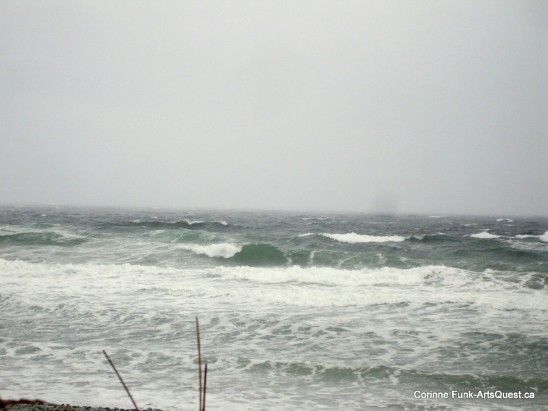 Our recent excursion to Vancouver Island; to boldly seek out more artisans where no one has gone before (cue Star Trek theme) was a mixture of both familiarity and discovery. Having been born and raised in Comox for the first 18 years of my life, our visit gave way to nostalgic musings of places I used to hang out, beaches I used to bum at, and woods I used to play in and drum up trouble. Some areas, such as the forests, can easily be forced to change and succumb to more subdivisions, while other environments such as the beaches have the strength to retain their identity by sheer force of nature. So it's no wonder that the many great childhood memories, in now less than rural settings, also gave way to some feelings of melancholy for this trip down memory lane.
Ironically, spending so much time in my youth on "the island" did not lead to much travel and discovery, rather much of it coming from visits after I had left. Hiking the world famous West Coast Trail in 1997, Corinne and I paddling around the Broken Group Islands for a six day sea kayaking adventure, and now discovering that there are goats on a roof as a roadside attraction in Coombs on top of the Old Country Market, are just a few of the attractions I found since leaving.
The market has an eclectic array of foods from all over the world, a bakery chock full of every type of bread and sweet enticement you could imagine, a deli counter with yummies such as candied salmon, pepperoni sticks and smoked salmon to name a few. There is a wall of pasta of every imaginable sort and shape, jars of specialty condiments galore, as well as a lunch counter and sitting area to satisfy your taste buds after drooling around the store. Stop in, shop up, order up and sit down to the smells and tastes of this unique country market!
The tales of our travels along Vancouver Island would not be complete without mentioning the incredible outpouring of generosity and friendship that we received from "strangers," whose first introduction to us was by email and not knowing anything about us.
Carolyn and Kim in Nanaimo are friends of a friend of ours in Calgary and they welcomed us into their home without a second thought, none that we knew about anyway :). We also went out with Carolyn to a wonderful country pub in Nanaimo called The Crow & Gate while Kim was out of town. He missed out on a great bratwurst dinner but I'm sure he has indulged in their delicious fare once or twice before. They made us feel at home and we are grateful for that.
Our other beacons of hospitality, Ruthie and Doug of Dragntalz Art, are artisans of fine jewelry and they also gave us a place to hang our hats for a couple of nights. They shared some fabulous meals with us and also extended their trust to us, allowing us to come and go as we please in between artist interviews. This trust is something that we do not take lightly; for in a world of increasing distrust resulting from dishonest people it would be easy to become cynical and jaded towards strangers' motives. It was therefore refreshing to meet these wonderful couples who chose to give us the benefit of the doubt and to believe in the goodness of people. Thank you all for a wonderful Vancouver Island experience!