Location: Upper Island Cove
"…then wind your way along a cliff-side road that drops precipitously down to the Atlantic Ocean, take a few more hair pin turns, and then just as you are about to go flying off into oblivion turn left at the yellow vehicle into the driveway of the lime green house and park in front of the yellow piano!" Huh? Yesiree, I definitely embellished the directions from that email, but that (more or less) was one of our first introductions to Cara and Pam and a glimpse into their world of colour and whimsy. Truth be told, it is a scenic route to The Grumpy Goat Gallery that overlooks the vast Atlantic Ocean with breathtaking views that have caught not only whales and porpoises cruising by but also ice bergs at one time or another, all to be seen from their panoramic porch.
After our loud Arty Farty van pulled up in front of the yellow piano, we got out and strode up their front porch expecting to see them. They were nowhere to be seen. Hmmm, what's this sign? "Hi! Please Honk the Horn For the Studio" So we did. Honk! Honk! And then like magic, there they appeared! I can't help but feel that we were the lab rats of the day, observing us to see if we would go back to our vehicle to honk Arty's horn. Preposterous you say? It is a fate befallen by more than one unsuspecting gallery visitor as you will read in Cara's blog (play dark and scary music).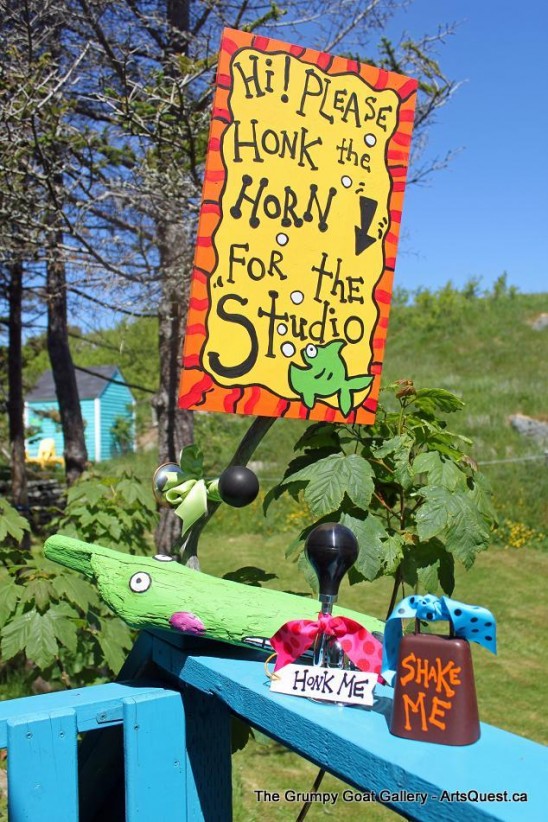 I will let you in on a little secret! Maybe this shouldn't get out! Am I jeopardizing their business? Well, here it goes anyway! We found absolutely NO grumpiness at The Grumpy Goat Gallery in Upper Island Cove, Newfoundland and Labrador! Gasp! There, I said it! On the contrary, although we did meet their pygmy goats Rose and Sophia (and they aren't grumpy either!), our meeting with affable artists Cara and Pam was filled with laughs, puns and hilarious stories of the lovely people that they encounter coming through the doors of their gallery. As a matter of fact, most of the gallery visitors are incited to smile, chuckle, or outright laugh as they notice the colourful and creative creations with often comical connotations displayed on the walls, floors, tables, or hanging from the ceiling. You don't have to take my word for it though. Peruse the blog stories for The Grumpy Goat Gallery and you will see not only their wonderful mixed media creations, but also the creative comedic writing that is another forte complimenting the award winning mixed media work of Cara and Pam.
Cara is the self-taught artist that walks hand-in-hand with the child within her, looking at life with the curiousity, wonder and humour of a little girl and expressing it in her paintings. This gives her the gift of uninhibited expression. Pam is the self-taught carver and woodworker extraordinaire. We were stunned to learn that not only was she an incredible carver, but also built the woodworking shop, painting studio, goat barn and the house extension for the gallery all without a stick of training. The colourful fusion of the union between Cara's historical and whimsical look at Newfoundland's people, places and events and the three dimensional effect of Pam's woodworking is nothing less than magical.
Click on the images below for a full view:
Join us with the voices of Cara and Pam as they tell us their story. Don't be shy to leave a comment!