Location: Tagish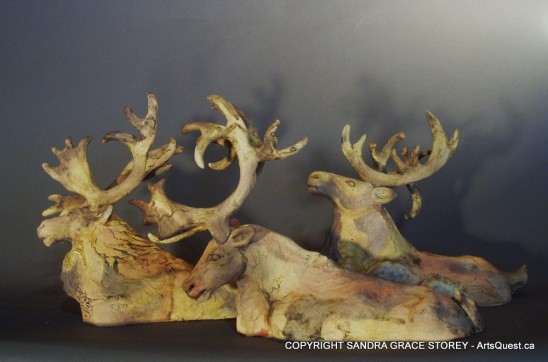 Our trip to the Yukon was certainly made pleasurable by the many talented and personable artists we met, but was also heightened by the expectation of glimpsing some of its local wildlife; possibly a wolf, a grizzly bear, or even that native northern ungulate, the caribou. What is the excitement, the awe, the breath quickly drawn in that we feel as we become aware of each others presence? Is there a bond or commonality that we humans share with these beasts? Are there subtle communications between us borne from ancient interactions with one another? What messages and stories are being sent to us that warrant reflection, and future action? Clay sculptor Sandra Grace Storey shares with us her exploration into some of these questions through her narrative art work.
Born and raised in the Yukon, Sandra has always had a connection to nature and its wild inhabitants. She notes that encounters with wildlife and meeting them eye to eye is a humbling experience and always invokes a feeling of wonder and awe. It is also a world that differs greatly from her early childhood when she suffered from asthma and was confined to an oxygen tent for great lengths of time. It was a sensory deprived environment that dissociated Sandra from the "outside" world. There was not much else for her to do but read to pass the time and so she indulged in tales of folklore, fables and Greek mythology. Ironically it was reading about these stories that was a catalyst to her current passion for exploring, creating stories and mythologizing her clay sculptures.
Using human and animal figures, Sandra's sculptures are metaphors for various aspects of life where she seeks to capture a moment in time of a particular story or happening, possibly with one of the many animals she has encountered during her lifetime. With unspoken communication Sandra celebrates this "gift" that these animals have given her by memorializing them in clay. The protagonist of her story may well be a raven, an owl, a rabbit or a bear; appearing as shamans and donning cloaks to hide their true power. Sandra believes that stories make us who we are, and we are all a culmination of our own life's events. In essence, the stories are about what has already happened, the communication and messages we receive from our environment and how we respond to them helps to build the next chapter in our life.
Click on images below for a larger view:

We asked Sandra why she likes to work with clay and her answer was quite profound. Besides the soft, tactile pleasure of handling the clay, she finds it soothing; almost meditative. Despite whatever emotions she may bring to the start of a piece, working with the clay seems to have a poultice effect, taking that energy from her and releasing it, allowing her to shape the piece with a clear and calm mind. In the end the piece almost always expresses a compassionate and calm demeanor, a reflection of her own emotional transformation. It's almost mystical, as if the clay itself had intention.
Sandra's clay works are intriguing. Sometimes they answer questions we may have about our own lives, and sometimes they lead to more questions. They stimulate our imagination and curiosity and help to strengthen our bonds with nature. They are loving and caring and certainly enjoyable to look at.
Enjoy our interview with Sandra below. We welcome Comments and Sharing on social media.