Location: Surrey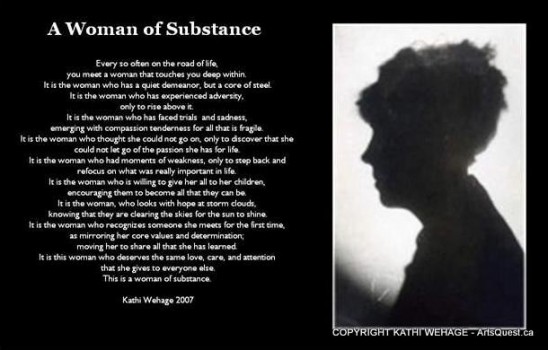 In a world of busyness and constant stress, what is that special something that enables some people to always (or mostly) be hitting on all cylinders; exuding poise while excelling in their chosen passion be it in sport, art, writing, fighting for a cause or gaining satisfaction through altruistic efforts? It is more than just motivation, which is usually temporary, rather…it is INSPIRATION; an enduring emotional force that bestows on one unwavering determination to fulfill their purpose with a drive and conviction that keeps them on course!
Our interview with Inspirational writer Kathi Wehage revealed a woman who cultivates such substance; passionate about helping people by sharing her words of inspiration that may bridge those from a state of uncertainty and turmoil, to a position of calm, rejuvenation and strength. At her shows she has had many people ask her if she had a book about inspiration, and so she saw the need and set out to deliver. The result was A Woman of Substance, her well received first book that she collaborated on with her friend and artist Debra Blades. It is an uplifting work of inspirational quotes, passages, poetry and artwork.
Kathi attributes her insights to the world around her; nature being her biggest library of resources. She notes that whether sitting alone on a rock at the beach or by the lake, standing in a forest, reading a book or interacting with family and friends, it all nurtures her creative spirit. Kathi admits to having hectic and stressful days like the rest of us, and so she likes to keep perspective and calm by writing down five things that she is grateful for that day. She says, "Gratitude helps us to appreciate what good we have right now in our life and inspires hope for a good or better day tomorrow." Stay tuned for Kathi's upcoming second book, a gratitude journal which is going to print soon!
Kathi has given people a varied menu of ways in which to nourish their soul. In addition to her book, she also creates greeting cards with inspirational quotes, postcards, including three of them shown here: Tree Sense, Reflections and A Woman of Substance, as well as a collaboration of inspiration meets art, with her poetic passages embedded within Debra's original artworks.
Inspiration is a key that can unlock three main doors of c' s.
*clarity *courage *calm
Clarity of thought to understand where we are and where we would like to be.
The courage to take the steps we need to make, in order to experience change in our lives.
And the end results when we take these first two steps?
….is inner calm.
~ Kathi Wehage ~
Enjoy listening to our interview with Kathi and feel free to share on social media and leave a comment below!