Location: Smithers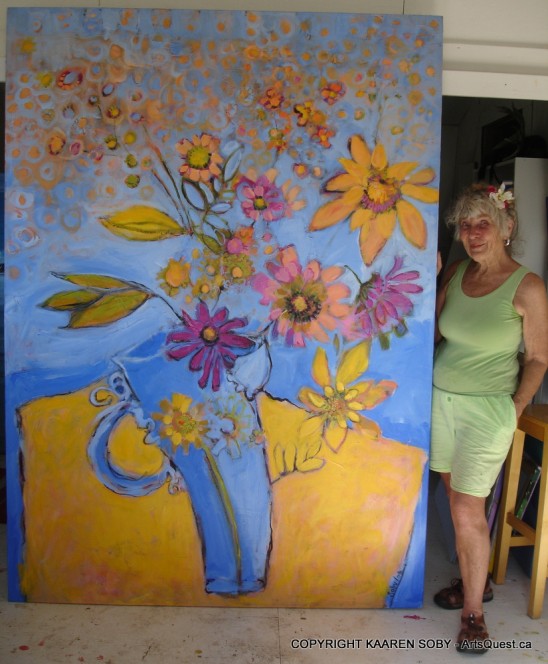 Have you ever had the feeling that you are being followed? You know, footsteps behind you, shadows darting in and out of alleys! No? Well, maybe not so cloak and dagger but while we were wandering around downtown Smithers, B.C. apparently we didn't either! We were finishing up paying for our deli items when the woman in front of us commented about there being samples on top of the deli counter. We headed out to our van and proceeded a couple of blocks away to the outdoor coffee stand Bugwood Bean to christen our newly purchased pottery travel mugs from Art and Soul Pottery in Telkwa. While I was ordering, the same woman from the deli tapped Corinne on the shoulder and said, "I'm following you!"
This was our introduction to painter Kaaren Soby, who, after having noticed our van signage wanted to know what ArtsQuest was all about. She showed us some of her work from photos she had, Corinne asked her for an impromptu interview, and soon we were following her to her home 20 minutes outside of town. After traveling from paved road to gravel road to rougher gravel road, Kaaren stopped before her driveway and told us, "I think your van will make it through here okay." We looked at each other wondering where she was taking us!
After emerging from the wooded and bumpy "driveway," we arrived at the remote quarter section of wilderness that Kaaren and her partner Larry have inhabited for 40 years – off grid! Over a two year period they had built a unique log home with a sod roof; their amenities consisting of a well-appointed privy beside the house, clean water hauled up from the lake, ice in a cooler for refrigeration, oil lamps for light, and enough firewood to last a few lifetimes. They have a solar panel that provides power for their computer, printer, radio and inverter, and a year round outdoor bedroom perched on a ridge overlooking the forest and valley to the west.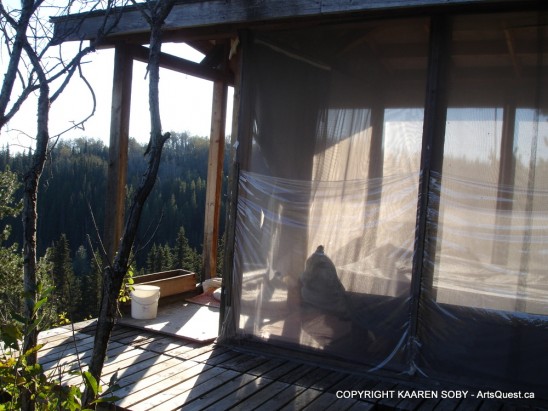 Above: Kaaren and Larry's outdoor bedroom
Below: More of their distinctive log home
Kaaren discovered, through a painting instructor, that she has a penchant and a preference for painting very large canvases. The instructor noticed that her intensity and abundant energy were being constricted by trying to paint on smaller canvases, and she needed to "let loose" with large paint brushes, lots of paint and large canvases that would allow her creative expression to flow freely (she once used a curling broom to paint with!). She also loves to paint flowers, appreciating the gifts that they bring to the senses with their beauty, colours, fragrance and energy. Kaaren refers to flowers as embodied spiritual beings, and mostly likes to represent them as portraits acting on their true purpose.
From the start of our meeting with Kaaren we quickly became aware of her energetic and enthusiastic nature; a striking persona that undoubtedly helped manifest a life of adventure, impulse and profound reward. Kaaren has always been integrated with nature and growing up in a pioneering environment in High River, Alberta was the start. After having found their back-to-the-land piece of rural property in northern B.C. they decided to spend four years working and living with the Chipewyan people in northern Saskatchewan in order to pay off their land purchase. There, Kaaren learned how to tan caribou and moose hides to make incredible moccasins, mukluks, mitts and snowshoes. Coming back to Smithers it was here that she home schooled their two children and spent many years next to them at the table keeping creatively active by knitting whimsical Happy Hats, a cross between Dr. Seus and a Scandinavian style toque. It is apparent that regardless of her surroundings, Kaaren's creative affinity does not limit her to any one medium or mode of expression. Today she has come full circle back to painting and finds herself in yet another environment. Every winter she and Larry help out on a coffee farm in Hawaii where they have been able to build a small "tree house" to stay in and an outdoor studio where she mostly paints large, large canvases of beautiful flowers.
This story now ends where it actually began. Kaaren told us about a meditation she was doing the morning we met; her intent to protect some wildlife that are being threatened by a rancher that recently moved into the area, and she also thought to throw in something about art as well. Low and behold she came across us. How serendipitous!
Join us with dynamic Kaaren Soby and don't be shy to leave a comment below and share on social media!