Location: Shutty Bench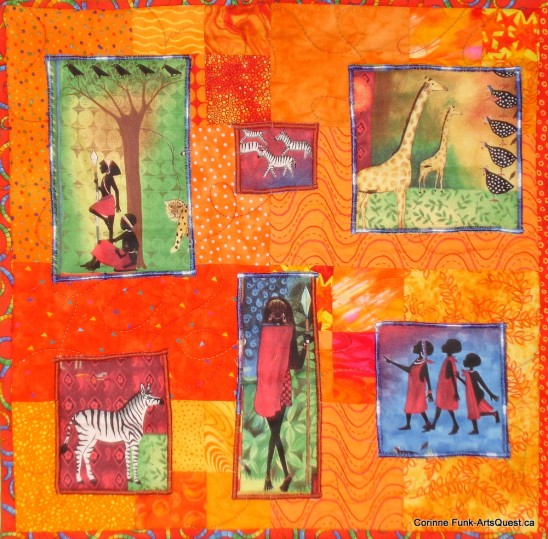 Gary and I arranged to meet Dorothy Clark at her home in Shutty Bench, B.C. After maneuvering Arty around the sharply meandering hills and flats, we arrived and were greeted by Dorothy's two golden retrievers who promptly showed us the back door. If they weren't so friendly and weren't dogs, I would have thought the welcome mat wasn't rolled out for us. This of course was not the case at all. When we finally found the front door (didn't take that long), we were invited in by the textile artist herself. She is a charming lady of Scottish decent with a warm smile and a peaceful demeanor. Both her and her husband are from a sub community of our old back yard, Bragg Creek, Alberta. Like many couples of retirement age (this could be any age, really, as Gary and I feel retired), they desired to move to a more hospitable climate and retreat from the foot print of a big city, in this case, Calgary, Alberta.
Dorothy has a wonderful space in her home in which to work on her quilts and what she calls her critters. The critters are on display and for sale at The Live Art Shop in Kaslo, B.C. When we talked to one of the co-founders of The Live Art Shop, Eliza Fry, she told us that even though the little critters are mostly intended for children, it seems they are popular with adults. I understood what she meant as soon as I picked one up. They feel wonderful and reminded me of my coveted blanket when I was a child. Likely, they resonate with other "big kids" in the same way.
Dorothy's quilts represent years of "craftswomanship" and it is obvious that she loves what she does. They are colourful and her designs are nature inspired. I have spent time in the past trying my own hand at quilting and I can tell you there's a lot of work involved. So the next time you are thinking of purchasing a quilt for your bed or as a wall hanging consider investing in one that is handmade. It will likely be something you will want to wrap yourself or your walls in for years to come.