Location: Saskatoon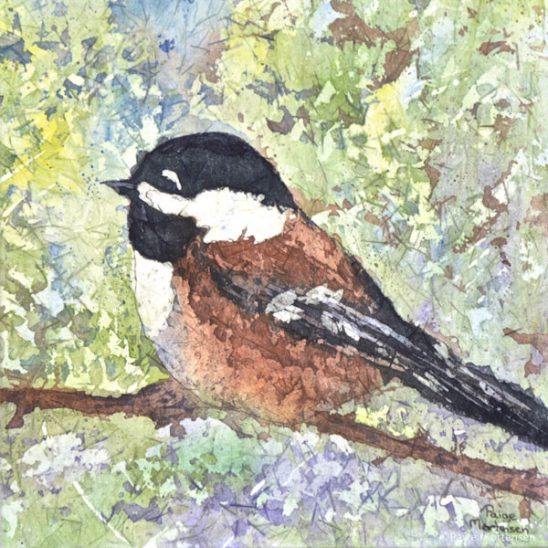 As we approached Saskatoon, Saskatchewan little did I know that we were arriving to the place that is known as the "City of Bridges". Actually, I knew nothing about Saskatoon overall. Gary and I have always just taken Circle Drive that bypassed Saskatoon on our way to northern Saskatchewan for our paddling trips. On this particular trip we were there to meet artists, and one of the side benefits to that is finding out about the place where they live. Saskatoon was established in 1882 as a Temperance colony. Today it is a diverse and vibrant place where people of many different cultures call home. The population is roughly 270,000 and growing at a steady pace on both sides of the South Saskatchewan River. It is the river that made it necessary to span eight bridges within the city. There are new ones being built and old ones being dismantled along with the visual reminder of their history.
So what do these bridges, vintage doors and daisies have in common? Much more than you would think, starting with Batik watercolour artist Paige Mortensen. When I went looking for artists to interview in Saskatoon, Paige's work intrigued me immediately. I was familiar with Batik as a wax-resist technique used to die fabric and create stunning patterns as a result, and initially this is what I thought Paige was doing with her artwork. It turns out the idea is similar but the materials used are completely different. Paige uses Ginwashi rice paper instead of fabric, watercolour paints instead of dies, and paraffin wax instead of bees wax or sticky wax. I was really looking forward to finding out more.
Click on images to enlarge:

Paige's studio is on the third level of their 4-level split home. There is an extra kitchen which is perfect for helping with the whole process, decent sized windows for natural light and finished and unfinished pieces hanging all around. When we entered Paige's work space the first thing she showed us was not her art, but rather the stool she sits on to do her work. It used to be her mother's high chair, and other than the upper part now just a memory, it was lovingly the same. In the corner, carefully embracing some of her art supplies, is an old chest her grandfather had made which remains in it's original condition. These things were the start of our understanding of what inspires Paige to create the pieces that she does.
As I get older I find myself becoming more and more nostalgic and reaching out for fond memories of my family and friends and our experiences together. And I wonder about other peoples experiences, even those whose faces I have never seen or whose voices I have never heard. As I listened to Paige talk about her work and in particular the subjects of her work I could see we were connected in this way.
Click on images to enlarge:

So what do the bridges in Saskatoon, vintage doors and daisies have in common for Paige? They contain sweet memories of her past and stir up curiosity about a past. As the bridges get older and need to be replaced she begins to ask questions about who built them. Melancholy hangs in the air because she knows that one day they will no longer be visual reminders of Saskatoon's past. Realizing this, Paige is now on an artistic mission to rebuild these relic bridges as a Batik watercolour so they, and the memories that surround them, can be preserved. The vintage doors hold a similar curiosity for Paige. When she and her husband went to Europe the doors, knockers and knobs became the subject of her fascination, and when she got home the subject of a series of paintings. Who lived behind that door? What were they like? Where did they go? As for the daisies, Paige is actually allergic to flowers but her grandmother always appreciated the single Gerber daisy she used to take when she went to visit. She finds beauty in flowers as a subject and as a memory.
Click on images to enlarge:

Check out Paige's interview as she talks more about the Batik watercolour process and gives a little demo. Also, we would appreciate it if you would help us spread the word about Paige Mortensen and her work through social media and email. We thank you in advance for sharing and commenting below.
I love looking at clouds in the sky. The prairie skyline is ideal as a giant blue canvas for displaying big ones, white ones, fluffy ones, dark ones and menacing ones. When I had the chance I would look up and gaze at them for a few minutes to give my eyes a rest from the blue canvas of the computer screen as Gary piloted Arty down the highway toward Saskatoon, Saskatchewan. Cloud formations have always fascinated me and without fail my imagination always found a dog, a flower or a face floating effortlessly in the sky until they either melted away into thin air or transformed into something else for my eyes to see. This interaction between me and the clouds is an intimate one; other people may see something completely different or nothing at all. I see some forms of art in this way too.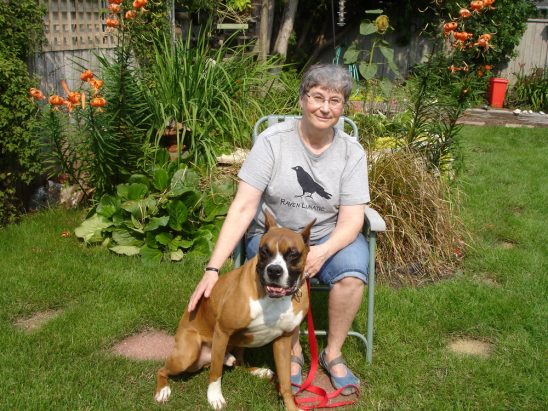 When we arrived at art photographer Judy Wood's house we were invited in to a home where art is created but also where it lives. Her house is filled with pieces that she has collected from many of her peers. It was lovely to look at the variety hanging on the walls and displayed around her living room; all different shapes, sizes, subject matters and media to be enjoyed not only by Judy herself, but also by fleeting visitors like us. She quipped that the walls were shrinking and space for hanging art was now at a premium. It always feels so good standing in a room filled with creativity.
Click on images to enlarge:

Judy and her husband had an extra floor added to their house several years ago complete with lots of big windows, sky lights and plenty of floor space. This is Judy's creative sanctuary and she uses every square inch of it. She has a few different stations set up for mixed media work, her art photography and encaustic pieces she works on when winter sets in. And, it was obvious by all the finished art pieces hanging on display that Judy makes good use of her studio.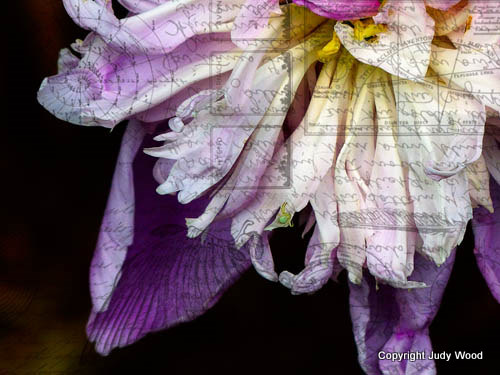 After graduating with a fine arts degree it was stained glass that captured her attention at the time. Today, exploring the world through the lens of a camera and then telling a different story with the help of technology is what she loves to do now. At the time, trying something new was both exciting and challenging. Judy was always interested in photography but hadn't really pursued it until her husband bought her a digital SLR camera. Her new creative passion came with a steep learning curve, including teaching herself how to operate her camera and finding her way around Photoshop.
Judy's photography doesn't really look like a photo once she is finished with it. She is always excited to spend time in nature taking pictures of things like ravens and crows, horses, trees and iconic prairie buildings like grain elevators and tired, old farm structures. As a potter would refer to clay or a painter to paint, these images are the raw materials for the art that will emerge later. At the end of it all it is really difficult to discern what part is the actual photograph. Like the clouds in the sky, Judy's artwork allows the viewer to have a one-on-one personal experience with it. We all get to see and feel something different about her pieces. They are interesting to look at and they give my imagination the opportunity to do just that, imagine whatever I want.
Judy lives and creates in Saskatoon, Saskatchewan. She shares her life with her husband and their rescued Boxer Rony. Be sure to watch her interview with us and help us spread the word about Judy and her artwork through social media and email. Also, we love to hear from you so feel free to leave a comment for Judy as well. Thank you.
There is a popular social media hash tag for those of us that travel with our house on wheels; it's called #HomeIsWhereYouParkIt. Sure, Gary, Marli and I love driving around Canada setting up our temporary home and then moving on to the next interesting spot, but it's a transient lifestyle and to me a home has a more permanent ring to it. For all except the first 10 years of my life I have lived surrounded by the prairies in Alberta but I was born in British Columbia. You would think that after 40 years it would be in my blood; a place where my heart would call home. When Gary and I decided to move back to B.C. many people tried to provide some helpful advice, in particular about the closeness of the landscape and the grey skies that can hang around on occasion. At first I was worried about how I might feel about this but after being back in B.C. for 5 years now I know where my heart prefers to be.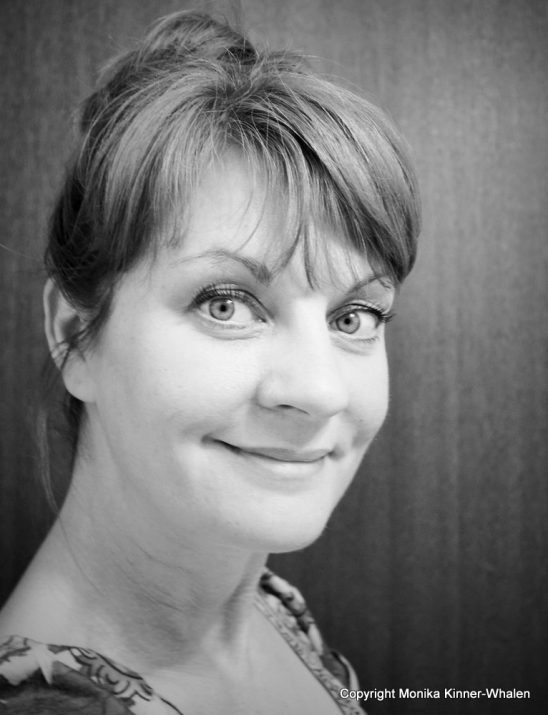 Fibre and textile artist Monika Kinner-Whalen will tell you the same thing about the prairies. I love being surrounded by the enormity of the mountains and the comfy feeling of being in a stand of trees, whereas Monika longs to see that vast expanse and uncluttered space for as far as her eyes can see. She describes her life on the prairies with such passion; the unforgiving thunderstorms, the never ending blue skies, the golden crops, the native grasses and plants and the ability to take a breath that feels like it could go on forever. The prairies are in her heart and she honours this place she loves by expressing it in her art.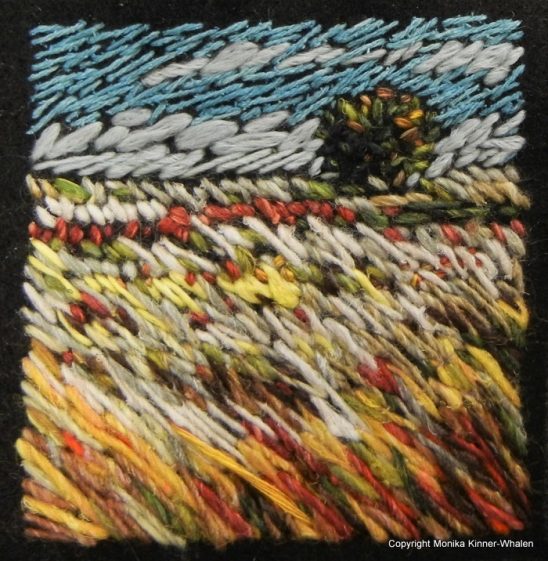 Click on images to enlarge:

As with many artists we have met, art for Monika started out as something she wanted to do for herself and her family. It very quickly, within 7 years, turned into a full time career. She is largely self taught and has worked hard to teach herself to create beautiful art pieces with threads, fabrics, and yarns. Her dedication to hard work and always perfecting her technique through experimentation and curiosity has lead to recognition from her peers through magazine articles, keynote speaking opportunities, teaching workshops and awards.
As you probably guessed, Monika's subject matter consists of all things prairie. She is best known for her landscape thread paintings where she details blades of grass, wild flowers, and crops set on a back drop of one of Saskatchewan's many vibrant living skies. The thread is her paint and her sewing machine is her brush. What I love about Monika's thread paintings is that they actually look like a little miniature piece of the prairies with the texture adding another dimension of realism to her pieces.
Recently, Monika has started relaying the macro view of the prairies in her art. These pieces remind me that although the wide open spaces are what I tend to focus on while cruising down the highway, there is another world of beauty under foot which is frequently missed. Often when we find ourselves face to face with something tiny we can make out details and textures that can't be seen without having our noses just a few inches away. But Monika chooses to leave out the details in this case. She uses the fatter cousin of thread, yarn, as her paint for these pieces. They become less detailed than her landscapes and more of her impression of what she sees under foot.
As I focus on my computer screen and write about Monika and the art she creates, I think about how easy it is to get caught up in my own little corner of the world. It is artists like Monika that help me see the beauty in life, in my surroundings and even in the mundane and remind me to look up every now and again so I don't miss the things that take my breath away.
Monika Kinner-Whalen creates and lives in Saskatoon, Saskatchewan with her husband, three children and one dog child. Check out what else Monika has to say in her interview and help us spread the word about her work through social media and email. Thanks!
Ps: We love comments so feel free to leave one.