Location: Québec
It's pitch black outside and there's not a sound to be heard; the only light penetrating the darkness are the billions of stars trillions of miles away on this cool, duvet-worthy night! Our resting place for this evening is at glass-work and macro-photography artist Robert Moeller's home, an idyllic setting along the banks of the Gatineau River in Wakefield, Quebec. As a fellow Westy owner, Rob understands the more stark living conditions we may subject ourselves to, and so his gracious invitation for a place to park our van, shower and fill up on water was eagerly accepted.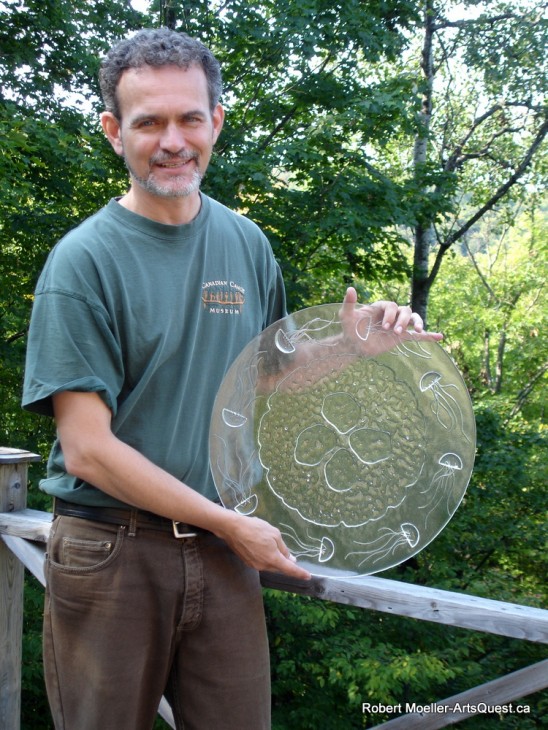 Wakefield is a picturesque town that exudes charm and an atmosphere of relaxation in its natural setting along the Gatineau River. The forested shoreline futilely leans and reaches for the opposite side; the river only giving up it's span to the brilliantly red, covered foot bridge which emerges as a focal point of the town. Within the beauty of it's surroundings, it is also an intensely community-minded place, where residents can feel connected not only to nature, but to one another. With inspiration at your doorstep and at every turn, it is no wonder that this area is home to many artists, artisans and crafts people. These are the reasons that Robert chose to make Wakefield his home, and as he conveys images of paddling his canoe to the store to pick up groceries, or swimming in the river on a hot day, I can feel the tug of my own heart strings to this halcyon homestead.
Rob has been working with glass for thirty two years, but in the last seven his focus has shifted from working with stained glass to clear glass infused with colour from various metals, alloys and minerals such as copper, brass and mica. He has also incorporated plants such as ferns and horsetail. The effect is stunning, with the copper changing colour from brilliant blues to ruby reds depending on the number of firings in his kiln. The plants add the organic appeal with nature's detail captured within the textured glass. Rob notes that he likes to explore his own backyard as well as traveling Westfalia style to other parts of North America to discover fresh ideas. This in part sparked the evolution from more traditional stained glass with its visual appeal to creating textures within the glass itself. Either way, nature is the inspiration behind Rob's glorious glass work.
Click below to scroll through larger images:

Rob's foray into macro-photography as an art form evolved from his lifelong interest in observing the world of small things and examining their textures. His shift from selling traditional photographs to his current montage style was a format inspired by an artist at an Ottawa art show. She was combining her paintings, mosaics and all her mixed media work within a montage design of same size squares. This was an "aha!" moment for Rob and the aperture on his lens has been wide open ever since! He combines various square photos of the same size and category into a larger rectangle or square. Ironically, Rob's intent is for the viewer to be caught off guard by taking in the larger piece first from a distance, and then allow each person's inquisitiveness to draw them in closer to find a surprise in each individual square. Rob's goal for a viewers first impression is that the eyes are not drawn to any one picture, but that the individual photos create the overall effect. Once again nature is the prime target for Rob's lens. The macro images not only allow him to capture nature at its smallest but also allows us to feel its texture with our eyes. What I enjoy about Rob's work is that he is unfettered about delving into new arenas of creativity. He admits that he can get bored doing repetitive work and so he is always looking for new ways to direct his artistic channels. This can only bode well for his admirers and we certainly look forward to seeing more of Rob's work!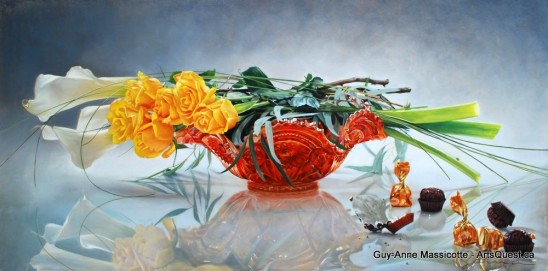 Callas and Roses in a Carnival Vase, Finalist for 2011/2012 Art Renewal Center Salon
Our visit to Quebec was one of my favorites, not only because the province is drenched in rich culture, history and beauty but also for the down to earth and wonderfully gracious people we met. Everywhere we went we came across helpful people who could see our grade twelve french was a little rusty. In my case a lot rusty. Gary was definately better at it than I was. It probably has something to do with his European heritage. Probably our most overused phrase was, "Je ne parle pas tres bien francais". I was a bit disappointed because I couldn't practise the whole phrase. Usually I wasn't fast enough and the person I was addressing would know just exactly what I was trying to say and switch to english before I had a chance to finish.
Because of our inability to carry on a conversation in french, I decided our smartest move would be to utilize CouchSurfing for all our stops through Quebec. This is how we met Francesca. She was a wonderful host and we had a lot in common with her. I had asked our CouchSurfing hosts prior to our arrival if they knew of any artists that we could interview. Francesca answered our call and lead us to Guy-Anne Massicotte, a contemporary realist painter in Sherbrooke.
We arrived a bit late to Guy-Anne's home as we got lost but luckily we were able to muddle our way through asking and receiving directions. She invited us in and immediately insisted we stay for lunch after the interview even though she was getting ready to go on a weekend trip with her two boys. Guy-Anne has been painting for many years. At first, becoming an artist hadn't occured to her as she was studying science in school. She ended up taking an art class and immediately knew she wasn't going back to her other studies. At the time, she enrolled in a one year art program in Sherbrooke and was going to continue her studies at Bishop University but she didn't want to take all the art history courses. She just wanted to paint. And paint she did! She spent 5 to 7 years doing self study; reading art magazines and books and learning the techniques of her favorite masters.
Guy-Anne has perfected the realism of still life subjects in her oil paintings. When I first looked at her lobster painting my sense was that I was looking at a photograph. However, even a photograph can not capture Guy-Anne's ability to cause you to look twice. It is quite magical how she can take a flat surface and make you think you could reach out and pick up a rose or a vegetable from the table. Guy-Anne says the secret to taking the "ism" out of realism is in the preparation of her canvass. She uses a preparation substance called Gesso. Gesso is used to eliminate a rough surface such as that of an unprepared canvass. This gives her the ability to control the texture with the paint which gives the wonderful illusion of being three dimensional. Guy-Anne is in no hurry to complete her paintings and the 4 – 5 days of preparing the canvas; applying Gesso, waiting for it to dry and sanding in between each application sets her apart from many artists. For her, although the preparation takes time, it makes the actual painting easier to do and a lot more fun.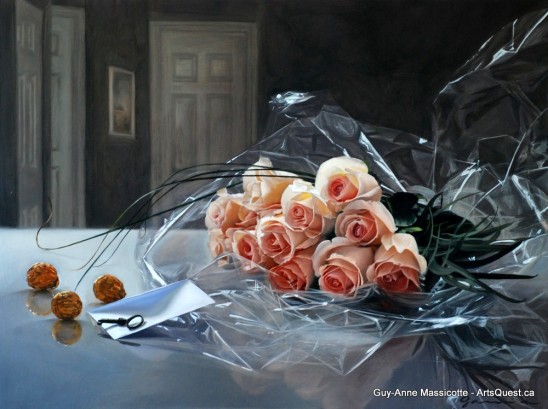 All of Guy-Anne's hard work and dedication has enabled her to achieve recognition at the international level. For the 2011-2012 year she was a finalist for her painting Callas et Roses sur Vase Carnival for the Art Renewal Center Salon. This competition garners 2100 entries and the finalists represent the top 24% of all works submitted from around the world. Her work was also selected to be on the cover of the Febuary-March 2012 issue of International Artist Magazine. And most recently, she was asked to be a member of The Group of Twelve. This group is made up of some of the finest realist artists in Canada today.
Although this recognition is for her still life paintings, Guy-Anne told us she is now up for another challenge. She loves the human face. Her focus these days is to capture the real emotion in a portrait of someone. After spending a bit of time with Guy-Anne, there is no doubt in my mind that she will be able to rise up to this challenge and meet what ever goal she has set for herself. She is an inspiring woman indeed!
Our first visit and stop in Quebec landed us in Vaudreuil-Dorion, where not only did Martine Dugal await us as our gracious Couchsurfing host, but she also happened to be an accomplished artist and willing participant for our blog interview.
Martine lives in a cute little apartment within the hustle and bustle of a busy street above a fancy restaurant. It seems to suit her as she is a woman always on the go between her job, art work, singing, bicycling, boxing and family get togethers. The first thing we noticed about Martine was her friendly, welcoming nature, sense of humour and easy laugh. She is one of those people that defines an effervescent personality!
After enjoying a wonderful meal and engaging conversation with Martine, she introduced us to her various artistic outlets. What we found out is that her foray into new artistic mediums has had an almost "heroic" approach to it. Mild fear mixed with a bit of trepidation that is overcome by excitement and a passion to pursue, improve and achieve in that art form, leaving fear in the dust!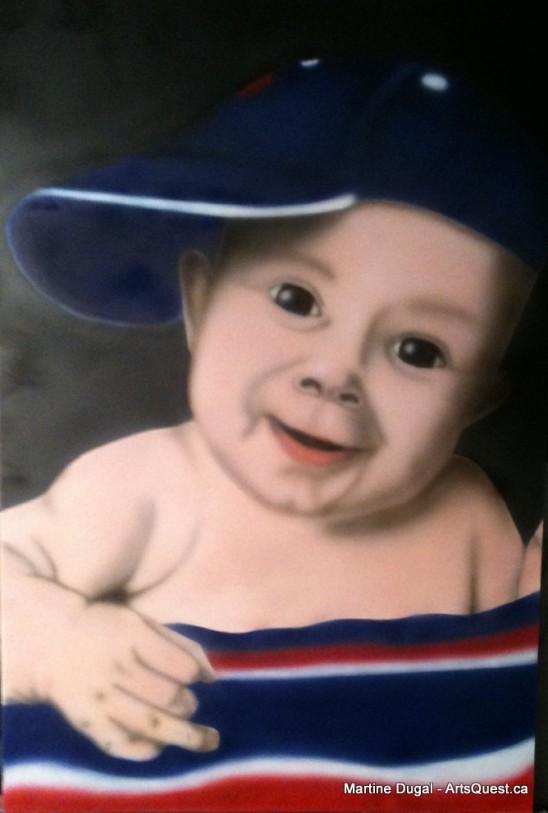 Martine's open spirit blends well with her openness to try various art mediums, whether from her own inclinations, or at the prompting of others. For instance, Martine had first started oil painting at the suggestion that each family member make a hand made Christmas gift for another member; her sister being the lucky recipient of hers. Her brother-in-law, having been just layed off from his job, proposed that he and Martine take tattoo art lessons and open up their own business. He subsequently found other work but Martine carried on with the plan of becoming a tattoo artist. Her paintings by air brushing, such as you see of Tom Waits and the eastern influenced statue figure in her video interview, was also a suggestion from someone, and as you can see Martine has taken her creative flair to this new medium quite nicely. Martine has also been singing since she was very young, but it was her appreciative listeners that encouraged her to cultivate her singing talents.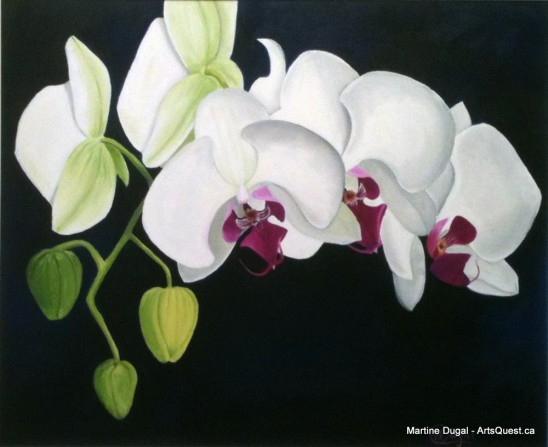 Although we did not discuss Martine's love for singing in her interview, it would be incomplete not to give you a taste of her remarkable voice. Click on the links below to hear some samples of Martine's awesome singing of various cover tunes on YouTube:
1. Someone Like You by Adele – cover
2. Demo sample. Singer: Martine Dugal
Enjoy some time with Martine in her video interview below and please feel free to leave a comment!

Martine Dugal from Corinne and Gary Funk on Vimeo.