Location: Quadra Island
Just over a year ago Gary and I were traveling on the ferry toward Quadra Island, B.C. on our way to interview Terry Phillips at her studio. Terry is a textile artist who incorporates mixed media in her work to bring out the colours and texture of a diverse group of subjects. Her other interests include gardening and baking. She took us on a tour of her vegetable and fruit garden which was enough to make me drift off dreaming of the garden I will tend to one day. When the garden tour and the interview were done Terry invited us to stay for some lunch. She had prepared a homemade split pea soup with fresh out of the oven homemade bread. I have been waiting all my life to find a bread recipe like Terry's as I have tried many but have never been completely satisfied with the results. Needless to say I requested the recipe and asked if I could feature it in a Culinary ArtsQuest blog. Luckily for me and you the answer was yes!
Click the thumbnail to see the larger image.

If you haven't had the opportunity to see our interview with Terry Phillips you can find it by clicking here.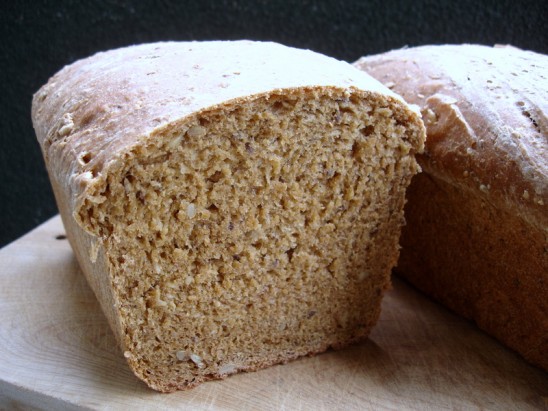 Hopespring Hearty Bread
Use organic ingredients when possible.
6 Cups of cold water
3 tsp of salt
4 tsp of yeast
1/4 cup of 'Fancy" molasses (the others have sulphites in them)
1 cup of uncooked 7 grain cereal (adds seeds and bits)
1 cup of fine ground oats (grind in food processor as it adds a nice moist and chewy texture)
1 cup of sunflower seeds
1/2 cup of flax seeds
1/2 cup of sesame seeds
1 cup of olive oil (don't skimp here or use some other type of oil)
4 eggs (adds lecithin which aids in texture and shelf life)
Optional: juice of one lemon or 2 Tbsp of cider vinegar (these have enzymes which aid in destroying the phytic acid in the wheat)
Stir the above ingredients with a hand mixer and then add 10 – 12 cups of organic whole wheat flour, mixing after every cup. I never count the cups of flour going in. When it starts getting too thick for the mixer, then I stop adding whole wheat flour. Cover and let sit in the fridge for 20 – 40 minutes. This is called the sponge stage and is to help soak the wheat bran which helps destroy the phytic acid. Phytic acid causes discomfort in some people when they eat whole wheat bread.
After 20 – 40 minutes remove from the fridge and stir in 4 cups of unbleached flour. You will likely need to turn the dough onto a heavily floured surface and incorporate the rest of the unbleached flour by hand. The dough is still quite sticky at this point. A common mistake is to add too much flour; wetter dough means a moister loaf. Forget the heavy kneading. When the flour is incorporated you are done. Put some olive oil into your bowl and turn the dough into it and then turn it over once. Cover with a clean towel and put in the fridge for several hours, all day, or overnight. If you are in a rush you can use warm water and leave it in a warm spot until doubled (about 1 hour). However the best, most digestible bread comes from a cold, slow rise. If doing a cold rise I will turn the dough over half way through to keep the top from drying out and the dough from invading the rest of the fridge.
Take the dough out of the fridge to warm up. You can cut it into 4 pieces to help this. Usually after an hour it's warm enough to proceed. Sprinkle some unbleached flour on your surface and knead each piece to shape into your loaf. Place into a greased loaf pan and cover for 35 – 60 minutes depending how warm or cool your kitchen is. When risen turn your oven to 375 F. Paint some beaten egg whites over the top of the loaves. Make a cut in the top of each loaf and sprinkle some unhulled seasame seeds on top.
Bake for 20 minutes at 375 F. Rotate the pans in the oven and drop the temperature to 325 F for another 20 minutes.
This recipes makes 4 large loaves or 8 large pizza doughs, cinnamon buns or cheese sticks.
I have to pinch myself everyday just to make sure I'm not dreaming!
April 23, 2013, another simply gorgeous day. The air has just the right amount of chill and the azure sky is soothing on my morning eyes. Today we will visit Terry Phillips at her home and studio, Hopespring Studio, on Quadra Island, B.C. Terry is our 81st interview since we began in August of 2011. I sometimes wonder if traveling and interviewing artists will become routine and just another day but it never does. It holds as much intrigue and excitement today as it did right from the start.
Click on the thumbnails to view a larger image.
Terry Phillips is a textile artist and watercolour painter. She started out making traditional block patterned quilts and painting on watercolour paper. A creative mind knows no boundaries though, and so one day Terry found herself combining textiles with paint. Her quilts began to transform from functional bedspreads to free flowing artistic textile art that would add a bounty of life to the loneliest of walls, and her paintings became an integral part of that process. When Gary and I were invited into her studio we were greeted with eye stopping pieces of art. Each piece stood out on it's own; some for the colours, others for the texture, still others for the three dimensionality, and most with all three.
Terry's work is representative of all things intriguing to her. She admits that she would like to try to focus on developing her strengths in one or two areas rather than many. Her ideas come from everywhere. Her mind is open to whatever wants to come on in. I love her enthusiasm for her art. She has a child-like sense of awe and excitement combined with years of hard work and loving attention that is evident in her work.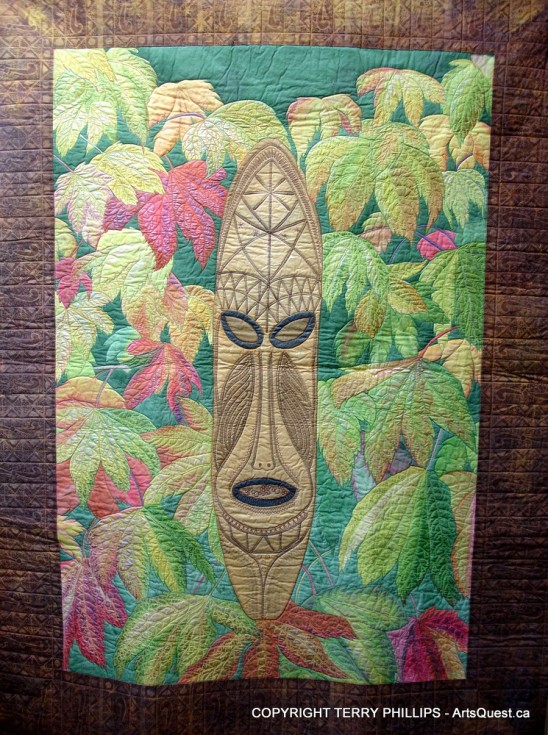 Textile art has opened up a whole new world of creative possibilities for Terry and she says she has only scratched the surface. There are so many different paints, fibres, techniques and materials that she incorporates into her pieces in layers upon layers. Everyday she gets to explore and stretch her imagination. What a wonderful way to live life!
Join us as Terry shares her enthusiasm and passion for textile art.
Warning: After watching this video you may want to start creating your own textile art!
We love comments! And don't forget about sharing on social media.