Location: Pemberton
The heartbeat of the human spirit is creativity. Many of us tend to think we aren't creative but it is an element that is woven into the very matrix that makes us human in the first place. Sometimes it takes several attempts when exploring our own creativity before we find what "does it" for us.
Andrea Symons is the first artist that we interviewed as we resumed our trek across Canada and she found her creative addiction in lamp work. Simply put, lamp work is a technique used to manipulate molten glass with a torch into beads and vessels. Every chance she gets, Andrea has been working on her art for the last eight years and there is no doubt she loves what she does. She lives in Pemberton, B.C., where even the most passive creative person would succumb to the beauty that is beholden here.
Andrea exudes a vibrancy that is expressed in her beads and she is quite willing to go down any road to explore new and exciting challenges. The day we met Andrea she was wearing a bead around her neck in the shape of the female torso. I never knew glass could look so sexy! Later when we were in her studio she shared with us the story of her friend who looked at her female torso beads and said "she's not doing anything". So after some discussion and some laughter, Andrea set out to put her female torsos to work and now you can find some of them wrapped around a pole. These are very popular with women who use poles as part of their exercise regime. Imagine that!
On a more serious bead note, Andrea has wandered into the world of the Coastal First Nation peoples motifs and has given her own interpretation and style to a glorious series of beads. Her relationship with the people she knows and nature sets her inspiration on fire and it burns right into her beads.
Be sure to watch our interview with Andrea and a little demonstration on lamp work. As well, we welcome you to leave a comment for Andrea.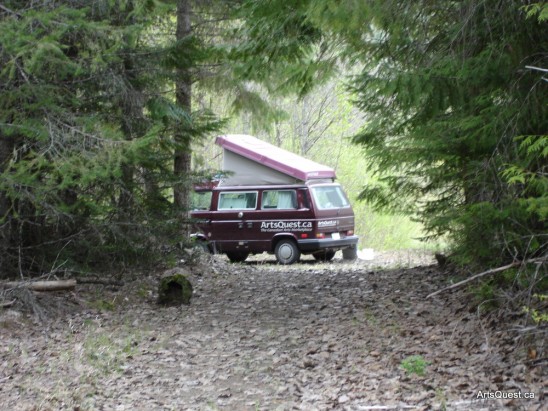 After realizing that our power inverter was fried and there was nothing we could do about it at that time, we set off from North Vancouver towards Newfoundland, via our first stop in Squamish, B.C. There, we were fortunate enough to be hosted by Lina through the Couchsurfing community. We also met her partner Mike, her kids Taylor and Jacob, and their adorable little dog Oreo. The evening was spent indulging in great conversation and a nice cup of tea.
The next morning we were off to Pemberton and Whistler for our first three interviews on the road. Stay tuned for gorgeous lamp work from Andrea, Cheryl showing us the ancient art of precision basket weaving with Tulle Rush and Bull Kelp, and magnificent functional pottery from Vincent.
Pemberton is a great little town surrounded by 360 degrees of the majestic Coast Mountains. We had planned on staying the night at a provincial campground that we thought would be open and free, but unfortunately we were wrong. At this point we had aquired an uneasy feeling not knowing where we were going to bed down for the night. We drove all over the place and resigned ourselves to the MacDonald's parking lot (if allowed), when I decided to e-mail Andrea (one of the artists we interviewed) and ask her if she knew of a place. She got back to us within minutes and said we could stay on her brother's farm 20 km outside of Pemberton. Randy was waiting for us when we arrived and took us to a heavily forested, private riverside camp spot on his 65 acres. We had the river, the incredible view of the mountains to the east of us, the dreamy silence, except for the frogs singing their welcoming acapella, and all the vitamin N we could take in. We moved slowly through the morning as we languished in our idyllic setting; a hummingbird greeting us outside our window and delicious pancakes for breakfast. We then tested out our DIY portable shower stall, just for the purposes of sharing with you pictures of us using it and we even showed a bit of skin (Oops!).
We set out on May 2nd towards Lillooet via the Duffey Lake Road, a 101 km stretch that took Arty (our van) about two hours to complete. With grades of up to 13% (up and down), the windiness and sheer shoulders make for some deep breaths and sweaty palms. On top of that Arty handles like a bowl full of water!
Arriving in Lillooet we were excited at the prospect of our second chosen open and free campground located on BC Hydro land. Sadly our hopes and dreams were dashed as we discovered it was free but not open. We were fortunate to ask a fellow who gave us directions to another campground that was not open for the season but we could park overnight without cost and without bathrooms. Unbeknownst to the campground attendents we plugged in Arty and had heat on a chilly May night. We were grateful for the power discovery not only for the warmth but also because Arty decided to blow his fuse for the fridge and the water pump and since the fridge also runs on 120 volt we could still keep our food cold. In the morning we purchased some fuses but he blew again. Arty has a short fuse, we know that much; I guess we will see.