Location: Ontario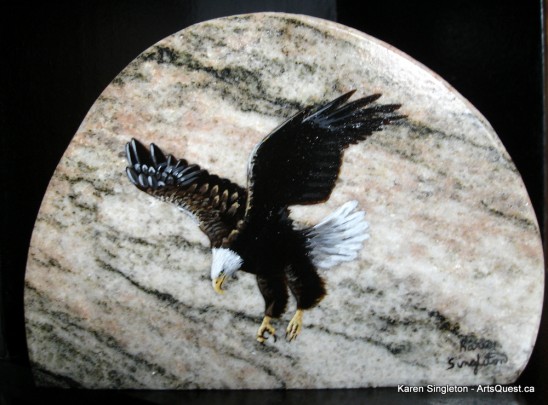 The world weighs heavy upon her shoulders but not in the way you probably think I mean. She is not influenced by the media or stuck in the day to day grind that most people face. As a matter of fact she chooses to live simply so that she can have fulfillment and follow her passion. Karen Singleton is a painter whose life and life's passion is built from along the shore of Lake Superior in Batchawana Bay. Her time is spent scouring the shoreline just outside her back door in search of rocks. Rocks are what fills her days, her pockets and her studio where she paints incredible portraits of animals, birds, insects, reptiles, amphibians and people upon them.
Click the thumbnails to view a larger image.
At a very early age it was quite apparent that Karen had an innate ability to draw and paint. Evidently, this was what she set out to do but because of different circumstances with the art school she attended her enthusiasm dwindled and she found herself on a different creative path. Still, she always found time to paint but rocks weren't part of the equation at the time. Then one day an accident left Karen temporarily without the use of her arms and unable to continue with her career in fashion design. It turns out that painting was an excellent form of physical therapy for Karen, and so this is when she began to paint on rocks. Not only was collecting them a great way to strengthen her arm, they were also easier to paint because she could hold the stone in the palm of one hand while resting her painting hand on the table. At this point she had no idea painting portraits on rocks would turn out to be a life long career but then fate paid Karen a little visit. A friend fell in love with her rock paintings and asked if she could decorate her restaurant with a few. Unbenownst to Karen, her friend sold them and then was back asking for more. The rest is history and she has been at it ever since.
Karen's portraits are truly special. The rocks are hand selected from where she lives and each one is chosen for its unique colouration and pattern. She told us that intuitively she knows which rocks will make the best canvas but it is always a nice little surprise to slice one open and discover it wasn't at all what she expected. Each rock is carefully prepared before the first brush stroke ever finds its mark. Karen never rushes an idea for a new painting. She says if someone requests a rabbit portrait from her on a particular day she may or may not have one. I take that to mean that she doesn't force herself upon creativity or the rocks. They, along with her daily experiences, tell her what animal will be painted on its face. It is the creative process that guides her to an idea and she in turn is the force that delivers it to it's physical form.
Although Karen has been using Lake Superior stone as her canvas for many years, painting on rocks does have its limitations. For instance, the rock she chooses can only be of a certain size or less due to the obvious weight issue. Recently Karen has found her way back to canvas and is enjoying the freedom to spread her creative wings a little further.