Location: New Brunswick
This story began back in 1902 when Theodore Roosevelt, then president of the United States, was invited by the Governor of Mississippi to attend a bear hunting trip. As bad luck would have it, President Roosevelt was unable to nab a bear, so his loyal assistants captured a black bear with the help of some dogs and tied it to a tree in order for the president to shoot it. Theodore Roosevelt refused, but ordered it to be shot by someone else to end its suffering. Shortly thereafter an idea was born; the "Teddy bear", named after the president's nick name and to commemorate Theodore Roosevelt's sportsman like behaviour toward another fellow creature. Here we are 110 years later and good old Teddy is still going strong.
Who hasn't fallen in love with a Teddy bear at sometime in their life? Gary and I had a chance to meet and interview Linda Chiasson who was smitten 15 years earlier when she spotted a handmade Teddy bear made from recycled real fur at a local market. With a strong background in sewing, and a love to create everything from the clothes in her closet to the curtains that embrace her windows, Linda confidently decided she could handmake her own darling bears, and she has been doing so ever since.
When we arrived at Linda's home and studio, the first thing she did was run out to Arty to greet us and take our picture. We felt a bit like celebrities! She invited us in, sat us in her living room, offered us these fantastic gluten free, chocolate chip, peanut butter cookies (the surprising secret ingredient – chick peas!) and began asking us all about our endeavours. I really thought it was wonderful how she took an interest in what we were doing since we were there because of our interest in her.
Linda's bears are nothing less than exquisite. Over the years she has perfected her techniques and uses only the most pristine once loved furs, and it shows in the superior quality of her bears. A testament to that quality comes from the many delighted collectors from all around the world, some of them anxiously waiting for the newest bear to show its face. Because of the work involved Linda doesn't make many bears in a year, but when she does they come as a result of everyday occurrences in Linda's life. She may see an article of clothing like a scarf which becomes the spark for the glint in the eye of a new bear. Her bears are heirloom worthy and easily come with a life long commitment on the part of the new bears owner.
When our time with Linda was over she sent us on our way with the rest of the cookies, a care package from her vegetable garden and a foam knee pad for Gary to use while he shot video coverage (it has come in handy for many things since then). It is easy to see why someone could become so attached to one of Linda's bears; they are as sweet as the lady who makes them. PS: She made me miss my mom just a little bit less. Thanks Linda!
Check out our interview with Linda as she shares more about her furry friends and go to her website Bear in Mind Collectibles to see more of her work.
I have spent my former years playing it safe and found this strategy to be dull and dissatisfying. Now that I yearn for the chance to step outside my comfort zone, I am always excited to find someone who characteristically plays it safe but is willing to try standing in the heat. Megan Billings is one such person that Gary and I met in Upper Hainesville, New Brunswick. When we first arrived, Megan indicated that she came close to dismissing our e-mail request for an interview because it was definitely not in her warm and fuzzy zone. But like many unsubstantiated fears we humans have, she realized it was a good opportunity for her and so we received an e-mail reply.
Megan has been a full time potter for about 7 years and appears to be as excited about it today as when she started. She converted a small barn on her parent's farm where she grew up into a petite character pottery studio where she is content to spend the hours of the day throwing clay and creating what she calls pieces of joy. The joy she derives from creating a signature painted functional piece of pottery such as a tea pot or a bowl is clearly stated on each piece and brings a smile to her face as well as to others.
Megan's pottery is of a simple functional style with two distinct pattern lines. For those who are typically more conservative but want to move one foot just to the other side of their comfort zone, Megan has crisp white glazes adorned with colourful brush strokes which chase each other across the plate or bowl. They say," here I am", but not too loudly. If you are the type of person who loves to run through a field of wildflowers singing at the top of your lungs then perhaps the "anything goes" colour line might be for you. It will definitely add an extra non-caffeinated kick to your cup of coffee in the morning.
Although Megan says she is quite content to spend her time alone in the studio, she also loves the people the craft world has introduced to her. She says people are happy to see her and talk to her and there are rarely any of the tongue lashings that seem to occur in other career choices. Perhaps that is one of the reasons she creates "Happy Pottery". Spread the joy!
I believe that many people could learn a thing or two from Maurice Gamblin's view of life. You see, Maurice "retired" from his construction company business at the age of 41 to pursue an income resulting from doing what he loves to do, turning wood to create bowls, vessels and other decorative pieces. He saw other people continue with dissatisfying careers and were miserable, making him realize that there is more to life than the illusion of security and happiness by doing something you dislike, just for the purpose of earning a living. The fact that he has been creating and selling his wood pieces for the last 25 years is not only a testament to the dedication and commitment he has put forth to his true calling in life, but also to the fine craftsmanship that he delivers to each one of his satisfied customers.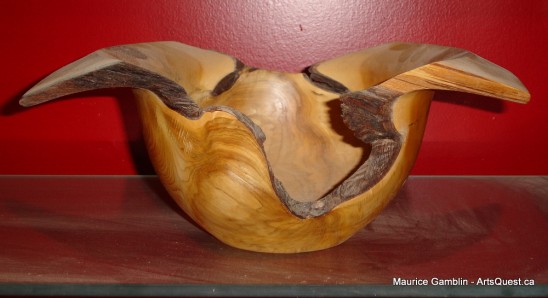 Beside Maurice's home are his workshop and gallery where he showed us the ropes of what it takes to start with a raw piece of wood and take it through the steps of turning, sanding and finishing it to create a beautiful and functional piece of art. Maurice is a soft spoken man, but his work on the other hand speaks volumes of the passion he has for creating one of a kind pieces that speak to you, such as the largest bowl he has turned to date, 52 inches in diameter! Maurice's long relationship with wood has given him a lot of insight and experience into the process and artistic creation of each piece. For instance, he uses green wood when he turns a new piece because it is much easier on his hands and his tools to work with than dry, hard wood. The usual challenge with this is that the green wood drys too fast and then the wood cracks. Maurice found that by putting wax on the outside of the turned piece that it will dry slower, from the inside out, eliminating the cracking. Prior to this method there was 25% loss in his work and after utilizing the wax method that he developed it improved to less than 1%. Because of this innovation Maurice jokingly says that he doesn't have to work as hard now!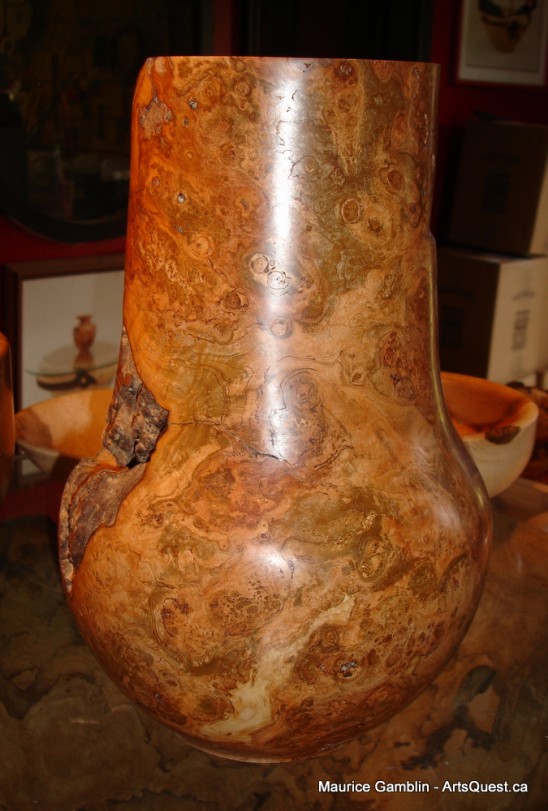 Maurice has a passion for the arts and art education. In addition to starting a wood turners club in Newfoundland consisting of about 60 members to date, he is also the president and organizer of the Tobique Fiddle Camp, where I'm certain that Maurice's great people skills, amiable nature and quick sense of humour have contributed greatly to the success and fun learning at these events. There are many accomplished fiddlers that show up for these events, such as J.J. Guy from Lintlaw, Saskatchewan, that have come to teach the students and pass on their invaluable experience. Just us Maurice has encouraged others to turn wood, so has he also encouraged others to pursue the fiddle, including his granddaughter Kimije. Wow, are we glad that he did! While visiting Maurice and his wife Shirley in the house that he had built and completed back in 1978, Kimije performed three songs for us and I'm sure the drop in our jaws was perceptible! She beautifully played a traditional Maritime song, a classical song, and a Celtic song.
Click on the thumbnails below for a larger image:

Our visit with Maurice was not only inspirational and educational, but it reaffirmed the philosophy that we also wish to live by: Do what you love, hopefully make a living at it, but at the very least discard an unfulfilling career that does not enrich your life.
Enjoy our interview with Maurice as he turns us on to turning wood:
Maurice Gamblin from Corinne and Gary Funk on Vimeo.