Location: Nelson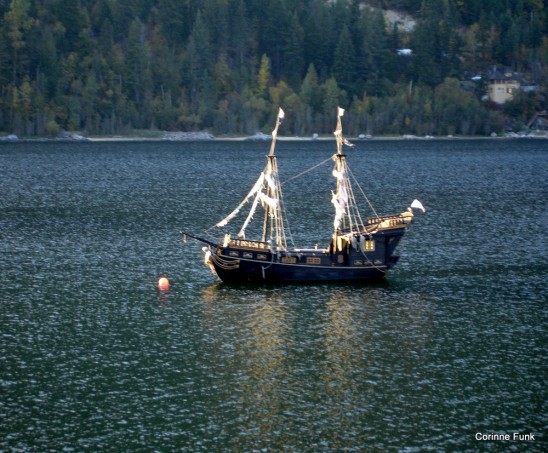 I have always thought Nelson, B.C. to be a charming place. Nestled in between the banks of the Kootenay River and one of the great Canadian peaks, you can't help but fall in love the first time you lay eyes on it. So far our journey across Canada carries a familiar theme about places we have been before but either didn't have the time to stop or never having taken the time. This is one of the extended benefits we hadn't really considered. All total, we spent about a week there so we were able to sneak a peak at the treasure trove that makes Nelson what it is.
Coming from Calgary and then having the privilege of leaving and exploring small Canadian towns, really makes you think about never returning to any place having a population over 20,000 (or perhaps even less). The benefits are immeasurable. Traffic is a four letter word to me and it definitely isn't the word on the street in Nelson. Sure there are cars driving around but there is no traffic. If you love the smell of road work tar and the irregular pounding noise of heavy machinery, this is not the place for you.
Being a pedestrian is badge of honor; it doesn't mean you are too poor to own a car. Many folks walk in the abundant clean air and if by chance you literally bump into someone, it is likely someone you know. It was obvious to me that a gym membership wasn't really necessary when you live in Nelson; some of the roads would give San Francisco a run for its money.
I imagine most folks, children, dogs, cats and any other pedi-creatures to be fit and healthy. Not only did we see several of them walking up and down the steep mountain side roadways, we were hard pressed to notice any fast, if you want to call it food, food places. The town of Nelson has many fresh, and delicious restaurants and it is not like you have to ask, "where's a good place to eat?" That's just the way it is. Everyone has the basic right to have access to nutrient rich, delicious, and life enriching food. You won't find any genetically modified frankenfood in Nelson either. They officially declared themselves as a GMO free zone in 2008. Can you imagine living in a place where you can feel confident that what you feed your family is not going to harm them? I love this!
Speaking of food, one day while Gary and I were vigorously working away at the library we finally looked up from our computer and noticed 4 hours had flown by. Perhaps it was the involuntary reaction from our stomachs causing us to check the clock; whatever it was, it was time to leave and find food. I wasn't feeling like putting on my chefs hat that evening so we wandered across the street to Thor's Pizzeria. It is easy to say that this is THE best pizza I have ever had. It is hard to remember all the pizzas of dinners past but I can assure all the pizza mavens out there this place made pizzas several slices above the rest. When we arrived to order, our olfactory sense was doing back flips and our eyes were as big as pizza pans and, if that wasn't enough evidence we had arrived at the right place, there was a steady flow of pizzarians. The only improvement I would suggest is installing a revolving door. Yummy!!!!!!
Although our days were full, we still took the time to take a couple of lovely walks; one such walk was in Lakeside Rotary Park along the water front. It was an absolutely stunning day; the kind of day that reminds me of how grateful I am for my life. The park was teaming with life. I am glad to be writing about Nelson now as the image in my mind's eye makes me think of what Robert Bateman talked about during the Artists for Conservation festival. One of the best ways to improve the health of our families and our environment is to get out and spend time in nature. On this particular day, I noticed a mom throwing a frisbee with her son, a grand parent out walking with his grand child, families of several generations walking the labyrinth in the park and kids playing by the water while watchful parents sit near by. I got the distinct feeling that TV and electronic devices were far from anyone's mind. I really enjoyed our stay in Nelson. I'm sure there are more treasure troves to be found and I look forward to the sequel the next time around.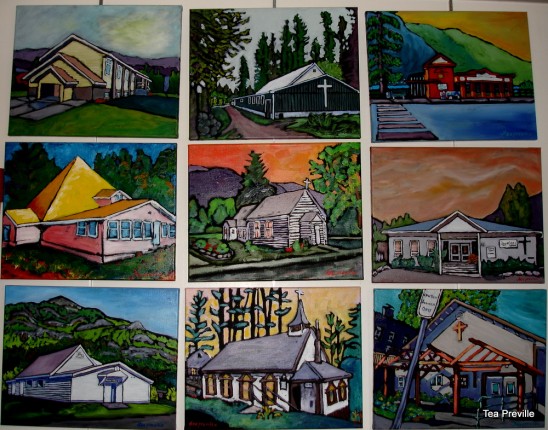 Our first contact with Tea Preville from Nelson, British Columbia was in mid-October through email and one of her first comments was "What are you doing for accommodations? You can stay with me." That was our first glimpse at Tea's generous spirit, and having spent the last five nights at the Kokanee Creek Campground with just a pit toilet and "forest bathing" from Kootenay Lake water for amenities, we gratefully accepted her invitation. What we learned about Tea from our stay with her is she is an accomplished painter, a great people connector and facilitator, a strong advocate for CARFAC, and a confident, independent person that makes you think, "This woman can do anything she puts her mind to!"
Tea describes her art as whimsical Canadiana which she has on display around her home gallery. Tea's home is also where she has multiple art studios, depending whether she feels like painting in the living room, bedroom, kitchen, etc.; they are all venues for her creative outlet. Her decor consists of not only the many colourful paintings she has created, but also vintage pieces of furniture and ornaments, many gleaned from the various garage sales she has frequented in her travels.
Going to garage sales was also a great way to incorporate her latest project, "Churches, Temples & Tipis – 50k Spiritual Diet," a journey of seeking out spiritual centres within 50 km from her home address and committing them to canvas. Tea had photographed 63 buildings and has completed 53 of them with oil on linen canvas and is closing in on the remaining 10! She was awarded a 2010-2011 Columbia Basin Trust and Kootenay Cultural Alliance grant for her project. Tea is also planning to publish a guidebook for her project and we look forward to the realization of that goal.
Nelson, B.C. is widely known as one of the most active arts communities in Canada, and yet our Googling (yes, it is now a verb!) did not come up with much in the way of contact information for its artists. This puzzled us and we certainly found more information for artists in the surrounding communities of Kaslo, Nakusp and through the Slocan Valley. Enter Tea Preville. She informed us that one of the main reasons that she came on board with the Nelson & District Arts Council, NDAC, was to create more visible representation for its artists. Our arrival at Tea's couldn't have been more opportune. The day we arrived she was having a meeting with NDAC board members at her home, and after a quick phone call to President Stephen Fowler we were confirmed as guest speakers for their meeting. This was potentially beneficial to us and the art community by spreading the word about what ArtsQuest is and how it could benefit both emerging and professional artists and artisans. As well, through our inability to track down artists in Nelson, Tea saw it as an opportunity for feedback from "outsiders" to affirm her concerns that artists need more visibility so that art appreciators may find them more easily. Our comments about this topic during the meeting were coincidental and hopefully will add some food for thought to increase awareness for the artists.
Always the connector, Tea also introduced us to fine woodworker Scott Ware with Armstrong Fine Woodworking whom we will be meeting up with during our next pass through Nelson. She also introduced us to Joy Barrett, who is the Nelson Cultural Development Officer and who indicated she could connect us with many other artists as well.
Our stay in Nelson ended with Tea insisting that we all plant a bulb in her beautiful backyard garden so that we will always have our "roots in the koots" and be back again to visit. No worries there Tea, you made your home feel like our home and your friendship would have drawn us back regardless. But we are looking forward to seeing the bulbs come up! See you then!