Location: Nakusp
As we pulled into the driveway of Betty Fahlman's farmyard she greeted us at the entrance to one of the outbuildings, her studio and gallery. She showed us around and as we took in her paintings on the walls it was easy to see that she has a love of nature, animals and the environment. That passion has given her paint brushes a voice within the flora and fauna that she has committed to the plastered board that she has created as her "canvas".
"Seven years imprisonment for removal" is a phrase that I have seen many times and am quite familiar with. Not because I have been imprisoned, but rather because having been a surveyor for twenty years I have seen this inscription on Canada Lands Surveys brass caps, which are government boundary markers put in back when the task was all too labourious and time consuming. To re-establish missing ones required extensive research, labour and most of all assurance of accuracy, since many violent confrontations and liability claims have arisen from property boundary disputes. This was serious stuff! You can see why the government back then considered it appropriate to threaten jail time for tampering with this valuable survey evidence. Read on for the irony!
What does all this have to do with art you may be starting to wonder? Well, Betty has created a series of paintings under the theme of "Imprisonment For Removal"; a statement of the erosion that has occurred from government intervention in our Columbia River Basin waterways and resulting in the toppling, through eventual lack of soil, of one of these survey monuments. Betty's paintings of large stump and root systems depicting the erosion along the water banks have left them "naked"; exposed to the elements which not only seals their fate but also resulted in serious consequences for the ecology and people within the proximity of the basin. The paintings are compelling "ghosts" of trees gone by that represent humans' ability to alter our natural ecology, sometimes irreparably.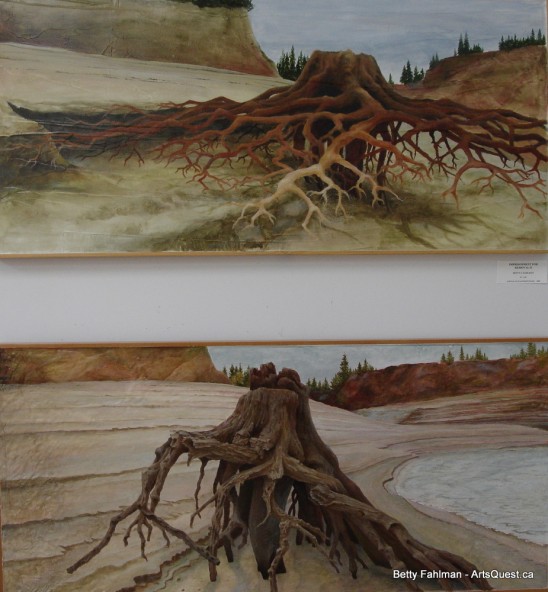 Betty goes into more detail of the history and her connection to these stately stumps in our interview with her below.
Heading west from Kaslo along a picturesque, winding road, we arrived at New Denver and then continued on northwest until we came to the charming town of Nakusp, British Columbia. Our 2:00pm destination on this day was The Small Gallery, home to visual artist Gillian Redwood's art creations as well as her working studio. We were also there to meet with her partner Caelen Starblanket La Rocque, an instrumental acoustic guitarist with an enduring history of music spanning 50 years and even going back to the early 1970's as guitarist for the famed pop music group The Platters.
As we stepped into the gallery, Gillian and Caelen greeted us warmly and showed us around; the small space appearing larger with Gillian's expressive paintings welcoming us in. Something that I noticed about Gillian's art work is that the longer I stared at it the more I saw within it, the figures blending with the landscape, one not overpowering the other, the human form an equal participant with nature. Such as it was intended. This perfect setting for our interview was further enriched by Caelen playing Mr. Bojangles for us on his guitar; this duo was certainly a treat for the eyes and ears!
Please click on the images below for a closer look at Gillian's creations!

Gillian is also the creator of Your Creative Spirit, a workshop held at the Halcyon Hot Springs Village and Spa; a collaboration of Halcyon's healing hot springs and nourishing food, Gillian's mentorship to bring out peoples creativity, and Caelen's soothing strums of his guitar as he provides the background ambiance music.
As we finished up with some photographs Caelen invited us to park our van in their driveway to use their internet. We gratefully accepted and then Corinne upped the bid to asking if we could use their bathroom as well, and eventually arriving at the finale of us using their driveway to spend the night in our van . An expression on Gillian's face later gave way to realizing that they were having friends over for dinner, but her grace prevailed and she did not let on, knowing we would think ourselves an imposition. Upon our arrival we were also invited to join them for dinner, and when Jane and Keith showed up their warm reception made us feel like old friends. Keith is also an artist, a potter, and we agreed to meet up in the spring to view his work. We ended the evening watching a movie on fresco painting. Gillian's and Caelen's hospitality were sincerely appreciated.
Please join us in Gillian and Caelen's interview and we invite you to leave a comment below!