Location: Mountain View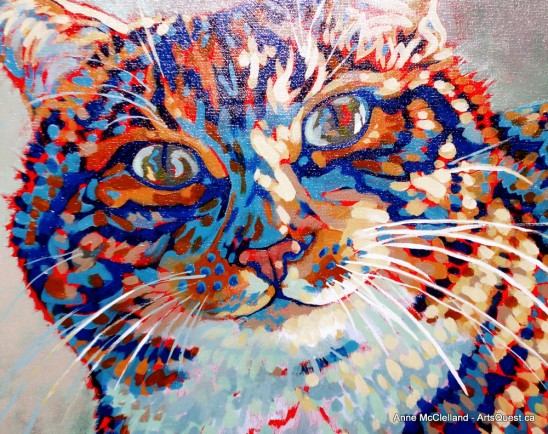 Above: Anne's loveable cat Piglet
Wow! It was an angry wind last night. Arty was getting pounded so hard that I wasn't sure if we were going to find ourselves lying on our side in the morning. As it turned out I woke up sometime in the middle of the night. I think it was the silence that woke me as the menacing wind tired itself out and gave us all a reprieve. 5:30Am. Gary peaked out the curtain and was beholden to an incredible fuchsia coloured sky. Although I was tired and tempted to stay lying still in bed, I decided the moment needed to be captured on camera and got dressed to greet the glorious sunrise. When I stepped outside the van, my attention was drawn to the mountains in the west. I had never seen intense pink mountains before and there they were right in front of me.
I am so grateful to Anne McClelland for inviting us to stay the night on her property 4 km outside the village of Mountain View, Alberta, just a short drive to Waterton Lakes National Park. Without Anne's invitation, we would have missed the pink mountains, the new born fawn and its mama, the delicious homemade pizza Anne made for us to share with her and the conversation infused with fabulously funny stories. Anne is a painter who owns The Curious Bird Studio and Gallery in Mountain View. You can find her gallery on highway 5 just on the south side as you are entering Mountain View.
Anne's story is similar in tone to ours. She worked as an Agricultural Scientist at the Ag Canada Research Station in Lethbridge for many years and then one day she decided that it no longer fit into the life she wanted. With that she left and went to work for The Native Women's Transition Centre in Lethbridge and decided to move to 72 acres just outside of Mountain View. She moved in 1996. Sometimes the worst things can happen to us but they can actually turn out to be the best things. Not long after Anne bought her new property she was commuting to Lethbridge for her job and on the way home she found herself entangled (literally) with another vehicle in a terrible accident. The paramedics expected to find her dead from the report they received from the other driver and certainly not sitting on the tailgate of her pick-up when they arrived. Anne's life was about to take another sharp synchronous turn. She could no longer work at the Transition Centre as her right arm and hand was in a state of paralysis and she was in for a long haul of recovery. So began The Curious Bird chapter in her life.
Anne has been a painter all her life. She had an aunt and a friend of the family who were painters and when Anne took an interest in it they gladly gave her all the instruction she could absorb. Painting is her life's passion. Unfortunately, Anne is right handed so the accident presented some real challenges since her right side was now paralyzed. I admire Anne and people like her. She looks at challenges as opportunities to better her life in some way. She knows what she wants and goes after it regardless of the uphill battles. Anne used the accident as an opportunity to spend more time painting but she had to learn to paint with her left hand. It did occur to her that painting was going to allow her to use her right hand again and she credits a lot of her recovery to it.
Anne takes a genuine interest in her subjects. She gets to know them before she dips her brush into the paint and sets it free on the canvas. Her painting is two dimensional but the subject is painted with character and personality. Anne gets to know the tree, the individual bloom, the face of the animal or the person she is capturing and the moment she interacted with them. The relationships are special to Anne and she doesn't take them lightly when she paints. I believe it is the way she honours her relationship with them. The inquisitive side of Anne has led her to experiment with textured formats on her canvases. She showed us paintings where she used egg shell, cheese cloth and panty hose to help bring a three dimensional life to her subjects.
Be sure to catch our interview with Anne McClelland as she introduces us to her subjects. Comments are appreciated! Thanks you.
Anne McClelland and The Curious Bird Gallery from Corinne and Gary Funk on Vimeo.