Location: Merritt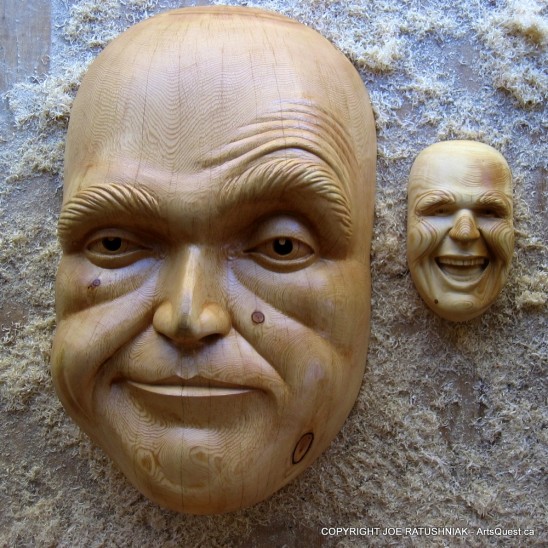 Our journey to the rolling hills north of Merritt, B.C. brought us to a sprawling five thousand acre ranch where a guy named Joe Ratushniak carves wood for a living. When he is not carving, Joe and his partner Julia help out on the ranch with the cattle, the haying operations, general ranch chores and some riding. It is a breathtaking drive into the ranch with endless hay fields and heavy forestation all around. Ironically this environment is a bit of a conundrum for Joe. The peaceful surroundings and fresh mountain air makes an idyllic setting for him to work and yet he sometimes feels too secluded; sequestered away from the hustle and bustle and interaction with others which can be an important part of promoting your art and developing yourself.

Click on the images below for a closer look at the full carving above:
Joe started out working for a log home builder utilizing his skills to make other people's home living dreams a reality. The builder's specialty would also include a carving of some sort as a signatory complement to the new home. One day the usual carver wasn't available and so Joe was asked to do the carving. It was at this point in his life that carving wood for a living began. He has been carving for twenty years and is still giving life to people's dreams but now it is in the form of commissioned pieces that range from sports bar tables, animals, masks and totem poles to name just a few. Joe figures that ninety percent of his work is commissioned by customers and the rest is from his own creative initiatives.
When we first started talking with Joe we felt as if we were sitting in the office of an engineer or an architectural designer, not in the studio of an artist. He used words like blue print, proposal and give it some flair. It was at that point we realized we weren't talking to someone who thinks of himself as an artist. Joe says so himself. He describes himself as a "journeyman" and although he does remarkable carvings they are still just jobs to him. As the conversation carried on Joe's own transformation, not unlike the wood he carves, was taking place before us. His body language, his tone of voice and the words he used started to reveal an artist. His voice became louder and he sounded passionate and excited about stepping away from the journeyman and towards the artist. He used terms like spontaneity, something undefinable, draws you in and open to interpretation. Joe has about six solid ideas for his own art pieces which he is ready to pursue. He informed us that although he still has mixed feelings about art he knows that this is where he wants to be. Having said that, Joe's art will still maintain a functionality to it, as he says, "to justify its existence in the first place". What we observed was that Joe's humble nature belies the fact that the amazing detail and imagination that he puts into his carvings is most assuredly art and certainly fine craft.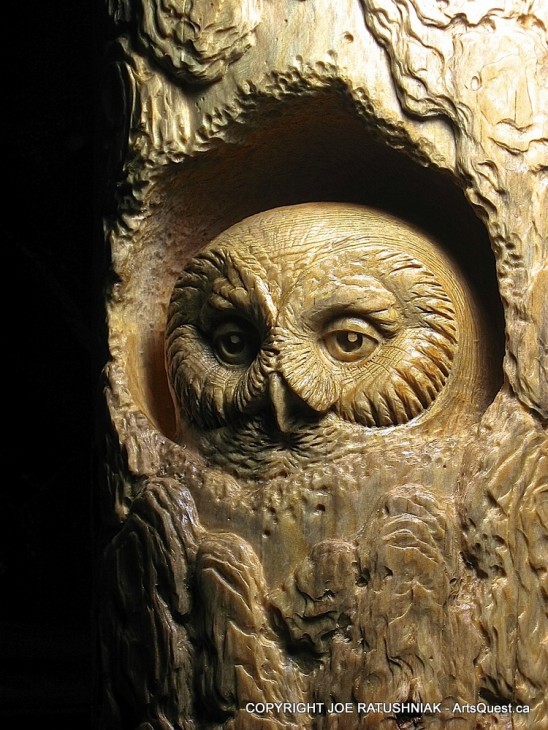 The photographs throughout this blog show the remarkable work that Joe has done, and the video pans during his interview showing the degree of detail of these pieces will blow you away even more. On Joe's latest commissioned piece he created a sports bar table supported by a Stanley Cup shaped pedestal base with the carved table top represented by a jersey in such detail that it appears as if it was a real jersey thrown on top of the table! Don't miss it and be sure to check out our interview with Joe. We love comments and please share on social media!