Location: Medicine Hat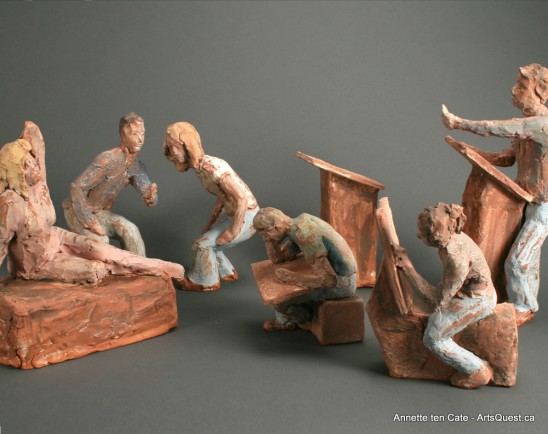 Gary and I couldn't have picked a better group of people to seek out across Canada than artists. We continually find amazingly talented people and also the kind of people we just want to be around. We were introduced to Annette ten Cate during our impromptu visit to Medalta. It was such a wonderfully unexpected encounter. Annette is a figurative ceramicist who is doing a one year residency at the Shaw International Centre for Contemporary Ceramics. She carefully sculpts people and sometimes pets which she puts into print context for three dimensional illustrations. They will become the characters in books, album covers and family portraits.
Although the figures are simple in detail they depict very human characterstics. They have habits, behaviours and attitudes toward various everyday happenings in peoples lives. There is life in Annette's clay people. When she was introducing us to the families, couples and children, I could recognize people I know and even myself in some of them. In the "Class Photo", the little boy in the front row on the end I recognized for sure from school days gone by. Everyone has known someone like him before. His body language has defiance written all over it. The couple on the couch with all the dogs is my friend Tammy and her pack and my aunt is showing the poodle at the dog show (seen in the video).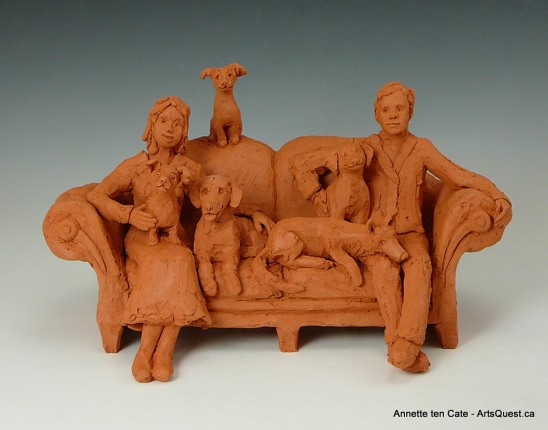 Annette reminds me of a female Norman Rockwell working in clay. I used to love looking at Norman Rockwell's paintings. They made me smile because they represented everyday life back in a time when life was simple. I felt that same way looking at Annette's clay people. I can see why she says she hasn't stopped smiling since she began working figuratively.
Click on the images below to enjoy a larger aspect.
Check out our video interview with Annette ten Cate as she introduces us to her clay people. Comments are happily accepted.
Annette ten Cate Figurative Ceramicist from Corinne and Gary Funk on Vimeo.
A secondary reason for making the journey across Canada was to explore and find out what Canada is all about. Neither Gary or I have ever really been east of Saskatchewan during our time alive and thought now would be as good as any. I have been told that you can never be 100% prepared for something and so here we are.
When we left Lethbridge, eyes wide with excitement, we had no idea what we would find along the way in addition to the people we would meet. So when we pulled into Medicine Hat with no plans to meet any artists it was a nice coincidence that we discovered the Medalta Potteries Museum. Not only did we feel like we were on a field trip but it also kept in line with the art theme of our journey.
We arrived at the front reception area where we met Chelsea. We had told her what we were up to and that we would love to cover a little video and do a blog about our findings and experience there. She kindly called her executive director and we quickly had the permission we needed. At the same time, Aaron Nelson showed up. He is the artistic director for the Shaw International Centre for Contemporary Ceramics which is adjacent to the Medalta Potteries site. Thankfully Chelsea took it upon herself to introduce us to Aaron and he graciously offered to show us the center and introduce us to some of the resident artists once we were finished in the museum. This was a wonderful addition to the museum and we did an impromptu interview with one of the resident artists, Annette ten Cate. Interview and blog coming soon!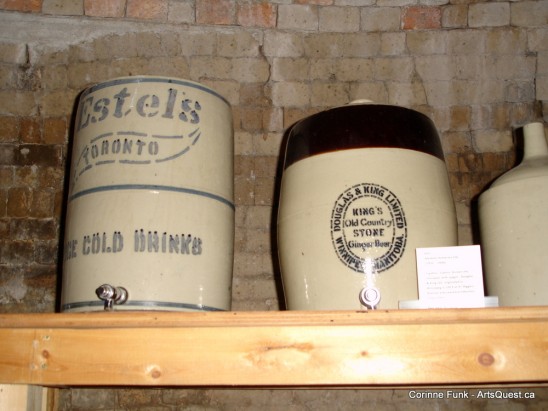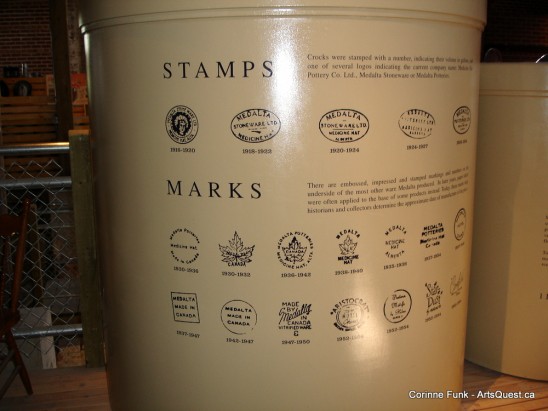 I had heard so much about the clay deposits in and around Medicine Hat. Many of the potters we have interviewed so far get their clay base from this area. Also, I have seen many of the Medalta crocks in my meanderings but hadn't put two and two together to realize where they actually came from. For everyone who owns one of these, now you will get a glimpse of where it was made and likely have a greater appreciation for it as the person who made it likely suffered under appalling working conditions.
Take a look at the video as Gary and Brittany narrate the journey through the Medalta Pottery factory which first opened in 1912.
Medalta Potteries from Corinne and Gary Funk on Vimeo.