Location: Kings Point
Above: The iconic Humpback Whales of King's Point in a piece from "Whales and Waves", King's Point Pottery's signature and award winning line of blue and white functional pottery.

Walking into a gallery off the street and asking the proprietors for an interview is a little bit like making a cold call; no preparation and little time to think about all of the ramifications, if any. Maybe not so dramatic, but that is how we sprung our proposition upon the owners of King's Point Pottery, Linda Yates and David Hayashida. Without much discussion though, they graciously accepted our offer and we were on for the interview the next day.
Prior to our "announcement" Linda and David were busy with customers, and so that gave us time to wander around this charming gallery to peruse the art work of the 150 different artists and artisans represented here. There are potters, such as Linda and David, wood turners and carvers, jewellery makers, painters, glass artisans, jams, teas and chocolate, fibre arts, stone works and metal works. Their gallery, which once served the community as Linda's father's gas station, is pleasing to the eye and has been transformed into a wonder of architectural and creative ingenuity.
Linda and David's accomplishments with their artistic and functional pottery are not just observed by the walk-through patrons of their gallery, but have also been noticed many times by the various art councils and organizations that distinguish and bring to the spotlight exemplary pieces of work that need to be honoured and shared with the public. Linda and David's clay does not fall flat in this area! The most recent of these notable distinctions has been a nomination for Canada's highest honour, the Saidye Bronfman Award for craft by the Craft Council of Newfoundland and Labrador. This is an award covering all the mediums, and over the last 30 years running has had only 6 winners in the ceramics realm. Quite a feat, and quite a testament to the beauty, creativity, heart and soul that Linda and David put into every one of their pieces.
Linda and David's passionate connection to the sea and it's inhabitants are well represented in their work. For instance, Capelin, a small fish in the smelt family, is an essential part of the food chain for cod and other marine life. It has also been used for human consumption, pet food, bait and garden fertilizer. Over a ten year span Linda and David worked on a cast and carved mold of these little guys and now represent these important fish in their collection in the form of plates, dishes, platters and bowls. The next two photos below show some of their capelin mold creations:

Another tribute to the sea was borne in "Secret to the return of the cod"; an exhibit that Linda and David were invited to construct at The Rooms Provincial Art Gallery in St. John's, NL., with the image of a cod created within the 230 cups supported on a slut shelf (slut is a Newfoundland term for tin kettle). It was subsequently selected in 2009 to go overseas to represent Canada at a big international show in South Korea.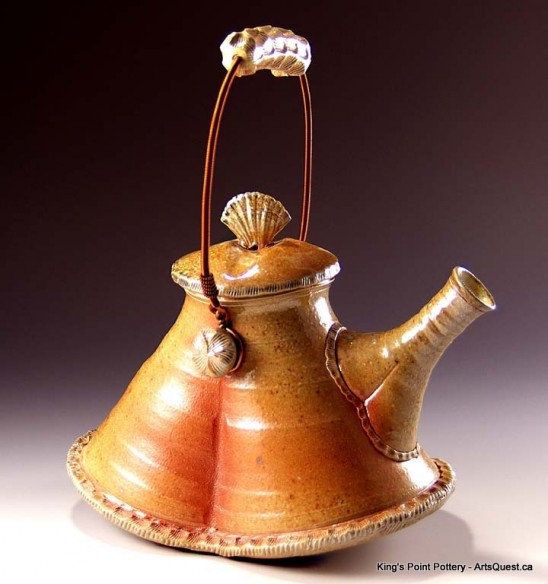 Linda and David's approach to promoting their pottery and the artisans within their gallery is one of a triple bottom line benefit. They actively promote the community of King's Point and the local businesses and attractions within it. This promotion leads to a stronger tourist presence, and potentially new residents, which will help to sustain not only their gallery and the artisans that sell there, but also the continuance of the local businesses as well.
Although the other artists represented in Linda and David's gallery were not there to promote their own work, as we strolled through looking at their creations we were very impressed as David was able to comment on each artist as if he knew them personally, the methods or techniques of their work, and even the historical significance behind a piece. It made a lasting impression on us knowing that King's Point Pottery's best interests are also reflected in the extra energy they put in to promote those other artists and the relationships they forge with them.
Click on the thumbnails below for a larger image of Linda and David's work:

Please join us below with David Hayashida of King's Point Pottery. Comments are welcome.