Location: Hornby Island
It was actually over a year ago that I first stumbled across the vivid colours of Elspeth Armstrong's paintings! I was perusing art sites and although we weren't planning a trip to Hornby Island at that time, Elspeth's landscapes and seascapes were indelibly imprinted in my mind. So when we decided to tour the islands around Vancouver Island I remembered her and hoped she would agree to an interview. We emailed her and she kindly accepted!
The magnificent sandy beaches and warm waters of Tribune Bay on Hornby Island are quite familiar to me. I was born into a "beach bum" culture, and the summers spent camping, swimming and laying around in the sun in this area seems like eons ago, yet is still fresh in my memory. Elspeth's paintings capture the charm of this island, and like the fond memories etched into my thoughts her paintings also leave a lasting impression; a recognition of places once visited and of those now wanting to discover! Admirers of Elspeth's art have been known to remark how they feel like they are walking into the painting and feeling a part of it.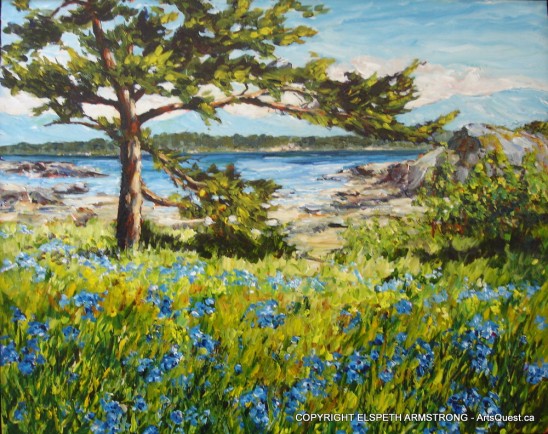 Click on images for larger view!

Elspeth has only been on Hornby Island for six years but has been painting and drawing for most of her life. The varied landscapes she has painted give evidence to the other locales she has called home throughout Canada; topography as gentle and flowing as a prairie grass plain, or as rugged and unrelenting as the wild west coast! Elspeth notes that it is a very humbling experience when people will part with their hard-earned money to purchase a painting, and so her greatest satisfaction in her work is when someone sees a piece that stirs them, finds a connection or emotion within it, and will mention to her that, "I look at it everyday." It can't get more gratifying than that!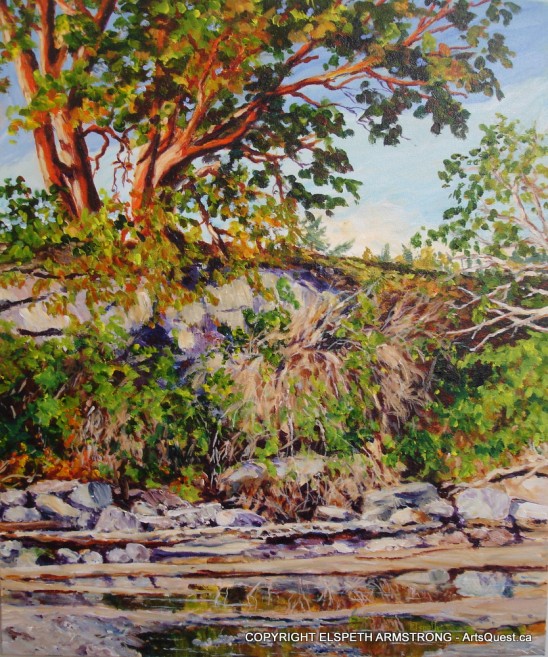 See our interview with Elspeth below as Corinne gets to know this prolific painter!
(Don't forget, social media is your friend!)