Location: Gibsons
The last stop for our travels along the halcyon highway of the Sunshine Coast of B.C. brought us to the small oceanfront community of Gibsons. It was almost thirteen years ago that Corinne and I first set foot in this charming town which was the launch point for our motor-home honeymoon. Made famous for the television series The Beachcombers and its landmark cafe Molly's Reach, today this peaceful locale is not only recognized for its past fame, outdoor pursuits and quality of living, but also as a destination for its thriving arts and culture community. Our visit today brought us to the home of one such artist, luthier and musician Dan Richter of Dragonfly Guitars.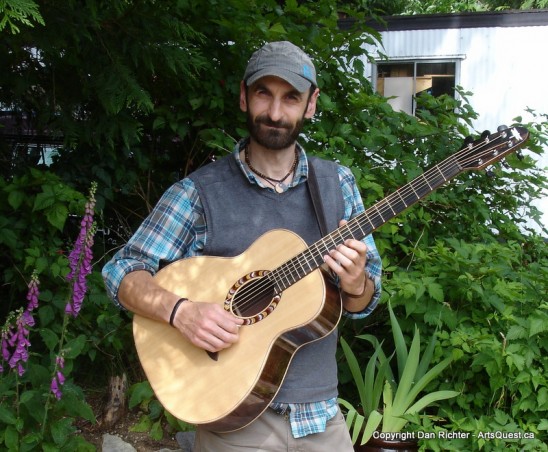 Dan's passion for music has permeated throughout his life. Discovering his love for playing guitar at an early age, his first riffs resonated with heavy rock and roll from a Larrivée Flying V electric guitar. He then sought out work with renowned luthier Jean Larrivée in his North Vancouver guitar manufacturing facility. There, fellow employees would bring in their hand-made guitars which were projects from a Douglas College course taught by west coast luthier Michael Dunn. It was during that time that the initial spark for making stringed instruments began. Dan took a course from notable luthier David Freeman, honed his skills on his own, and has now been hand-crafting one-of-a-kind stringed instruments for almost twenty years under the moniker of Dragonfly Guitars. Quite often the student becomes the teacher, and Dan's affable nature lends itself well to the comprehensive six week luthier course that he teaches. Each of his students walks away with the pride and satisfaction of having hand-crafted their own stringed instrument from beginning to end.
Click on image to enlarge:

For those that enjoy the feel and fit of a finely tailored suit versus buying off the rack, that same appreciation will extend to a quality, hand-crafted stringed instrument that was made just for you. Dan notes that aside from adhering to the technical guidelines needed to create the primary characteristic of great sound, there are various personal touches that can be built in to enhance both the playability and aesthetics of the instrument. Innovations such as beveling sharp edges for comfort, a top sound hole for better player audio feedback, adapting scale length for smaller hands, and utilizing the Manzer wedge (narrower at top/thicker at bottom) are just some of the ergonomic modifications that will increase the comfort and enjoyment while playing one of his Dragonfly Guitars. Choice of colours from the different woods, personal inlay work and the different shapes to choose from will also set his guitars apart from the factory made counterpart.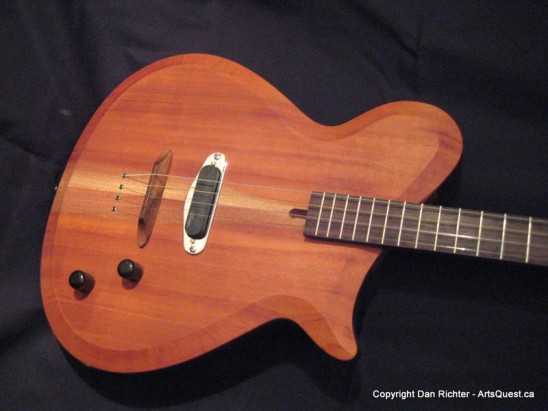 Click on image to enlarge:

Whether making guitars, fixing them, teaching others to make them or playing in a band, music has always been an integral part of Dan's life. From his early years of rock and roll to now a member of the highly acclaimed four piece string-band The Rakish Angles, Dan feels fortunate that he and his band-mates appreciate a wide variety of music. Entertaining their audiences with an eclectic array of offerings spanning newgrass, jazz, Latin, Celtic and folk music, he says that they do not limit themselves to any certain style and that this has worked well to satisfy both their freedom for creative expression and the varied tastes of their audiences.
Whet your appetite with the tune 'Swingin' the World by the Tail' from The Rakish Angles and their Cottonwood Moon CD:

Learn more about Dan Richter and his world of lutherie and music in our interview with him below. Please feel free to leave a comment and share on your social media and email. Thank you!