Location: Gabriola Island
Some people may never get the opportunity to breathe in the lofty mountain air of the Himalaya…or even set foot on the sandstone beaches lined with Arbutus trees on beautiful Gabriola Island, B.C., but the photographs of Nicholas Halpin of Eyes Wide Open Photography will make you feel like you are there! Though a resident of Gabriola Island, Nick admits that since first visiting the Himalaya in 1986, and with eleven subsequent trips, the traditional culture and people of those mystical Tibetan mountains are not only his favourite subject matter to photograph, but also considers it his spiritual home. Through the vivid depictions of the people, places, architecture and cultural traditions, Nick's photographs bring us insight and an understanding into the lives and culture of these devoted people.
Prior to his trips to the Himalaya Nick's photographs were mostly nature inspired; his passion for capturing his environment on film continuing on since he was twelve years old. It was during his first trip to Tibet that he saw humanity in a different, yet innately familiar light. These people with their harsh and difficult way of life must rely on simple means to subsist; depending on a cooperative family and community that is willing to work together for survival. Nick feels that we can all relate to these basic instincts in some elemental way, and with this way of life still going on today he is both fascinated and compelled to express the essence of the people, their integrity and way of life through his photographs.
The photo below of Mountain Chorten is an example of one of those "gifts" that happenstance can bring. [A chorten is a Tibetan spiritual structure typically containing Buddhist monk ashes, relics and offerings]. Nick says that he was hiking back down from the Everest Base Camp on a miserably dreary day when he stopped for a spot of tea. While sitting there the clouds opened up revealing the blue sky and offering up this wonderful shot with the snow covered mountains in the background and the chorten below.
The organic manner in which this photo opportunity came to Nick is analogous to how he "pursues" his subject matter; in essence not pursuing them at all! He prefers to travel with camera on hand more as an accessory and not the focal point of his journey. Through his wanderings to places and interactions with people he takes a genuine interest in them, and soon forms a connection. If the right light, composition or subject matter presents itself he may then ask to take some photos. Nick sees his role as a facilitator; to bridge the story, the essence, or expression of the moment to those that wish to experience it through his photography. He relates that he doesn't really know what it is he is searching for at any given moment and does not hunt down a photo shoot; it is more about a feeling or sensory excitement, and chooses to live in the moment and revel in the surprises that come his way; as Nick acknowledges, "it is a gift."
Click on the images below to enlarge:

Enjoy our interview with Nicholas Halpin and please feel free to leave a comment and share with social media!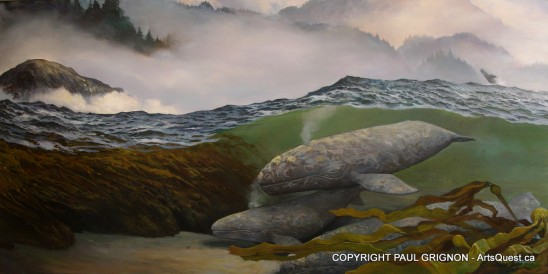 I have always had an appreciation for the oceans of the world but never a fascination with them. I considered an ocean to be a vast watery desert and I couldn't understand the intimate connection that some people seem to have with it; that all changed when I stepped into Paul Grignon's gallery and Moonfire Studio.
Paul and his wife Tsiporah have lived on Gabriola Island, off of the coast of British Columbia, since 1973. Their yearning for a different way of life led them there. Paul built the house they still live in, which grew as their family of four children grew. Every year they continue to learn how to grow food more effectively in their garden. Paul painted to support the family, and he also took any commercial art job that came his way. Despite the difficulty of providing for a family of six from sales of art, Paul admits that being an artist was just something that he could not stop doing. Even though he tried different vocations along the way, he always found himself back at his easel with the paint brush in hand.

There is so much noise pollution in our world today; it is overwhelming sometimes. Nature has a way of filling our ears with sounds that can release tension and take away anxieties. The perpetual motion of the ocean rocking back and forth as the tide comes in and out is one such sound. Paul's seascape paintings are so real to me that when I looked at them I could hear the sound of the ocean and the sea birds as if I was staring out an open window at the view. I realize that Paul has been painting his subject a long time now and has gotten to know it intimately, and his dedication is reflected in his work, but I wonder if he may in fact be an extension of the ocean in human form! He paints like he and the ocean are one and the same.
Click on the thumbnail to view the larger image.
Paul and Tsiporah have been an indelible part of Gabriola Island's community for a long time. They have been actively participating in shaping the island's way of life as it is today. They are also strong advocates, activists and stewards of our environment; something they are both deeply passionate about. As a result, Paul created a 47 minute movie titled Money as Debt. It is a historical and present day account of what money is, where it comes from, and how it functions under our current economic system. This is not drab, boring stuff! Paul uses simple animated characters that add a humourous look to his serious message. As Paul points out, our economic system flies in the face of natural systems. We have accepted our current economic system as if there were no other choice and yet ironically it will destroy our life support system which in turn will destroy us. It is not a matter of if, it is a matter of when. Since 2006 when the original movie was released, Paul created Part 2 and Part 3 of Money as Debt. He is determined to develop a new economic system; one that will complement nature so all life can prosper, not just those who are riddled with greed. The Money as Debt Trilogy can be purchased at the Money as Debt website. Everyone needs to see this!
Join us with Paul as he talks more about his art and Money as Debt. Please don't forget to leave a comment and share on social media. Thanks!