Location: Fort St. John
Life is a journey of discovery and learning, and the mediums for personal and professional exploration are endless. For some that inquisitive fervour may take them into the natural or social sciences, for others it could be a trip to the moon and back, while still others may devote their life to training their bodies and minds in the martial arts. For artist Sandy Troudt that constant curiosity has been a life-long journey into the artistic realm of her paintings, print making and mixed media. For as long as she can remember Sandy has always wanted to paint, and it was a wonderful experience in seventh grade that affirmed her need to pursue it. As a career educator she shared that passion with her elementary students and other teachers alike through curriculum and workshops. Sandy recognizes that her own learning has evolved from mentoring by many notable artists as well as an arts community which provides another integral part to the growth experience and personal artistic journey. Unable to seriously devote her time to art while dedicating thirty-two years to teaching, it was upon retirement that Sandy now felt it was her time to pursue her passion in earnest, and that thirst for learning and her pleasure for the paint brush has never waned.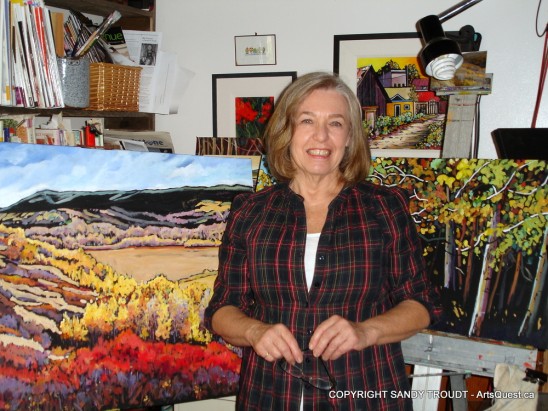 Sandy and her husband Dennis live in the house they built in a picturesque rural area outside of Fort St. John. It is a place devoid of traffic noise and city lights, where the only onlookers might be a deer, a moose, or any one of nature's wild inhabitants indigenous to the Peace region. It was this beauty and proximity to the wilderness that attracted them to this area, and Sandy draws endless inspiration from this natural environment. It is also an area rich in history from a pioneering way of life, and Sandy marvels at the challenges that the early settlers faced. The remnants of those bygone days still cling to the present whether as a rusting old truck, farm implement or weathered and sagging barn. They all provide engaging subject matter for Sandy's creativity.
Click on images to enlarge:

With her appetite for discovery, Sandy has always pursued a variety of art media. She believes that the learning one gains from working with one medium can easily transfer to using another. She loves change and is always trying to find a better way of doing things. Sandy will ask herself, "What if I did this or tried that?" and admits that it is sometimes difficult to stay on track with her enquiring mind eager to get started on new ideas. With one painting finished and a lesson or two learned she is off on another adventure of problem solving and the joy of discovery begins once again.
Click on images to enlarge:

Sandy's paintings will grab your attention; the bold colours and contrasts inviting you in for a closer look. The scene is appealing and recognizable yet gives in to the imagination and loses the strict boundaries of realism. The effect is eye-catching, and is meant to evoke emotion rather than just recognition. Sandy notes that colour relationships are very important Capturing the essence and liveliness of the scene that she felt when first witnessing it is her goal and what she hopes to portray to others. Sandy will paint from a photograph but the similarity ends there. She notes, "I do not want anything I paint to look just like the photograph. I want to liven things up a bit…a photo reference is only the beginning…so I go a bit crazy sometimes…I can't help it!" Chatting with Sandy her enthusiasm is palpable, and the joie de vivre she exhibits lives on through her art work.
For Sandy the joy of being an artist is the fun of experimenting, the discovery of new techniques, colour variations that really work together, and the thrill of change. Adhering to the guidelines of colour theory, composition and balance is still important, but allowing uninhibited creative license to amuse and amaze herself is essential to following her passion. To enjoy more of Sandy's art work (click here) to access her website.
Enjoy our interview with Sandy and we welcome you to comment below and share on social media and through email.